If you're looking for a stylish, space saving computer at a bargain price then this Inspiron all-in-one computer should be right up your alley. It comes with a 27" touch screen and the latest hardware including an 11th generation Intel Core i7 CPU. This is a great computer on any day, but during Dell's Prime Day sale you can get an extra $160 off your purchase.
Right now, you can find the Inspiron 27 7000 Silver Touch All-In-One with Arch Stand for just $1299 at Dell. That's an 11% saving on this exceptional all-in-one computer from Dell. Alongside the impressive 11th gen CPU, you also get 16GB RAM, a 512GB SSD + 1TB HDD, and an NVIDIA GeForce MX330 graphics card. It also comes with Windows 10 installed as standard, and there is a keyboard and mouse included so this thing is ready to go.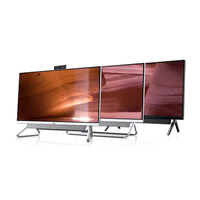 Dell Inspiron 27 7000 Silver Touch All-In-One with Arch Stand | Was $1459.99 | now $1299.99
Save $160 on this sleek all-in-one touch screen computer. You get powerful hardware and great build quality that you'd expect from Dell, but without needing to buy a monitor to go with it. It even has a built-in webcam too.
The Prime Day USA deals are an excellent time to go hunting for offers on new tech, and that includes the best home computers. Whether you're looking for a traditional desktop PC or an all-in-one device like this, there are plenty of great offers. We're a huge fan of the Dell Inspiron 27 7000's modern styling and space saving features. Desktop PCs can be bulky, but this thing takes up no more room than your average monitor, yet it contains all the hardware.
It also comes with basically everything you need to get going in the box. There is no need to go shopping around for an additional monitor, or even a keyboard and mouse as it's all included in the package. It also comes with a built-in webcam, which is a great starter device until you're ready to upgrade to one of the best webcams.
Don't have an Amazon Prime subscription? Get a free 30-day Prime trial now and take advantage of these brilliant deals before they end.