This Dell XPS Desktop deal gets you all the power of that XPS line and the big brand name of Dell but without the usual price tag. That means you can snap up the Dell XPS Desktop for $749.99 while the deal still runs.
This is up there with the best Amazon Prime Day deals and it will only be available for a limited time. This will likely shift fast thanks to that 11th Gen Intel Core i5 processor backed by a hefty 16GB of RAM. The latest WiFi 6 connectivity and Intel UHD Graphics 730 all help to add more appeal to this well-priced deal.
Of course, being a standalone desktop, you may want to pair this up with some other key computing components. We've got help you on that front in the form of the best Prime Day printer deals, the best touch screen monitors, and the best wireless keyboard and mouse.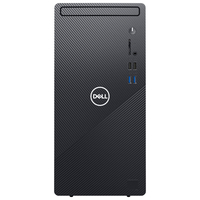 Dell XPS Desktop | Was $949.99 Now $749.99 from Dell
Save $200: Get the power of an 11th Gen Intel i5 processor backed up by 16 GB of RAM and 512GB storage all running Windows 10 Home Edition. Minimal design makes this look great and the fan speed offers a quiet way to keep everything running efficiently. A year's hardware cover is a decent bonus too.
While this is an excellent PC for day-to-day working, there's way more to it, and it's not just the hardware that's grabbing attention here. This also includes Dell's hardware service support for a year which means in-home cover, making it ideal for anyone using this a lot for work and play where the strain could be great.
You also get a year of McAfee LiveSafe cover thrown in too so you can rest easy knowing your machine is protected without it costing you any extra. Microsoft Windows 10 Home comes loaded on this machine as standard.
If you're looking to do some video or photo editing, you'll probably need to upgrade to an Intel i7 chip instead, and consider getting a more powerful video card and extra RAM, but for most people this deal will be perfect.
Don't have an Amazon Prime subscription? Get a free 30-day Prime trial now and take advantage of these brilliant deals before they end.