Compared to the best swim spas, Dynasty's options are limited, but if you're looking for the best hot tub Dynasty does sell a multitude of those.
Dynasty offers only four base models of swim spa, the smallest selection we found alongside Dimension One, which also sells four. The Aquex Pro Series 19 has two cavities, making it the company's biggest option. It can hold seven adults and one swimmer simultaneously and has 42 jets and three swim current jets. Take note: jet-powered swim systems aren't as smooth or as powerful as propeller or paddlewheel systems. This model holds 2,100 gallons, includes Bluetooth stereo, a waterfall, underwater LED lighting and pillows.
The Aquex Pro Series 17 is more typical in that it has one cavity. Its 1,750 gallons can hold four people and one swimmer, has 30 jets and three swim current jets. The Aquex Pro Series 13 is considered an "entry level spa" and can only hold three people and one swimmer. It also only has six jets and only two swim current jets, so you can't expect a lot of power from this unit. It does, however, have a great filtration system and holds 1,400 gallons.
The Aquex Party/Swim 13 is larger, holding 1,500 gallons of water, and has a ton of standard features. These include pillows, tile accents, a cover, foam insulation and digital topside control. It also has six fountain jets, 29 regular jets and then the rather disappointing two swim current jets. Despite the name, we really don't consider this a party if swimming or exercising is your priority.
Another thing we didn't enjoy was having to visit a dealer to get a price quote. We couldn't request one and the closest showroom to our lab in Utah was Tennessee, and frankly that was too far of a drive for us.
Unlike companies like Michael Phelps which emphasize how beneficial low-impact underwater workouts can be, there isn't any underwater exercise equipment available on the website and any mention of other accessories like covers was hard to find. Overall, we simply weren't very impressed with Dynasty.
Need a better alternative?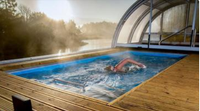 Top Ten Reviews has reviewed the best swim spas so that we're able to offer you the authoritative buying advice you expect.