Whether you're prone to signing up for a gym membership, committing to starting journaling, or like us, finally getting on top of that household chore, a New Year's resolution can be the prime time to jump into action.
However, there can be a lot of pressure to immediately transform your life come the 1st of January. On the Top Ten Reviews team, we like to take the relaxed approach by setting ourselves realistic goals that are going to improve our daily lives – and our homes too.
From investing in a new gadget we've had sat in our carts for a while, to cleaning out corners that always get forgotten, we're showing you our goals so that we can be held firmly accountable. Hopefully, we can also offer some inspiration for ideas to include on your own lists, and how to subtly improve your homes in the upcoming year.
So, without further ado, read on for the Top Ten Reviews team round-up of our New Years' resolutions for 2023.
Louise Carey, Editor
As the proud pet parent of a rough-coated border collie, I've made my peace with the fact that dog hair is now a part of my everyday life. I've lost count of the number of times I've gone to take a bite of my morning toast and I've spotted a lone dog hair that has somehow miraculously made its way into the peanut butter. Aside from adding somewhat dubious nutritional value to my breakfast, her fur manages to get pretty much everywhere else as well. It's not unusual to discover little tumbleweeds of fur in awkward-to-reach places in my living room, even when I vacuumed the day before.
At the moment, I'm using an old Henry Hoover – while this mostly gets the job done, I'm not a massive fan of vacuum cleaners with a long hose that's separate from the rest of the body. I also suspect that good ol' Henry is a little past it, and could do with being replaced.
For my next vacuum cleaner, I'm very keen to get a cordless model. This is because I am, at my heart, innately lazy and I need to make cleaning tasks as easy as possible for them to get done. Plugging a vacuum cleaner in and having to contend with a cord wrapping around furniture is just too much hassle for me!
I currently have my eyes on the Shark Cordless Pet Plus with Anti-Allergen Complete Seal. With up to 40 minutes of run-time, a specially-designed pet tool to combat pet hair, and an anti-hair wrap comb, this vacuum cleaner looks absolutely perfect for my needs. I've also had a personal recommendation for this vacuum from my own parents, who have a golden retriever that heavily sheds.
I'm looking forward to 2023 being the year of minimal pet hair – and perhaps even fur-free breakfasts as well!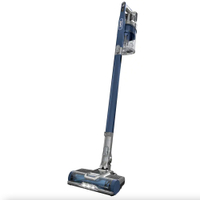 Shark Cordless Pet Plus Vacuum | was $329.99, now $249.99
Featuring a removable battery with up to 40 minutes of run-time, PowerFins that are designed to dig deep into carpets, a self-cleaning brush roll to pick up pet hair and the ability to transform into a hand vacuum cleaner, this is a fantastic buy for pet owners.
---
Mina Frost, Deputy Editor
In 2023, I'm committing to improving my fridge organization skills, and that starts with keeping it clean.
Currently, my refrigerator gets cleaned once a month or less (basically, when there's a bad smell or when I find something very past it's best at the back of a drawer). This year, I'm making it a part of my regular cleaning routine, and I'll be wiping it every week.
The best refrigerators have dozens of nooks and crannies where crumbs, food debris, grease, and bacteria easily accumulate - not exactly what you want next to the food you eat. Removing the contents of your fridge and wiping the shelves and compartments with hot soapy water before letting them air dry is a great way to reduce risks of contamination.
While cleaning the outside of the refrigerator is important, the outside surfaces are also a high-touch area and a breeding ground for bacteria. Cleaning them down regularly with an anti-bacterial spray is recommended.
These tips and more can be found in our guide on how to clean a fridge - if this is part of your 2023 resolutions, give this extensive guide a read!
---
Holly Cockburn, Features Editor
Moving house at the latter end of this year has meant an endless list of DIY tasks and things to fix. And while I've been slowly ticking them off, one that has been weighing heavily on my mind is improving the condensation. It's safe to say that I've been avoiding tackling the problem, so I'm making it my New Year's resolution.
I live in an old Victorian terraced house with single-glazed windows, so it's safe to say that it's not very well-insulated. In the recent cold spells, our windows have been completely full of condensation and laundry has been difficult to dry on a clothes airer. It's even got to the point of water dripping off the windows and gathering on the window ledge, so it's only a matter of time before this escalates into a mold problem.
I've invested in a dehumidifier to combat the issue, however, it hasn't improved as much as I would like. While using a towel to wipe the windows each morning was a fine solution for the interim, I knew I needed a dedicated tool. I think a window vac is going to be the answer to my wishes - specifically this Karcher model.
It has a motorized suction squeegee that you run down the window, and water is collected into a cup that you can then empty. I'm hoping that by setting the resolution to incorporate this into my morning routine will save our home from any mold problems, and allow me to finally enjoy the view from the windows!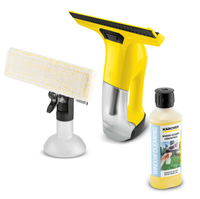 Karcher WV 6 Plus Window Vacuum Squeegee |$129.99 at Amazon
Promising to clean windows three times faster than any other method, this vac has a 100-hour run time so you can easily cover the whole house on a single charge. It comes with a spray bottle, microfibre pad and cleaning solution to apply to the glass, and then the vac and squeegee to mop things up, streak free.
---
Monib Zahdeh, Staff Writer
Living in the center of a city can cause a number of roadblocks when it comes to growing your own food at home, but in the new year, I want to clean my urban garden and begin growing as much food as I can in the small space that I have.
I have recently been researching methods such as "vertical farming" and I would like to utilize them in my small garden to see if I can grow potatoes, herbs, and other things to use in my favorite recipes.
The best leaf blowers will help me clean this unused space so that I can prepare some tidy plots and grow bags for planting. At the moment, I have been trying to sweep and rake leaves that have fallen, but the process is tiring and inefficient. I'm particularly interested in the Black & Decker LSWV36, as its suction setting will help me make nutritious mulch so that I can kickstart the growing process in my garden.
If everything goes according to plan, 2023 will be a great year for gardening and an even better year for cooking, with a good supply of my own homegrown produce.
---
Millie Fender, Head of Reviews
I officially hit my mid-20s in 2022, and I just assumed that one of the things that come with 'growing up' is knowing how to keep a tidy house. If so, it seems that talent skipped me entirely. It's like the clutter multiplies every time I try to clear it. Cue, last-minute frenzied cleaning sessions every time someone comes over, and a regularly scheduled Sunday tidying session (complete with chore list) which my partner absolutely loathes.
In 2023, I'm hoping to move into a new home that's a little larger - which means more storage space (hurrah) but also more rooms to tidy (groan). I've got two resolutions: the first is to make sure that every new item I get sent (which, when your job is reviewing things, can be quite a lot) has an allocated home in my house. If not, it gets donated. The second is that I'll spend 10 minutes daily tidying and putting things back into their allocated homes.
To make my plan work I'm going to need to invest in some snazzy storage, and I've got my eyes on HAIXIN Closet Organizers from Amazon, which I spotted on TikTok. They have doors and wheels and completely fold down when they're not in use. I think the fluted clear plastic is quite chic, which I hope will give me another incentive to make the most of them.
Discover more guides for the home...
How to clean a carpet
How to cut with a chainsaw
How to store firewood outside
How to vacuum stairs