For over two weeks, we researched, compared and evaluated the best nationwide health insurance providers.
Evaluating health insurance companies for every person's needs is, obviously, very difficult, with plan price varying greatly depending on your exact circumstances. However, we collected data to help us determine the selection of plans available and average premium rates for the companies we reviewed.
Sponsored: get a quote
In partnership with Assurance
Get a custom quote. Find the perfect health insurance for your needs.VIEW DEAL ON Assurance
We rated the companies highest that provide a wide range of plan options coupled with competitive pricing. We researched the least and most expensive plan options for metropolitan and midsize town locations across the U.S. for 35, 45 and 55-year-old non-smoking males.
Using this data we were able to determine which service generally offers the widest range of plan options at a reasonable price. The quotes you receive might vary greatly from our test data depending on your specific situation.
Health insurance pricing varies depending on age, location, gender and many other factors. To find the best health insurance plan for you, we recommend obtaining quotes from at least three different companies.
Another important aspect of selecting an insurance provider is customer service, so we also figured out how responsive each company is.
While everyone has different healthcare needs, the companies we recommend are reputable and reliable.
Best overall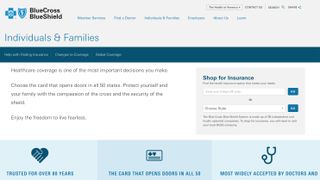 Blue Cross Blue Shield
There's an app
Premiums were a little high for older customers
This longstanding insurance company has a lot of options, so there's sure to be a comprehensive plan that meets your needs. Blue Cross Blue Shield is a nationwide provider made up of local independently operated companies. This means the coverage is broad but can vary depending on where you live. There are more plans compared to other insurance providers we evaluated. In fact, we were given a choice of about 20 plans during testing. There is a side-by-side comparison feature that outlines specific costs and benefits with a pop-up window that shows you even more information about each.
Premiums, in our tests, were within the average price range of other websites we tested. Costs were slightly above average for 44- to 55-year-old customers, but not by a lot. Even though we tried to test as comprehensively as we could the quote you get back will vary depending on your own needs and medical history. There are benefits available through the health and wellness program. You can get discounts for health clubs, fitness monitors, diets and other health-related products and services as well as a prescription manager where you can order your medicine online or through the mail. You can also find in-network doctors anywhere on the website or mobile app, which is useful when traveling. And speaking of traveling, temporary international coverage is available.
Read the full review here: Blue Cross Blue Shield
Best for seniors
Humana
Home healthcare is covered in many plans
Only available in the southern and midwestern United States
Humana is a great option for consumers in some parts of the United States, as it's only available in 22 states. If you happen to live in one of those states and are over the age of 45, you're likely going to see lower premiums than with other insurance companies. In our tests we looked at policies for single non-smokers in five different places. We found the premium rates were lower across the board than many other companies we tested, particularly for seniors.
This might vary depending on your personal health and background, but generally this is an affordable company. We got roughly a dozen plan options in our queries, which we considered a decent selection. The company also offers home healthcare coverage, which is useful for older customers or those who have a chronic illness that could impact their ability to live alone. There aren't any short-term plans available though so this isn't the place to shop if you're between jobs or waiting for a new job's insurance to kick in. You also get access to wellness benefits like HumanaVitality, an online rewards program intended to help users develop healthy habits.
Read the full review here: Humana
Best App
Kaiser Permanente
Premium rates are low
The location and scope of coverage is limited
Kaiser Permanente has low rates but works with a limited number of doctors and institutions within its own medical system. While we liked the results we got, you should look at the hospitals and doctors in your area specifically and make sure they come highly recommended before using this insurance provider. You can get covered in eight states: California, Colorado, Virginia, Maryland, Oregon, Washington, Georgia and Hawaii, plus the District of Columbia. Within that area, this insurance provider has 38 hospitals, 618 medical offices and outpatient facilities, and 17,425 physicians.
Additionally, you can get coverage for international travel, regardless of which state you live in. If Kaiser Permanente's limited scope works for you, it has a helpful app. In fact, it was one of only three to earn a A+ in our tests. It works on both Android and iPhone and is incredibly easy to navigate and well designed. It's map feature will show you exactly where your local doctors and hospitals are. One other unique feature about this provider is its multilingual services. Kaiser Permanente has interpreters who can translate medical information for those who don't speak English.
Read the full review here: Kaiser Permanente
Most user-friendly
UnitedHealthcare
Online tools are easy to use
It's expensive
UnitedHealthcare's online account system is easy to use because you can do everything in one place. Once you've logged into your account you can access a nurse hotline, order prescriptions and more. There are also online tools for tracking deductibles and expenses or finding a doctor in your area. If you'd prefer to have on-the-go access, the Health4Me app is free and easy to navigate. While this is a really good option for digital-first users, UnitedHealthcare was more expensive than the other companies we tested.
We found premiums to be up to $600 more per year in some cases, but your personal results will vary based on your medical history and needs. It's easy to see what your own costs might be if you take a few minutes to enter your information on the website. The website is also very easy to use as you can filter plan options or compare them side-by-side with a couple clicks. There are also pop-up windows that explain certain terms if you hover your mouse over them. While some companies only operate in a select few states, UnitedHealthcare is nationwide, so there's no need to worry about being in a coverage area.
Read the full review here: UnitedHealthcare
Best value
Aetna
It's affordable
No short-term coverage is offered
Everyone's needs are different, but this insurance company has a lot of affordable options. They might not apply to everyone, but most users will be able to find a low-cost plan that works for them. In our tests we found the plans available were far cheaper than the other companies we reviewed, with the exception of our 55-year-old use case. Your results will vary depending on your needs and medical history, but we saw a savings of about $600 per year with Aetna for our test cases.
Getting a quote isn't as simple as with other insurance companies, and when we used it, the side-by-side comparison tool sometimes failed, but that doesn't mean everyone will have the same experience. There is a FAQ page, and Aetna is also very active on social media if you're trying to get a fast response to a question. Affordable Care Act-approved plans are available, and you can even get supplemental insurance if the insurance you get through your job doesn't cover the things you need. While this provider isn't perfect, it's an affordable option for most people.
Read the full review here: Aetna
Subsidized options for low-income individuals and families
Health insurance is now available to more Americans than ever before. Subsidized options are easily available to low-income individuals and families. In the past, many people took the risk of not being insured, but with the Affordable Care Act (ACA) you can be fined if you don't have qualified health care insurance. Instead of paying a fine, people who have not been able to afford insurance before are looking for affordable medical insurance options.
While some may be asking themselves if it would it be cheaper to just pay the fine, statistics show that more Americans have health insurance now than before the ACA was enacted. There are several reasons why more people have insurance now, but one is certainly the increase in affordable health plan options, including subsidized, or tax credits, health insurance purchased through one of the state exchanges. Compliant insurance can also be purchased privately. The options available to you depend primarily on your income level.
Low Income: If your income is 100 to 400 percent of the national poverty rate ($11,490 - $45,960) for a single person, you may qualify for subsidized health insurance. In many cases this is not free health insurance but subsidized. This means you can get bronze-level health insurance for about $2570 per year through one of the state exchanges. Extremely low-income individuals and elderly persons often qualify for Medicare. If you paid the fine for 2014 you may still qualify for insurance via an exchange, even if it is not during the open-enrollment period, to avoid the fee in 2015.
Best Options for Low-Income Earners: Medicare, state exchange or fine exemption
Middle Income: If your income is above the threshold of $45,960 (adjusted), you will not qualify for subsidized health insurance. Those above the poverty rate can still shop for insurance via an exchange but will not benefit from subsidies. However, income thresholds change depending on household size, so it is worth finding out if you qualify. Individuals can also shop for insurance through one of the major carriers, including those listed in this review, such as Humana, Kaiser Permanente or Blue Cross Blue Shield (BCBS), depending on what is available in your area. In most cases you can expect to pay about $300 to $600 per month in premiums for individual insurance. If you don't know if your income qualifies for subsidies, you can use one of the exchange calculators to help you figure that out. Another option for healthy mid-income individuals is high-deductible health plans. These plans have a deductible of up to $6,600, but will have a lower monthly premium and will help you pay major expenses.
Best Options for Mid-Income: Individual health insurance (lowest-option) or high-deductible health plans.
High Income: Those with a high income are facing a different problem. Many who have high incomes didn't purchase insurance in the past; they just paid health care expenses as needed. Paying two percent of a high income for the penalty can be a rather large sum for high-income persons. In this case, it might be cheaper to just buy qualifying health insurance. If you are in good health, you might want to choose the lowest qualifying plan. If you have ongoing health issues, you may as well bite the bullet and choose a more exhaustive plan and lower your out-of-pocket expenses.
Best Options for High-Income: A low-cost qualifying plan for healthy people or more comprehensive plan for those with larger health expenses.
Key health insurance numbers to consider
Average bronze-level health insurance plan: $2,570 per year for individual insurance.
Shared responsibility payment: $325 per adult and $162.50 per child (up to $975 for a family), or 2 percent of your household income, above the tax return filing threshold for your filing status – whichever is greater.
Cost of non-subsidized, individual health insurance: $300 - $600 per month, or $3,600 - $7,200 per year.
How we evaluated health insurance companies
Evaluating health insurance companies for every person's needs is impossible. Plan pricing can vary greatly depending on your exact circumstances. However, we collected data to help us determine the selection of plans available and average premium rates for the companies we reviewed. We rated the companies highest that provide a wide range of plan options coupled with competitive pricing. We researched the least and most expensive plan options for metropolitan and midsize town locations across the U.S. for 35, 45 and 55-year-old non-smoking males. Using this data we were able to determine which service generally offers the widest range of plan options at a reasonable price. The quotes you receive might vary greatly from our test data depending on your specific situation.
Health insurance pricing varies depending on age, location, gender and many other factors. To find the best health insurance plan for you, we recommend obtaining quotes from at least three different companies.
How do I obtain a health insurance quote?
If your employer does not offer an affordable health insurance option and you do not qualify for subsidized insurance or Medicare, you can shop the open market for medical insurance. The health insurance companies we reviewed will allow you to request a quote online rather easily. Premium rates vary significantly by multiple factors. You'll learn that the monthly rates increase quite a bit as you age. Smoking also increases the premium rate. In most cases you can select non-smoking if you have not smoked in over six months.
Services such as eHealthInsurance are simple to use and provide a variety of quotes but may not always show every option available. You may find more plan options by requesting plan information directly from the insurance company's website. Before purchasing new insurance it is always a good idea to ensure that your preferred doctor accepts the insurance you are looking to purchase. While your doctor may be listed on the insurance company's website, it is smart to call your doctor's office directly to verify.
Even if the open-enrollment period has passed for signing up for insurance via one of the exchanges, you might still be able to purchase subsidized insurance if you've had a qualifying life event. Qualifying events include moving to a new state, change in income, change in family, loss of coverage and others. You may even be able to apply simply because you did not understand that open-enrollment ended or you did not understand the health care law. If your income qualifies you for subsidized health care, you'll want to purchase through your state exchange.
Considerations for comparing health insurance plans
Plans vary greatly. But the general rule of thumb is that the less you pay per month, the higher your deductible is. Higher premiums are usually associated with lower deductibles. Generally it is beneficial for those with existing health issues to opt to pay more per month and less out-of-pocket for services. Those in good health often opt for a high deductible option in hopes that they never have to actually pay the deductible but would mostly be covered if something major happened.
A prescription plan is another important consideration. If you need to take medications regularly you'll want to choose a plan with a good prescription plan. If you need to insure your entire family, you'll want to look at family deductibles and maximums. Only full-coverage options will satisfy the minimal essential health care insurance required to get around paying the fine.
Major points to compare:
Monthly Premium
This is your monthly payment for health insurance. It may be worth asking if you can get discounts for paying in advance or if you set up direct payments from your bank account.
Deductible
The amount you are required to pay, not counting preventive care, before the insurance company starts paying out. Low-deductible plans offer deductibles of about $500, whereas high-deductible plans might be as much as $6600.
Maximum Out-of-Pocket
This is the maximum you'll have to pay out-of-pocket. Sometimes this is more than the deductible. It is not uncommon to have a deductible of $1200 and a maximum out-of-pocket limit of $1500. This of course does not count your premiums.
Preventive Care Covered
Most insurance policies now cover preventive-care visits 100 percent. However, some may limit the number of checkups or how often certain procedures such as mammograms are covered.
Prescription Plan
If you need to take maintenance medications you'll want to find an insurance plan with an above-average prescription plan. You should check to see if it covers the medications you are currently taking satisfactorily or if it covers suitable generics.
In-Network vs. Out-of-Network Coverage
While in-network providers are discounted, you usually pay significantly more for out-of-network health care. This is a good reason to contact your primary doctors to ensure they are preferred providers.
Medical insurance does not cover regular dental or optical needs. For these type of insurance plans see our Dental Insurance reviews and Vision Care reviews.
Types of Plans Available
While looking for insurance you many notice a wide variety of plans. Some may provide coverage for a large selection of doctors whereas others may provide increased coverage to preferred providers.
The most common insurance plans explained:
Preferred Provider Organization (PPO)
This type of insurance provides better coverage to providers within their network. Usually the insurance company and the provider have agreed in advance to the billing costs for common procedures. Out-of-network providers, or those without an agreement, might not be covered or will cost the patient more out-of-pocket.
Health Maintenance Organization (HMO)
With an HMO plan, you have to work with one primary doctor and all additional procedures or testing is routed through them. You have to have a referral from your primary doctor before seeing a specialist unless it is an emergency situation.
Exclusive Provider Organization (EPO)
This type of plan limits the network of doctors and hospitals covered in order to help control costs. Out-of-network doctors and hospitals are not covered at all.
Point of Service (POS)
These types of plans are a mixture of HMO and PPO. You would need to use a primary doctor to coordinate your care, but there is more freedom to visit the health care provider of your choosing. If you visit a provider outside of the network, you have to pay the bill and then submit a claim to the insurance company for partial reimbursement.
High-Deductible Health Plan (HDHP)
These types of plans usually have lower monthly premiums but higher deductibles. In many cases the deductible is $6,600.
Flexible Spending & Health Savings Accounts
These are not insurance plans, but ways of assisting with medical costs with pre-tax money. Often these accompany a high-deductible plan in order to help cover the high deductible easier. Flexible spending accounts are often use-it-or-lose-it, but health savings accounts typically can roll over to the next year.
Short-Term Medical
Short-term medical plans are designed to fill the gap between insurance coverage. So if you are going to be changing jobs, for example, and might have a gap before your new insurance takes over, short-term might help you.
Obamacare
The Patient Protection and Affordable Care Act of 2010, more commonly known as Obamacare, impacted healthcare in the United States in numerous ways. The act's effects vary by person, but you'll need to have health insurance for at least nine months out of every 12 or be subject to a tax. There are exceptions to this rule based on financial hardship, your income and living situation. But in general, whether it's through Obamacare or not, you should have health insurance.
Non-compliant options to consider
If you decide to opt out instead of acquiring compliant health insurance, you do have a few options. These options probably won't qualify to relieve you of having to pay the shared responsibility payment, but they can still lower your health care costs. Many insurance companies offer short-term insurance plans that might help you between coverage periods or after losing insurance. Catastrophic insurance usually has a high deductible, but can help if you need expensive treatment. Another option is Direct Primary Care (DPC) or "concierge medicine." These are not standard insurance models but involve a direct payment to the provider as an annual fee or retainer for services. This type of arrangement is not common, but it's an option for some. Boutique offices are becoming increasingly popular as well. These medical practices do not bother with insurance and simply make cash-price arrangements with patients. Many offer quite competitive rates for routine services. However, keep in mind that this alternative option does not satisfy the requirement to have minimal compliant health insurance and that you may need to pay the fine unless you are somehow otherwise exempt.
While obtaining suitable health insurance requires a bit of effort, health insurance is now affordable to more Americans than before. Increasing the parental coverage to 26 years old and introducing the medical exchanges has helped, especially for younger Americans who can now acquire affordable coverage. It only takes a few minutes using our health insurance tools to discover the plans available in your area. To find the best plan for your specific needs, we recommend comparing plans from at least three insurance companies that offer coverage in your area.
Medical marijuana
In the 2018 midterm elections, ballot measures passed in both Missouri and Utah legalizing the use of medical marijuana. This means that in total, 32 states and Washington D.C. now allow for the medicinal use of cannabis. So can you use your health insurance to help pay for it? Due to the U.S. government's classification of the plant as a Schedule I drug, you can't use Medicare to pay for medical marijuana because it technically doesn't have any accepted medical use. Private insurers won't cover it either, partially because the Food and Drug Administration hasn't approved it for use. If you're outside of the U.S. you'll have more luck. With the legalization of recreational marijuana use in Canada in 2018, Sun Life Financial is now offering plans that cover medical marijuana use.
Beware of scams
It's important to be vigilant in looking for red flags when shopping for health insurance online. Even companies with legitimate-looking websites can be fraudulent. For instance, a Florida-based private health insurance company was shut down in fall 2018 for selling worthless plans to consumers and collecting more than $100 million in profits, according to the Federal Trade Commission. People paid as much as $500 per month for what was just a medical discount program, not insurance. The Coalition Against Insurance Fraud says con artists are exploiting general confusion over healthcare reform, so here are some of its tips to avoid getting ripped off.
Know that a medical discount card is not the same as comprehensive health insurance.
Avoid crude-looking and unprofessional posters.
Don't use a company if the sales representative is evasive or doesn't answer all your questions.
Never give out your credit card or bank information without seeing all the policy's details.
Watch the mail – if you don't receive your insurance card or policy information quickly after signing up, you may have been taken for a ride.
Call your state insurance department to make sure the plan is licensed in your state. A list can be found on the National Association of Insurance Commissioners website. Keep in mind, even some private providers licensed by the state could still lie about what they're selling you.
Be wary of deals that seem too good to be true – they probably are.
"But I never go to the doctor!"
If you find yourself unable to remember the last time you were in a doctor's office and think you don't need health insurance, think again. You should definitely have health insurance, and there are plans that are cost effective for healthy people. For example, you can opt for a high deductible health insurance plan – you pay more for things like doctor visits, but you pay less overall for your health insurance plan. This is ideal if you only go to the doctor once or twice a year. These plans also work well in partnership with flexible spending accounts (FSA) or health savings accounts (HSA). You can put pre-tax dollars into these accounts and use the money later on medical expenses.
Even if you consider yourself healthy, it's important to see a doctor on occasion for a checkup. U.S. News and World Report says if you can't remember the last time you went, it has definitely been too long. You should also go for a checkup if anything has changed since the last time you saw a doctor. Are you coughing more than usual? Is that mole bigger? Even minor things can reflect larger underlying health problems. The earlier you catch any health problem, the better. An annual checkup can help with that. There are also age-related milestone checkups you shouldn't skip like an annual mammogram for women starting at age 40 or a colon cancer screening starting at age 50. These are some of the many reasons it's important to have health insurance, as many plans cover preventative health screening services. Depending on the company and the checkup, you might not have to pay anything out of pocket.
In case of emergency
It might be the most difficult thing you'll ever do, but it's important to advocate for yourself during an emergency room visit. If possible, ask all the questions you can think of and make sure to get answers before agreeing to have any procedures done. And just because you're at an in-network facility doesn't mean you'll always be treated by an in-network doctor, so make sure to talk to whoever is providing the care if you can. Obviously this isn't possible if you're incapacitated, but if you can, you should make clear what your health insurance does and does not cover. This can help you avoid an unexpectedly large bill later. If you do end up with a huge emergency room bill even though you have insurance, contact your provider and ask if there are any programs available for bill reduction.
Vox published an analysis of more than 1,100 emergency room bills in December 2018 that found emergency rooms often charge a lot for items you could buy at a drugstore such as bandages and low-grade pain medication. If you're at the doctor for something relatively minor, consider asking if you'll be charged for these supplies, and if so, turn them down. You can always stop at the store on the way home and get them for far less money. Whatever private health insurance you have, it's important to know your benefits well.
Related Product Reviews