Best Smart Speakers 2019 - Amazon Echo vs. Google Home
We put 12 of the best smart speakers side by side and tested the sound quality, search engine capabilities and smart home controls for more than 40 hours. After comparing prices and all the important features, we recommend the Amazon Echo 2nd Generation as the best overall smart speaker. It's easy to set up and use, and it's compatible with all the best third-party smart products. While it's not as smart or helpful as the Google Home Mini, the Echo is the best option below $100.
Best Overall
Great shopping companion for Prime members
Affordable
Smart-home compatibility
Sub-par search engine
Limited music streaming partners
The Amazon Echo paved the way for all smart speakers, and it's still the gold standard for innovation and compatibility. The competition is starting to catch up, but the Echo is still leading the pack when it comes to price, usability and smart controls.
Google Home is the Echo's closest competition, but the sound quality suffers, it's more expensive and it isn't compatible with as many third-party smart devices. If you are a serious Amazon shopper with a Prime membership, there's no reason to consider a non-Amazon smart speaker unless you're already entrenched in the Google or Apple mobile ecosystem.

We made a list of the 25 most popular and highest rated smart-home devices, and the Amazon Echo is compatible with all 25 of those products. Our list comprised smart products like light bulbs, switches, smart hubs, thermostats and door locks. Not only was the Echo compatible with every product on that list – we had a hard time finding a product it wasn't compatible with. If you are interested in outfitting your home with a wide range of smart devices, the Echo is the best future-proof controller.

We tested audio quality by listening to a wide range of musical genres. The Echo couldn't compete with the best sounding speakers we reviewed, but it was better than all the comparable products under $150, including the Google Home. It was loud enough to fill a living room, and the tonal quality was natural and balanced. The audio quality of this speaker is comparable to Bluetooth and Wi-Fi speakers that are similar in price that lack a voice assistant or any smart features.
Best Value
Affordable
Great search results
Good microphone range
Audio quality is lacking compared to larger speakers
No physical volume controls
Limited smart-home compatibility
We tested two smart speakers that cost less than $50: the Google Home Mini and the Amazon Echo Dot 2nd Generation. The Google Home Mini has better microphone range and sound quality as well as the best digital assistant for answering questions.
The Google smart speakers aren't compatible with as many third-party smart devices as the Echo Dot, but it is superior in just about every other important feature category. Google is quickly catching up to Amazon when it comes to compatibility, so if you are interested in a low-cost smart speaker, the Google Home Mini is a great option.

The standout feature of this smart speaker is its relationship with the largest and most dynamic search engine on the planet. To test search engine efficiency, we asked all the digital assistants random questions about topics ranging from "What's the weather like tomorrow?" to, "Who's the fastest man on the planet?" Google, Alexa and Siri all offered accurate responses to most of our questions, but Google's responses were much more detailed and helpful. The Google Home Mini had a deeper knowledge base and could answer questions that Alexa and Siri couldn't. Google's answers were also more location-centric. For instance, when we asked Alexa, Google and Siri, "What NBA games are on tonight?" Google listed our local NBA team's game before the other games even though the game time was later than others.

We weren't expecting much from the smaller smart speakers when it came to audio quality, but the Google Home Mini surprised us. It sounds significantly better than the Amazon Echo Dot, and is compatible with more streaming services, including the free version of Spotify. It isn't a viable solution for streaming music in a medium- or large-size family room, but the sound quality is serviceable enough to listen to podcasts or music while prepping a meal in the kitchen or enjoying your morning coffee.
Best For Music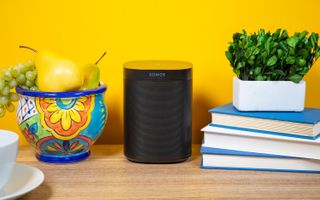 Great sound quality
Accurate mic array
Easy setup
Only two color options
Limited Alexa-controlled music streaming services
Alexa doesn't answer questions as effectively as Google
The Sonos One is almost twice as expensive as equally small smart speakers from Amazon and Google, but it sounds significantly better. This is the best smart speaker available if you plan to use your smart speaker to primarily stream music on a regular basis.
We tested larger speakers, like the Google Max and Harman Kardon Allure, and while they are capable of louder volumes without distortion, the Sonos One had no problem filling our 400 square-foot AV lab with natural and well-balanced sound. We recommend this speaker to music-listening enthusiasts because it has the best price to sound quality ratio and Sonos is leading the pack of Amazon or Google alternative smart speaker manufacturers in terms of innovation, design and compatibility. The Sonos One uses an Alexa interface, so you're limited in the number of compatible voice-controlled music streaming services.

We tested the audio quality of smart speakers by listening to a wide variety of musical genres, and the Sonos One performed well no matter what we played. The bass response was surprisingly good for a speaker with only one mid-woofer, and the single tweeter produced crisp and natural reproduction of vocals and acoustic instruments. The Sonos mobile app includes a room tuning feature that asks you to walk around the room waving your mobile device while the Sonos One plays test tones. The app analyzes that information and adjusts the speaker settings to match your room's characteristics. The companion app is easy to use and includes controls for manually adjusting bass and treble frequencies to customize the speaker to your room if the automatic room adjustment isn't to your liking.
Best Visual Info
Fun and engaging visual info
Expensive
The most obvious advantage to having a screen on a smart speaker is for the visual feedback that comes along with popular search topics. The touchscreen monitor also makes this the easiest smart speaker to setup.
All the other speakers we reviewed require you to download an app and use your phone or tablet to connect them to your wireless network. The Alexa app still connects smart home devices, but the Echo Show displays step-by-step setup instructions. An important feature of a smart speaker is setting reminders. Ask the Echo Show to remind you about a dentist appointment next week and the screen displays your upcoming calendar of events.

The idea of having an active listening device with a camera in your house is a privacy concern for some, but the microphone and camera are easily disabled by pressing the mute button on the top panel. One advantage to having a camera on your smart speaker is for making free video calls to anyone who also has an Echo Show or Echo Spot.

Most Durable
Portable and ultra-durable
Terrible microphone range
If you are looking for a smart speaker to use for backyard parties or for listening to music by the pool, the Ultimate Ears Megablast is the best option.
It has an IP67 weatherproof rating; it survives full submersion in three feet of water for 30 minutes. The coarse rubber exterior keeps the speaker from sliding around on slippery surfaces and is easy to clean if something splashes or spills on it. The Megablast has a rechargeable battery that lasts up to 12 hours on a single charge. We recommend purchasing the optional charging dock along with the speaker because the cable connection on the bottom panel doesn't allow the speaker to stand upright while charging.

The voice-control features only work when the speaker is connected to a Wi-Fi network or hotspot, but you can also play music from any Bluetooth-enabled mobile device. The microphone range is lacking compared to the best speakers we tested, but that's normal due to its weatherproof and portable design tradeoffs.

Why Trust Us
There are a plethora of reviews and recommendations for smart speakers online right now. Our testing approach differs from most of our competition because we do true side-by-side testing with all the products at the same time. This allows us to compare one speaker to, in this case, 11 others to help us identify the quirks and standout features that are hard to see and hear if you are reviewing one product at a time. For instance, it would have been hard to recognize the processor in the Ultimate Ears Megablast was significantly slower than the other smart speakers we tested if it was the only smart speaker on our test bench.
With all the recent data breaches looming large in the minds of millions of users, we thought it was important to investigate what these smart speakers are capable of hearing and recording. Google and Amazon claim they only record and store the interactions you have with your smart speaker after you say the wake word for each device, like "Alexa" or, "OK, Google." All the speakers we tested have a microphone mute button, so you can keep the microphone muted. Or you can unplug the speaker when you aren't using it, if you have concerns about security.
I talked to John Simpson, the privacy and technology project director at Consumer Watchdog, about which software platform he thinks is the most secure. He told me, "Google and Amazon have business models that rely on monetizing your personal data. Apple is more about building devices and protecting privacy on them. I'd be inclined to go with Apple if I wanted to protect privacy." Siri may not be the most efficient search partner, but the fact that Apple doesn't care how much toilet paper you buy or how many people live in your house may be more important for those concerned with privacy and personal data collection. Simpson's article about the potential violation of the Children's Online Privacy Protection Act is worth reading if you have young children in your home and are considering buying a smart speaker.
I've been critically listening to speakers for more than 10 years. While I didn't evaluate audio-dork speaker qualities like frequency spectrums and amplifier efficiency as in depth as we do in other speaker categories, it was still important to compare a $400 speaker against a $35 one. This helped me report the sound quality differences in real-world situations. I took my time listening to a wide range of musical genres through each speaker before issuing a grade for audio quality. High speaker quality is necessary whether your first priority is smart home functionality or playing music or other audio.
How We Tested
We were lucky enough to have all 12 products in our lab at the same time to help us do true side-by-side testing. There are a few Amazon smart speakers we didn't test because the features are similar to other products we reviewed. The Amazon Echo Plus is an Amazon Echo 2nd generation speaker with a smart-hub built in. The Echo Spot is a compact version of the Echo Show. The video content is a bit more limited, but it has a screen and camera you can use to make free video calls to other people who own an Echo with a screen. The newest addition to the Echo family is the Echo Dot Kids Edition. It comes with a more durable case, a one-year subscription to FreeTime Unlimited and a worry-free warranty that allows you to return it and get a free replacement if it breaks in the first two years.
The first thing we tested was ease of setup. We downloaded the necessary mobile applications on an iPad and went through the process of connecting each speaker to a dedicated Wi-Fi network that reacts similarly to a home network. We then used the app to connect the speakers to a couple of our favorite music streaming services, like Spotify, Amazon Music and Apple Music. We also connected the speakers to some smart home devices, like Phillips Hue bulbs and smart switches, and took note of how easy or hard it was to add smart devices to the voice-controlled network. We issued a grade for overall ease of setup based on how many steps each of those processes took and how efficient the app was at changing their settings.
The next test compared the efficiency of the microphone arrays to make sure Alexa, Google and Siri can hear you in an adjacent room if you need to turn down or pause the music. We put each smart speaker inside a room 3 feet from the door and played music at 70 dB. We walked around the corner and said the wake word at 70 dB to see if the speaker would hear and obey. We measured the distance from the middle of the door frame and ranked the products based on how far away they could hear us.
Our next side-by-side evaluation was an audio quality test. We played clips from a wide range of songs in several popular musical genres and recorded our impressions. We accessed how natural the tone was for each speaker and how loud we could push each one before the sound became distorted. Connecting all 12 smart speakers simultaneously made it easy to quickly switch back and forth, and this gave us a good glimpse into which frequencies were lacking on each product.
For smart home functionality, we tested these speakers in a real-world setting primarily asking questions for search engine efficiency and controlling smart home devices. We made a list of 25 of the most popular and highest rated smart home products to make sure the speakers were compatible. To test each voice assistant's ability to search the web for answers to random questions, we did just that, asked them a bunch of random questions. The questions included local topics like, "Where's the best place to get pizza near me?" and, "Where's the closest place to get AAA batteries?" We also tried to stump the voice assistants with random trivia questions like, "Who is the fastest man on the planet?" and, "What's the population of Geneva?" We took note of whether the voice assistant had answers for our questions, and how accurate the answers were.
How Much Should I Spend on a Smart Speaker?
The primary reason to spend more money on a smart speaker is audio quality. The $50 pint-sized smart speakers are just as good as their larger counterparts at keeping track of a calendar, searching the web and controlling smart home devices, but they sound terrible. Speakers in the $100 range sound better, but you get significantly better audio results in the $200 range. Battery-operated portable smart speakers cost between $150 and $200, but the voice-control features only work when the speaker is connected to Wi-Fi.
Lesser-Known Voice Assistants
We only tested the best smart speakers with Alexa, Google Assistant and Siri voice assistants, but there are a couple other entrants in the race for voice-controlled supremacy. The hardware lineup with these lesser-known voice assistants isn't very diverse – in fact, there are only two, and only one was teased at Samsung's Unpacked event.
Cortana
At the time we published this update, the only smart speaker that uses Cortana, Microsoft's voice assistant, is the Harman Kardon Invoke. Cortana uses the Bing search engine to find answers to questions that aren't specific to a brand or skill, but it has a growing list of partners, including Domino's Pizza, Food Network and StubHub. Unlike Alexa-enabled smart speakers, there is no need to download or install skills, but you do need to download the Cortana app on an iOS or Android device to complete the setup process.
Bixby
Samsung is jumping into the smart speaker market with its own voice assistant and a high-end speaker that promises to compete with the Apple HomePod's audio quality and elegant design. The Galaxy Home was announced alongside the Galaxy Note 9 at the Unpacked event in August 2018, and it uses the same voice assistant as the company's lineup of smartphones, Bixby. As of January 2019, the speaker hasn't shipped to retailers.
The Galaxy Home looks a bit like a fabric-wrapped fondue pot, with three metal legs, six speakers, and eight far-field microphones designed to deliver 360-degree sound and detect your voice from long distances. We are anxious to get our hands on the Galaxy Home to test the audio quality and search capabilities side by side with the best smart speakers available.

Important Features to Consider When Buying a Smart Speaker
Smart Home Control
Alexa-enabled smart speakers have the upper hand when it comes to compatible smart home devices. Google is slowly catching up, but if you plan to buy and use multiple smart devices, your best bet is to stick with Alexa. If you aren't concerned with audio quality or using your smart speaker to search the web, the pint-size smart speakers are just as effective for controlling your smart home as their larger counterparts. But keep in mind that the microphone arrays in the Echo and Google Home had better range than the smaller smart speakers, so they're better designed for large, open areas of your home.
Search Engine Efficiency
We had no problem getting accurate answers for popular questions, but we noticed a big difference in the approach the voice assistants took when answering the questions. Alexa's approach was definitely more shopping-centric, so Alexa-enabled speakers are a good fit for Prime membership users who periodically order products with a smart speaker. The Google assistants' answers more closely mirrored a traditional Google search and included in-depth search results and helpful ratings from companies like Yelp and TripAdvisor. Siri has some work to do, especially in the realm of search engine functionality, compared to Google and Alexa.
Sound Quality
If you don't plan to listen to music, podcasts or audio books with your smart speaker, any of the devices will have sufficient sound quality. However, our side-by-side testing proved that even Alexa's voice can be hard to understand if the speaker sounds garbled and muddy. The Amazon Echo Dot has the same search functionality and smart home control as its larger siblings, but the speaker is terrible. We noticed speakers above the $150 price range sound significantly better and are loud enough to fill a large family room. The larger speakers, like the Google Home Max and Harman Kardon Allure, sound great but take up a good amount of shelf space and are almost as expensive as buying a low-cost smart speaker and hooking it up to a decent sound bar.

Related Product Reviews