Established in 2004, CashNetUSA stands out for its speed when it comes to the best payday loans. An online lender that has served more than three million customers, CashNetUSA operates across 30 states, making it one of the largest payday loan companies around.
New customers can typically qualify for a loan of between $100 and $3,000, although lower maximum loan amounts apply in some states. Those with a less-than-perfect credit score, who perhaps cannot secure the best personal loans online a result, are welcome to apply to a company that specializes in short-term, single payment loans, but also offers lines of credit to qualifying customers that can be paid back in installments.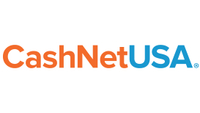 CashNetUSA review: Cost of loans
Rates of interest are variable
Late payment fees start at $10
Rates of interest are variable down to the individual's specific financial circumstances and geographic location. For our purposes, we took a quote for a married, 45-year old man with two children and a low credit rating. We sought to borrow $500 for their maximum total period of 31 days. The total repayment quoted was $625, equalling a total charge of $125, this being equivalent to an Annual Percentage Rate (APR) of 399%. This is about an average rate for the industry for a first-time borrower, though if you want the very best rates, you might want to consider Check 'n Go too.
In terms of late fees, if a minimum payment over $25 is 10 days late, the customer will be charged a $10 fee. They will be charged a $5 fee if the late payment is less than or equal to $25.
To qualify for a CashNetUSA payday loan, you must have a Social Security number, some proof of identity and of regular income as well as a checking account. Customers also need to reside in one of the 30 states where CashNetUSA operates.
CashNetUSA review: Loan products
Loans between $100 and $3,000 for first-time customers
Will run a credit score check on all applications
CashNetUSA offers one-month loans between $100 and $3,000 for first-time customers and will run a credit score check on all applications to make sure that you can afford the repayments. That said, people with low credit scores are still encouraged to apply. Some customers may also qualify for lines of credit, and may be eligible to apply for larger loans that can be paid back in installments.
CashNetUSA review: Payment times and quote process
Straightforward quote process
Funds can be available same day
CashNetUSA has a very clear and straightforward quote process, and customers are usually notified as to whether or not they are eligible within a few minutes. Just a few basic personal details are needed in the initial stages, and customers can opt out of continued sales calls.
The speed of approval and delivery of funds is really one of CashNetUSA's biggest selling points. The company states that if a payday loan application is received and approved by them by 10.30am Central Time, the funds will likely be made available to the customer via their checking account by the end of business that same day.
When a customer is approved for a payday loan with CashNetUSA, they automatically receive access to a couple of useful tools via their online account. One is a savings program, with tips and online applications that can help customers save money via CashNetUSA's partners. The other is a series of financial education modules that are also a boon to people trying to raise their credit scores - although if this is a priority for you, Rise is our recommended payday lender for building credit.
CashNetUSA: Usability and user reviews
Not currently accredited with the Better Business Bureau
High Trustpilot score
CashNetUSA are not currently accredited with the Better Business Bureau though the institution currently awards them a B- rating. Trustpilot, another service that evaluates the viability and reviews of companies, gives CashNetUSA a good score, too, of 4.6 out of 5 stars.
CashNet USA promises a same-day delivery of funds into customers' accounts if the application is made and approved before 10.30am Central Time, Monday-Friday. The rates and terms are displayed very clearly on the company website, with APR breakdowns and all the relevant figures cited up front, so customers should be able to work out exactly how much they will be paying back, and what the various penalties are (for late payments, etc). The online quote process is very straightforward.
Should you choose CashNetUSA?
CashNetUSA is a well-established brand, having been operating in the industry since 2005. Its rates fall into line with industry averages, and it has a very quick processes for approvals and delivery of funds to customer accounts, sometimes within the same business day. It does have some resources to help people trapped in a cycle of debt, with access to online savings programs via its commercial partners, and a wealth of financial education modules that should prove helpful to all.
A note on payday loans
Taking out a payday loan is far from the cheapest way to borrow money, and should only be considered as a lending solution of last resort. Funds that are lent attract abnormally high rates of interest, so you should always check out the alternatives to payday loans if you're in need of money to pay down debt. The following options could also help you better manage your debt without turning to a payday lender.
Best credit repair services | Best debt consolidation companies | Best debt settlement companies
---