Established in 1993, Check Into Cash is a pioneer among providers of the best payday loans. As well as operating more than 650 stores across the U.S., Check Into Cash can provide emergency loans over the phone and online - its online payday loan solution is available across over 25 states.
Payday loan advances typically range between $50 and $1,000, and will depend on your income and any state law maximum that may apply. However, the eligibility requirements for a payday loan from Check Into Cash are less strict than for more conventional personal loans.
Besides payday loans, Check Into Cash also offers installment loans, line of credit, flex loans, check cashing and title loans, among other services.
---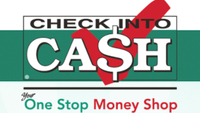 Check out Check Into Cash
If you want access to funds fast, Check Into Cash could provide the one stop loan solution you need.
Check Into Cash review: Cost of loans
Rates of interest are fixed
Customers must have checking account account
Rates and terms vary by state and product. For our purposes, we took a quote for a married, 45-year old man with two children. We sought to borrow $500 for their maximum total period of 31 days. The total repayment quoted was $625, equalling a total charge of $125, this being equivalent to an Annual Percentage Rate (APR) of 294.35%.
To qualify for a Check Into Cash payday loan, you must have a Social Security number, proof of identity and of regular income, as well as a checking account.
Check Into Cash review: Loan products
Credit check is run on new customers
Does not typically penalize customers for early repayments
Check Into Cash offers a one-month, single payment payday loan solution for people with low credit.
Customers must usually have a credit score of between 300 and 700 to qualify as eligible, and a credit check is run on new customers. Customers with low credit can also apply for installment loans (typically larger amounts paid back over a number of months or years) and title loans, where customers use their vehicle as collateral on a larger loan (up to $25,000). Check Into Cash do not typically penalize customers for early repayments.
Check Into Cash review: Payment times
Over 650 physical stores
Decision made normally within an hour
Check Into Cash offers customers various options when they want to secure a quote for a payday loan. Since it has over 650 stores, it's relatively easy to apply for a payday loan in person. Customers living in eligible states can, of course, also apply online through the website, or over the phone with one of its customer service agents.
Customers - even those applying for the first time with Check Into Cash - are typically informed of a decision on their payday loan application within an hour of the initial query, which is a timeframe that only our top choice, CashNetUSA, can generally beat. If successful, the agreed funds can be delivered to the customer's checking account within two business days. If applying in person at one of its stores, the funds can sometimes be made available immediately.
Check Into Cash review: Usability and user reviews
More payday loans reviews
Accredited with the Better Business Bureau
Founding member of the CFSA
Check Into Cash has been accredited with the Better Business Bureau since 2000, and the institution currently awards them an excellent A+ rating. Check Into Cash is a founding member of the payday loan industry's national trade association, the Community Financial Services Association of America (CFSA). The company states that the CFSA, in association with Check Into Cash, has created consistent and widely-applied 'best practice' standards for all association members.
The website is very easy to navigate, and payday loan applications only require a basic amount of personal information during the early stages. Customers can also check boxes so that they do not receive a huge amount of sales calls.
There's a good range of helpful resources available to support borrowers too, although Oportun remains the go-to option if you're in need of a lot of guidance.
Should you choose Check Into Cash?
Check Into Cash is a relatively well-known brand, and the large number of physical storefronts is reassuring to many customers. Its rates fall well in line with industry averages, and funds can be made immediately for customers applying for payday loans in person. It is as reputable as any of the major names in the industry, and also states its commitment to best practices and ethical behavior.
A note on payday loans
Payday loans may provide fast access to cash but they usually come with extremely high payment rates. As such, even the best payday loans should only be considered as a last resort, as they can quickly lead to debt and create other problems financially. If you're in debt, always consider first the alternatives that are better than getting a payday loan and take a look at the following options that might be able to provide a solution to your problems.
Best credit repair services | Best debt consolidation companies | Best debt settlement companies
---