Falling, changing leaves and the threat of pumpkin spice everything can only mean one thing. It's Autumn. And, while that means we can look forward to impending holidays, it also means that you have to figure out what to do with those falling, changing leaves covering your walkway.
To make life easy, you'll need a leaf blower, preferably electric and preferably not too over-powered. As luck would have it we have found one of the best leaf blowers discounted.
Specifically, the DeWalt 20V Max Leaf Blower, which is a battery-powered cordless model, is seeing a very good discount to the tune of 32% off. Typically retailing at $169.00, this model is currently $54 off for a sales price of $114.99. While not quite a doorbuster deal, it's one of the best deals on leaf blowers available right now, especially if you already own any DeWalt 20V Max products as they use the same swappable Lithiom Ion battery (and this deal is for the tool only, battery not included). So, unless you want to wait until Black Friday comes around, don't miss out on this sale.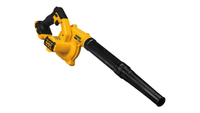 DeWalt 20V Max Leaf Blower was $169.00, now $114.99 at Amazon (save $54)
This battery-powered cordless leaf blower is discounted from $169.00 to $114.99, a difference of $54 or 32%. That's pretty good for a leaf blower with 100 CFM airflow, three speeds which can be adjusted during use, a lock-on trigger, and the kind of lightweight design that's not only super easy to use but doesn't take up a lot of space when stored. Just know that this leaf blower is meant for smaller jobs.
Price Check: Home Depot $169.99 Lowe's $159.99
Alternative Pick / Cheaper Option: DeWalt Cordless Leaf Blower
DeWalt 20V Max Leaf Blower: Key features
The DeWalt 20V Max Leaf Blower is the kind of leaf blower you need for smaller jobs. It's not meant to clear out a large yard of leaves. Instead, if you just want to clear out a path down your walkway or blow some debris out of the side of a old, dusty car (don't worry, I won't judge), this is the one for you.
And, its features fall in line with that concept. To start, it's incredibly lightweight and compact, coming in at 2.5 lbs with dimensions of 12.6 x 5.7 x 7.85 inches. So, you'll have no trouble carrying it around for whatever job you need it for and it doesn't require too much space when stored either.
It comes with three speeds with the ability for a very slow speed to offer more control. And, thanks to its variable speed trigger, you can adjust on the fly while using it. The trigger can also be locked so you can turn it on and use it without having to constantly press the button.
Lastly, while the leaf blower deal featured here comes without a battery, this is a part of the 20V Max series. So, if you own DeWalt's 20V Max hedgetrimmers, mini saw, or any other product in the series, you can use the same battery, saving money and space by having just one rechargeable battery.
Leaf Blower Deals
If you want to spend even less for a leaf blower for small jobs, the Yawv 20V Cordless Leaf Blower is $49.99 at Amazon and is compatible with DeWalt's 20V Max batteries. It can both act as a leaf blower as well as vacuum and comes with a number of attachments. It has six speeds and is also light weight, coming at 2.5 lbs. Just be aware that this brand isn't nearly as established as DeWalt so you may want to double check any warranty guarantees before purchasing.
With Amazon Prime Day deals and, dare we say it, the best Black Friday deals, not too far away, it would be worth bookmarking these two main hubs so you'll be amongst the first to know of more deals worth having.