The Chamberlain C410 has a lot in common with the other, more expensive Chamberlain garage openers we evaluated. In fact, it's very similar to the Chamberlain B550, but with slightly fewer features and a more limited warranty. Despite these minor drawbacks, the B550 is better than other budget garage door openers. Positive customer reviews reinforced the quality of this product.
At $160, the Chamberlain C410 costs about $40 less than an average garage opener, and it's only $20 more than the cheapest openers in our comparison, the Craftsman 54930 and the Genie Chain Drive 500. The Chamberlain C410 has more features and accessories than these less-expensive models, so it's ultimately a better value.
Unlike more highly ranked garage openers, the C410 uses a 1/2-HP chain-driven motor, meaning it's louder than belt, screw and jackshaft openers. However, most customer reviews didn't mention it being very loud. If you're replacing an older, chain-driven opener, you can expect the C410 to run more quietly, but it will still generate more noise than a belt-driven opener.
Among the garage door openers we evaluated, the C410 is the only chain-driven opener – and the cheapest one – to have a built-in timer-to-close function. It lacks more advanced features, such as built-in Wi-Fi and motion-triggered lights, but you can buy these features separately if you decide you want them. That said, the Chamberlain B550 is a more affordable way to do this; the accessories cost around $100 together. However, the B550 costs only $40 more. The C410 doesn't have a backup battery, and there's no option to add one.
When we researched customer reviews of the Chamberlain C410, we found that it had an average rating of 4.35 out of 5 stars across 432 reviews. This wasn't the highest rating in our comparison, but it shows that customers generally think it was a good purchase. Positive comments noted that the C410 was easy to install, fairly quiet and reliable. Conversely, critical reviews pointed out that it was difficult to adjust the travel limits for the garage door to open or close completely after installation.
The Chamberlain C410 includes an accessory you won't find on cheaper garage openers: a wireless keypad. It also comes with two three-button remotes. If you decide to buy the Chamberlain myQ adapter to add Wi-Fi to this unit, you can expect the same smart home functionality offered by Chamberlain smart garage door openers with built-in Wi-Fi.
The warranty on the C410's motor is better than that of cheaper units we reviewed; it provides 10 years of coverage, compared with five years and four years for the Genie Chain Drive 500 and Craftsman 54930, respectively. The chain warranty on the Chamberlain C410 lasts only one year, which is less than the five years on the Genie Chain Drive 500 but average for budget garage door openers. The parts warranty lasts only one year, which is the same as parts warranties from similarly priced openers.
Need a better alternative?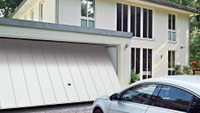 (opens in new tab)
Top Ten Reviews has reviewed the Best Garage Door Openers so that we're able to offer you the authoritative buying advice you expect.