RYOBI's smart garage door openers are the most innovative in the industry. However, they're also the newest, so they're still a work in progress. RYOBI has been making garage openers for just a few years, and the RYOBI GD126 is only a second-generation product. As such, a lot of things don't work as well as they would on a more developed product. Future versions of this opener have the potential to provide what we expect from a garage door opener. The RYOBI GD126 costs around $200, which is average for the garage openers in our comparison.
The best thing about RYOBI's garage door openers is that they have accessory ports, and the GD126 has four. These ports allow you to use the opener for functions other than opening the garage door or lighting your garage. Currently available accessories include a Bluetooth speaker, a retractable extension cord, a fan, a tire inflator, a laser park assist function and a security camera. These accessories add costs ($38 to $99), but they offer extra features not found on models from established brands, such as the Chamberlain B970 and the Genie MachForce Connect.
In our customer satisfaction research, we found that the RYOBI GD126 had the lowest average customer rating in our comparison, with 3.2 out of 5 stars across 184 reviews. Despite the low rating, customers were pleased with the machine's quietness, unique use of modular accessories and attractive green design with a large LED on the bottom.
Critical customer reviews focused on the lack of both motion-activated lighting and an outdoor keypad. Another minor complaint was that the control panel doesn't have a backlight, making it difficult to use in a dark garage. Lastly, some users said the GD126 was difficult to install using the included quick start guide, noting that it was more effective to use the full manual. Another good installation resource is RYOBI's detailed tutorial on YouTube, which walks you through the installation and setup in an easy-to-understand format.
The RYOBI GD126 is a 1 1/4-HP belt-driven unit, making it suitable for most homes. It has built-in Wi-Fi, so you can control it from a smartphone. However, it doesn't support any smart home platforms yet. The unit comes with a control panel and a pair of two-button remotes, but you need to pay extra if you want a wireless outdoor keypad for this unit. The GD126 doesn't have a battery backup or timer-to-close functionality; other similarly priced units do offer these features.
RYOBI's warranty on the GD126 is one of the best in our comparison, with lifetime coverage on both the motor and the belt-driven lift system. There's also a three-year warranty on the other parts, which is better than the one year of coverage that most smart garage door openers offer.
RYOBI also sells another smart garage opener, the GD201, which costs around $250. We chose not to evaluate this unit because it wasn't in stock at Home Depot when we selected models for our comparison. We may decide to evaluate it in a future update, as it appears to be the more popular and higher-rated model from RYOBI. It's worth a look if you like the features of the GD126 but want a backup battery, motion-triggered lighting and seven accessory ports.
The first-generation model, the GD125, and its upgraded version, the RYOBI GD200, are no longer available. The GD200 was discontinued after a patent lawsuit from Chamberlain, which likely slowed down the development of new models. But we hope that RYOBI sticks with it, as newer versions with fewer flaws would improve these products.
Need a better alternative?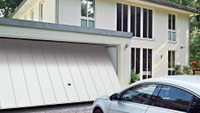 (opens in new tab)
Top Ten Reviews has reviewed the Best Garage Door Openers so that we're able to offer you the authoritative buying advice you expect.