The Cuisinart Petit is a decent table-top gas grill that you can take with you pretty much anywhere. It's a good choice for family picnics, camping trips, tailgating parties and even apartment patios where grilling space is at a premium. Its lightweight, briefcase style design means that it's easily transported and stored. However, it does have some major problems when it comes to heat consistency, safety and quality of construction.
The convenience of this grill is its primary selling point. It's very easy to setup, store, move and clean. However, it also means it's limited in very important ways. Chief among them is it can only be used on a tabletop, or possibly a pickup truck tail gate. There are variations of the Petit Gourmet that have extendable legs to solve this problem, so if you need a freestanding portable grill, get that model, or look into our most portable grill pick, the Coleman RoadTrip X-cursion. Other limitations limited grilling space. We could only comfortably fit three hamburger patties on the grill plate.
Another big design flaw we noted was the drip tray. While it works well as far as it goes, you can't rely on it to catch everything unless you empty it every few minutes. Even with the drip tray in place, we noticed grease dripping on our picnic table. If the tray gets too full, it's a potential fire hazard and big flareups are a near certainty. Make sure you're paying close attention while you're cooking with this grill.
Almost all the other grills we tested have enamel coated cast-iron grill plate. This, by contrast, uses stainless steel. Given its size and price point, this isn't a big deal. However, you should expect meat to stick more frequently than you would with a grill with cast-iron grates.
The heat consistency was hard to determine with this grill, this is primarily because it lacks a built-in thermometer that displays the exact temperature you're cooking at. We used an infrared heat gun to get an idea of how hot you can expect after you've been cooking for seven, 14 and 21 minutes. We found that the temperature fluctuates wildly, and you can't rely on this grill to produce an even temperature. This means that you'll have to check your meat every few minutes to make sure you're not burning it. You'd be well served to have a meat thermometer handy, especially when cooking chicken, to make absolutely certain that your food is cooked properly.
The warranty period for both burners is three years. This is the middle ground among the grills we reviewed, some had one-year warranties while others had a lengthy five-year period. The warranty period isn't a huge deal, but it gives you an idea of how much confidence a company has in its products.
You'll probably know what to expect from this grill just by looking at it – it's small, low-powered and requires close attention while cooking. But it's also inexpensive, lightweight and convenient. So, the tradeoffs mostly equal each other out, as long as you know you're getting precisely what you pay for.
Need a better alternative?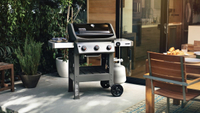 (opens in new tab)
Top Ten Reviews has reviewed the Best Compact Printers 2019 so that we're able to offer you the authoritative buying advice you expect.