When we tested the Coleman RoadTrip X-cursion, we were pleasantly surprised at how well it held its own against our top picks. Granted, you won't get nearly the same experience, but you will get every dollar's worth out of this purchase.
We named the RoadTrip X-cursion the most portable gas grill for several reasons. Chief among them is how easily you can assemble, store, use and clean it. It provides a decent amount of heat for a grill its size – about 20,000 Btu – which is a lot when compared to the other portable grill we tested, the Cuisinart Petit Gourmet, which only produces about 5,500 Btu.
Unfortunately, there is no built-in thermometer on this grill, so there's a bit of guesswork involved when it comes to pre-heat time and proper cooking temperature. We tested heat consistency by using an infrared heat gun to gauge the temperature at seven, 14 and 21 minutes. Only one other grill was more inconsistent during this test.
Surprisingly, if you use all the available space, you can cook up to eight burgers at a time on this portable grill. But that's a tight fit – we wouldn't recommend cooking more than six to have space to properly flip the burgers when they're ready.
The form factor of this grill is a huge boon. It's compact and lightweight. This makes it easy to assemble, stored, use and clean. It only took about 45 minutes to fully assemble this model. And for a grill that's made of plastic and stainless steel, its remarkably stable. Its legs are easily folded to take up as little space as possible when not in use. It has plastic wheels that allow you to easily move it once it's set up. All this makes it an ideal grill to take camping, picnicking, tailgating or any activity that calls for a portable cooking device.
For a grill at this size and price point, we were expecting it to have grill grates made of stainless steel – instead it boasts enamel-coated, cast iron grates that are great for retaining heat, reducing meat sticking and heating food evenly. The only problem we had with the design of the grates is that they make it a bit difficult to fully close the lid when in use.
This grill has a three-year warranty period for both the burners and other parts. This is a middling length when compared to the five-year warranty you get from our top pick and the one-year warranty that comes with some of the lower rated grills we reviewed.
The RoadTrip X-cursion is an aptly named gas grill. You can take it on the road and rely on it to work and provide a good grilling experience. It has some flaws, such as the lack of a built-in thermometer, but its stable construction and enamel-coated, cast iron grates make it good choice for tailgating, camping or taking over to a friend's house for a grilling party.
Need a better alternative?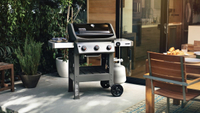 (opens in new tab)
Top Ten Reviews has reviewed the Best Compact Printers 2019 so that we're able to offer you the authoritative buying advice you expect.