If you've been looking for a new washer & dryer combo, then rejoice that the holidays seem to come earlier every year. This GE Profile UltraFast Combo Washer & Dryer is getting that early holiday bird special on Home Depot.
While we may see Black Friday washing machine deals to top this one closer to that shopping holiday, this is still a pretty spectacular deal for those who have a pile of laundry that just can't wait until then.
After all, while this combo is pretty pricey, going for $2,899.00 typically, it's getting a fantastic 24% slashed off of that ticket price for a sales price of $2198.00. While we're highlighting it as a top Home Depot Black Friday deal, this model seems to be getting the discount treatment across the board, so you can take advantage of whatever rewards program you have to make the most of this sale.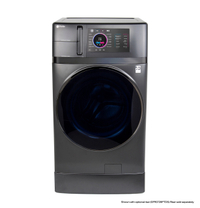 GE Profile UltraFast Combo Washer & Dryer | was $2,899.00, now $2,198.00 at Home Depot
Not only can you save space with this speedy washer and dryer combo from GE's Profile line, but you can save a nice chunk of change, too, as it's discounted $701, going from $2,899.00 to $2,198.00. Beyond its ability to wash and dry in one go, it also can store and automatically dispense detergent and notify you when the load is done via the SmartHQ smartphone app.
Price Check: GE $2,199.99
Alternative Pick: Deco Front Load Washer Dryer Combo
GE Profile UltraFast Combo Washer & Dryer: Key Features
The GE Profile UltraFast Combo Washer & Dryer can do something that many of the best front load washers can't - wash and dry a load in one sitting. And, once you start it, you can walk away until it's completely done - no need to start the dry cycle once the wash is done.
There's more to it than that, however. For one, the "Fast AirFlow Drying System" allows quick drying with less heat to dry more delicate items without concern. "Adaptive SmartDispense Technology" is also a nice touch, automatically dispensing the proper detergent for up to 32 loads.
And, of course, with a combo this pricey, it has app support, specifically the SmartHQ app, which will notify you when your laundry is done (along with a bunch of other features).
Just as importantly, there's plenty of capacity (4.8 cu.ft.) here, so you don't have to worry that GE took the space-saving form factor too far. Antimicrobial protection, an easy-to-clean lint filter, and saved preset cycles are also on hand.
If you're not sold yet, just look at the reviews. A 4.7 out of 5 rating on Home Depot is always impressive, and doubly so with an expensive item.
Washer Deals
Though this discount is great, you don't have to spend over $2,000 to take advantage of Black Friday appliance deals. There are plenty of other options worth considering as the sales price on this GE Profile Ultrafast Washer and Dryer Combo is still out of range for many.
Though it doesn't have the same capacity, the Deco Front Load Washer Dryer Combo has dropped 26% or a little over $335 in price for Black Friday, going from $1284.29 to $949.00. It's less fully featured but does the job and can even be used on an RV.