Getting a good vacuum like the LG CordZero All-in-One Cordless Stick Vacuum usually requires handing over quite a bit of dough. And, this model is no different, as LG has it listed for $999. Of course, there's a bit more to it as it comes with an all-in-one self-emptying bin / charging station / storage container. Still, if you want to use the cleaning power of this LG cordless stick vacuum, you're going to have to pay for it.
But, even the best vacuum cleaners for the home get a sale from time to time. In the case of the LG CordZero All-in-One Cordless Stick Vacuum, it's getting a full $300 off for the LG's Labor Day sale. That's a third off from that $899 price, down to $599 when you buy direct from LG. It undercuts the current offers over at Amazon and Best Buy which means that, at this time, it pays to shop direct with the brand.
So, if you're in the market for a top-of-the-line cordless stick vacuum, now's the best time to get one until the best Black Friday deals start popping up in November. And, frankly, your floor probably can't wait that long.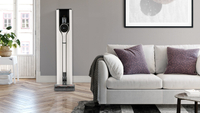 LG CordZero All-in-One Cordless Stick Vacuum: was $899, now $599 at LG (save $300)
The LG CordZero All-in-One is a powerful cordless stick vacuum that's incredibly versatile thanks to all the included attachments. It can even mop! Probably the most impressive thing about, though, is its all-in-one tower that functions as a self-emptying bin, charge station, and storage. The second most impressive thing is that it's currently on sale direct through LG, down from $899 to $599 – a cool $300 off.
Price Check: Amazon $695.99 | Best Buy $699.99
Alternative Pick / Cheaper Option: LG CordZero A9 Kompressor
Key Features of the LG CordZero All-in-One Cordless Stick Vacuum
The LG CordZero All-in-One Cordless Stick Vacuum is versatile in a number of ways. Thanks to its various attachments, it can vacuum, mop, and get into hard-to-reach places. It comes with a very intuitive app that can integrate with Google and Alexa assistant and will also track cleaning history and diagnose any issues. And, it has a backup battery to truly extend your cleaning time. But, its base is just as versatile. This behemoth of a tower – yes, you'll have to make some room for it – will self-empty any dirty contents from the vacuum, charge the vacuum (and the backup battery) back up, and also functions as storage.
It's no wonder that it comes with a pretty hefty price tag of $899 through LG ($999 everywhere else). Unfortunately, there are some hangups besides the price. While it can mop, it can't suck up excess liquid. And, when vacuuming, it's not consistent on the edges. Despite that, this is still a stellar vacuum. Some other highlights include excellent battery life (normal mode nets 60 minutes of use), and the fact that, like some other stick vacuums, you can use it in handheld mode to clean the car.
In comparison, the LG CordZero A9 Kompressor is not quite as full featured as the LG CordZero All-In-One but it's still a fantastic option. It also makes for a great alternative as it still can vacuum and mop, comes with plenty of attachments, and has a more stripped down charging base for those who don't need or want to pay for one with that self-emptying feature. Since this is more stripped down, its retail price is $699. And, since it's Labor Day, LG is also discounting the LG CordZero A9. While not as hefty of a deal, it's $249 off for a sales price of $450.