The coronavirus pandemic has lead to an increase in hand-washing and social distancing measures aimed at delaying the spread of the deadly virus, but if you're not properly disinfecting your laundry, this may not be enough. Advice (opens in new tab) from the Centers for Disease Control and Prevention suggests rigorous disinfectant measures to keep you (and those around you) safe from COVID-19, and those include measures you should implement when you're doing your laundry.
The WHO (opens in new tab) has estimated that the virus can live for days on certain surfaces, so you can never be too safe in how thoroughly you implement a new cleaning routine. Advice from the CDC is aimed at those who are themselves showing symptoms, or living with someone who is. However, COVID-19 can have an incubation period of up to 14 days, so if you've left the house or interacted with people from outside your household recently, it could be worth giving the clothes you wore a good, deep clean.
How to disinfect your laundry
Laundry detergent is selling out fast across the country, but that's not all you need to ensure that your clothes are clean and coronavirus-free. These are the CDC-recommended steps to keep your laundry routine as sanitary as possible:
Wear disposable gloves.
Wash hands with soap and water as soon as you remove the gloves.
Do not shake dirty laundry.
Launder items according to the manufacturer's instructions.
Use the warmest appropriate water setting and dry items completely.
Dirty laundry from an ill person can be washed with other people's items.
Clean and disinfect clothes hampers.
It's widely understood that hotter water will be more effective in killing germs, which means these guidelines come as good news to those with the best front load washers (opens in new tab) or best top load washers (opens in new tab). Many modern washing machines, such as the LG WM9000HVA (opens in new tab), come with sanitize settings and steam wash options which will hit '160 degrees (opens in new tab) Fahrenheit or more.'
You should also be increasing the frequency of your washes. Speaking to Apartment Therapy, laundry expert Patric Richardson said "Right now, if you are out and among people, you'll need to wash your clothes right when you get home,
"Just change clothes right away and wash the dirty ones."
If you're looking at increasing the amount of small loads you're washing, you should consider investing in the LG Sidekick (opens in new tab). The 1cu.ft. pedestal washer is tailor-made for small loads which can't wait or sit in your laundry basket while it fills up through the week.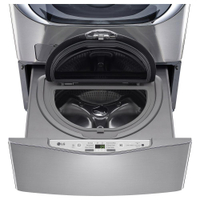 (opens in new tab)
SideKick Pedestal Washer with TWINWash System Compatibility: $779.00 $548.10 at Home Depot (opens in new tab)
The LG Sidekick pairs with most recent LG washers and is perfect for smaller loads. Ideal for throwing your outfit straight in the wash after you've left the house.
With the advice to fully dry all laundry, you might also be in the market for a dryer upgrade. Check out our guide to the best dryers (opens in new tab) to help make your decision.