When considering one of the best robot vacuums out there, models like the iRobot Roomba s9+ are typically part of the conversation, thanks to their quality cleaning and full feature set. But, as with most premium offerings from iRobot, the price tag is equally premium.
Luckily, the iRobot Roomba s9+ is one of the top Amazon Prime Day deals right now, even if it doesn't get that nice red Prime Big Deal label on its landing page. That's because it's discounted a full 30% off. Since this robot vacuum typically retails for $999.99, that translates to $300 off its full price for a final sale price of $699.99.
Whether you want to go for this deal or another of the best Amazon Prime Day Roomba deals will depend on how much you care about getting a model with a self-emptying base station, as that's a big part of that high price tag. Having the base station is certainly much more convenient. And, with this deal, you don't have to stretch your money nearly as much to get something with that self-emptying feature.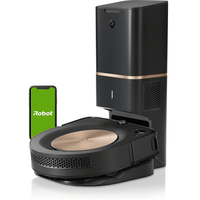 iRobot Roomba s9+ Self Emptying Robot Vacuum
| was $999.99, now $699.00 at Amazon
This robot vacuum from iRobot might be pricey, but that's because it comes with a self-emptying base station that, along with its app and multiple voice assistant support, means hands-free operation for months at a time. Plus, it does a great job cleaning, especially edges. Now, it's getting that Prime Day treatment, dropping from $999.99 to $699.00 for this shopping holiday.
Price check: iRobot $899.99
Alternative pick: ECOVACS DEEBOT N8+
iRobot Roomba s9+: Key features
The iRobot Roomba s9+ robot vacuum is among the company's pricer options for a specific reason: the included self-emptying base station. The dust bag it empties itself into is 14.9oz / 440ml in size, which should last about 30 cleanings before replacement. The secondary benefit is that you don't expose yourself to the dust as you would with a regular robot vacuum, where you have to open up the dust bin to empty it.
However, there's more to this robot vacuum than just the base station. As reviewed by our sister site, TechRadar, which gave it a high 4.5 out of 5 rating, it has excellent mapping, so you know exactly what it's done and what it still needs to do, along with its compatibility with multiple voice assistants.
Its vacuuming capabilities are very good, though it does better on hard flooring than carpeting. And it does a great job cleaning up edges, an area that's usually a letdown with most robot vacuums.
Robot Vacuum Deals
If you don't want to wait for the best Black Friday deals but find this Prime Day deal too expensive, don't worry, as there are a lot of alternatives. The iRobot Roomba J6+, also a fairly feature-filled affair, is getting its Big Prime Deal, going from $799.99 to $399.99.
Or, if you want to go with something different, the newly released and reviewed Yeedi Cube, which also includes mopping as well as self-emptying capability for both its dust and dirty water, is $140 off for Prime Day, going from $699.99 to $$559.99. Robot vacuums that mop and come with a self-emptying base station are expensive, so this already affordable model is even more accessible for Amazon Prime Day.