There's no denying that a KitchenAid stand mixer is one of the easiest ways to add both style and substance to your kitchen counter, but a collaboration with Joanna Gaines has made the Artisan mixer even more of a kitchen essential. Available exclusively at Target as part of the Hearth & Home with Magnolia line, the special edition KitchenAid Artisan comes in a brand new color, Pebbled Palm. It's also got a unique texturized finish, which is perfect for those seeking a modern matte look.
The KitchenAid Artisan is our top pick of the best stand mixers you can buy, but retailing for $379.99, the limited edition mixer isn't one of the best KitchenAid deals you'll find right now.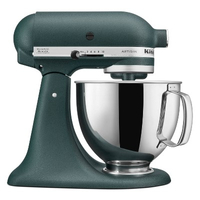 KitchenAid Artisan Stand Mixer - Hearth & Hand with Magnolia: $379.99 exclusively at Target
Get this stylish, exclusive stand mixer from Target when you shop the Hearth & Hand collection. Available with a unique color and texture, it's the perfect mix of modern and classic for just about any kitchen.
The entire Hearth & Home baking collection has a candy cane color scheme and festive feel, with Christmas tree cookie cutters and even a stoneware cookie and milk set (no doubt with Santa in mind). Although we can see the fir tree tones and the exclusive KitchenAid texture and color, it's also not so sickly sweet that you couldn't use it all year round. The set also comes with a collector's insert and everything else you'd expect when you buy a KitchenAid Artisan - including a dough hook, wire whip, and flat beater.
One of the many perks of buying a KitchenAid mixer is the color coordination possibilities. When opting for a classic color such as Empire Red or Onyx Black, you can choose a blender, food processor, toaster, and even a coffee maker in matching colors. Although Pebbled Palm is only available in a stand mixer finish right now, we'll let you know if it's expanded across other appliances right here.