You can typically expect to pay at least $500 for the KitchenAid Pro 5 Plus Series Bowl-Lift Stand Mixer, which makes this $300 saving one of the best KitchenAid deals we've ever seen. Now only $199 at Best Buy, the Pro 5 Plus Series hasn't been this cheap since last year's Black Friday USA deals, when it sold out very fast.
If you're looking for one of the best stand mixers you can buy, this is a fantastic choice. It doesn't take the top spot in our guide because of its usually high price, but at under $200 right now, it's cheaper than the smaller and less powerful KitchenAid Artisan mixer, currently $279 at Best Buy. Featuring a 5-quart stainless steel bowl, wire whip, dough hook, and flat beater, this KitchenAid will serve all your culinary needs at a great price.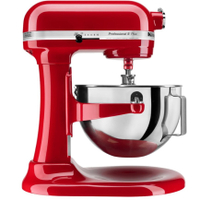 KitchenAid Pro 5 Plus Series Bowl-Lift Stand Mixer: $499.99 $199.99 at Best Buy
Save $300 - The timeless KitchenAid Professional Stand Mixer is over half price at Best Buy this Black Friday. With a tilt-head and ten speeds for a variety of recipes, this is a classic kitchen appliance that you'll use time and time again.
Unlike the classic tilt-head KitchenAid mixer, the Pro 5 Plus Series Bowl-Lift Stand Mixer has a bowl-lift mechanism that prevents spills by allowing you to move the bowl itself, instead of lifting the mixing arm away from it. The mixer is also compatible with a whole range of KitchenAid attachments, from pasta makers to food processors, so this multi-functional machine is for far more than just baking. You can even buy a KitchenAid ice cream maker and create soft scoop from home in any flavor.
We've also seen some great savings on the KitchenAid Classic Plus, which is also on sale at Best Buy right now. It's $189 in the Black Friday sale thanks to a $70 price cut. That's not as impressive as the $300 discount on the Pro 5 Plus Series, but it's still a fantastic option if you want that classic tilt-head look and are worried about buying a large mixer that'll take up a lot of room.

KitchenAid Classic Series 4.5 Qt. 10-Speed White Stand Mixer with Tilt-Head: Was $259, now $189 at Best Buy
Save $70 and get cheap KitchenAid stand mixer with this small but mighty Classic Series. Now only $189, it's a great Best Buy deal that's sure to see you through the festive season.
More great stand mixer deals
Need more money-saving deals and discounts? We've rounded up the best Black Friday USA deals for 2020 - which includes early price-cuts from around the web. For more great options, check out our guide to the best Ninja Foodi Black Friday deals, Black Friday washer and dryer deals 2020, and Black Friday refrigerator deals.