Thanks to these KitchenAid Coffee Maker and Grinder discounts, you can now make create your own home coffee bar and enjoy delicious hot or cold brew coffee whenever you want. Thanks to the ongoing Home Depot Black Friday sale, you can save $70 on the Silver Burr Coffee Grinder, now just $179.99 (was $249.99). You can also grab a discount on the brand's 4.75 Cup Silver Cold Brew Coffee Maker, on sale for $99.99 at Home Depot (was $125.13).
We've been rounding up the best KitchenAid deals for a while now, and we reckon either of these products would make great Christmas gifts for coffee lovers. In fact, the Burr Coffee Grinder and the Cold Brew Coffee Maker could be the ideal duo to kick-start your own home coffee bar. Like some of the best coffee makers, KitchenAid's Cold Brew Coffee Maker is simple to use and rather compact too, making it a great choice for small kitchens.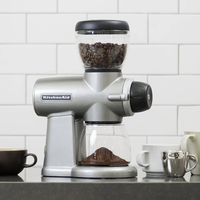 KitchenAid 7 oz. Contour Silver Burr Coffee Grinder | Was $249.99 | Now $179.99 at Home Depot
Save 28% on this coffee grinder, which gives you a choice of 15 grind levels so that you can achieve the perfect fine espresso or coarse French press every time. The hopper holds seven ounces of whole beans, and the top filling design produces excellent results.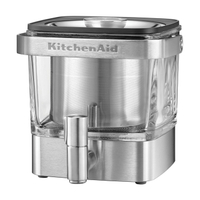 KitchenAid 4.75 Cup Silver Cold Brew Coffee Maker | Was $125.13 | Now $99.99 at Home Depot
Treat yourself to a smooth cold brew at home with 20% off this compact and easy to use KitchenAid coffee maker. It makes up to 19 servings, and there's a built-in stainless steel tap so that you can dispense cold coffee straight from your refrigerator. Delicious!
KitchenAid is hands down one of our favorite kitchen appliance brands, and while its high-quality products usually come with an understandably high price tag, Black Friday is the perfect time to snap one up at a more affordable price.
The Burr Coffee Grinder in particular gives you the choice of any grind you could possibly want, so you can make a fine espresso or coarse French roast to give even the best coffee shops a run for their money.
According to existing users, the KitchenAid Cold Brew Coffee Maker is very easy to use. Simply fill it with coffee and cold water, steep and enjoy at your leisure. Even better, its compact size means you'll barely even notice it on your kitchen counter.
And if you need even more coffee in your life, check out our guides to the best espresso machines to help you get your daily java fix.
More great coffee maker deals to shop
Need more money-saving deals and discounts? We've rounded up the best Black Friday USA deals for 2020 - which includes early price-cuts from around the web. Plus, check out our other favorite appliance deals, including the Ninja Foodi Black Friday Deals, and some great Black Friday Refrigerator Deals.