A good washing machine is not cheap. In fact, getting one new with contemporary features often comes with eye-watering prices. And that's generally the case with the fantastic LG WM6700HBA front load washing machine, which typically has a $1,499.00 price tag. Luckily, it's on sale so that us plebs can afford it (or at least save some money) while being able to take care of the laundry needs of a large household.
Currently, it's discounted by $400 if you get it directly from LG, making this an amazing washing machine deal. If you don't jump on it now, you might have to wait for when Black Friday deals start rolling out to find a deal like this.
While you can find some of the best washing machines for less than this LG, you won't have quite the capacity, features, or speedy cleaning, not to mention sharp looks. You also get the benefits of a front loading washing machine.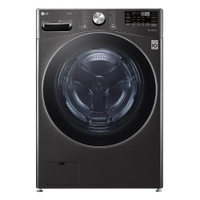 LG WM6700HBA mega-capacity front loading washing machine was $1,499.00, now $1,099.00 (27% off)
The LG WM6700HBA is quite a machine. Its 5.0 cubic square feet of capacity is only the first impressive thing about it. It also can do a normal load in 30 minutes, automatically adjust the cycle, and communicate with certain LG dryers. And, now, it's $400 off.
Front Loading Vs. Top Loading
If you're in the market for a new washing machine, this is one of the first questions you'll probably encounter. And it's a relevant one for the LG WM6700HBA.
Essentially, front-loading models will be more expensive but offer a less agitating clean, meaning you won't have to worry about ruined delicates. They're more efficient when it comes to water usage and, unlike top-loaders, can be stacked to save on space.
Top loaders will set you back a little less on average and can be a little more reliable – front-loaders are susceptible to mold if you don't maintain them – and are easier to fix when something goes wrong. They're also a little easier for taller people when removing clothes.
Reasons the LG WM6700HBA is special
This LG washing machine is a beast with its 5 cubic feet of capacity. That means you can take care of a lot of laundry all at once. On top of that, it's surprisingly fast for a front loader, with a normal cycle lasting just 30 minutes.
It uses AI technology to automatically detect what wash cycle to use based on the type of fabrics, quantity loaded, and soil levels. It can also tell certain compatible dryers the most appropriate drying cycle based on its load. It will also auto-dispense laundry detergent and fabric softener. You just need to fill up its reservoir once to cover the next 18 loads. Oh, and it's a fairly attractive washing machine, from its center LED dial to its futuristic look.
Washing Machine Deals
The LG WM6700HBA isn't the only model LG has on sale, so if you're looking for something with a smaller capacity or different form factor, you have options. For instance, the stripped-down (and frankly slightly less attractive) LG WM3400CW is getting a $200 discount, going from $899.00 to $699.00.
If that doesn't strike your fancy, we're constantly keeping an eye on the best washing machine deals so that you don't have to hunt for something that will meet your budget and needs.