Preply is an online tutoring platform, aimed at people wanting to improve their foreign language skills. It works like an online dating service, allowing students to browse the profiles of different language tutors to find one which matches their needs.
At a glance
1. Prices start at $4 per hour
2. 50 different languages covered
3. Tutors teach on 1:1 basis
There are more than 49,000 tutors from 185 countries so there is a varied selection to choose from. This maximises your chances of finding someone who ticks all your boxes but the sheer number of profiles on the platform can make picking the right one a confusing process.
Preply only offers language tuition but it caters for students of all abilities, from total beginners to experienced speakers who want to practice their conversational skills. The website itself is easy to navigate and it is simple to book your video lessons through an online timetable set to your time zone. Prices are set by the tutors themselves and hourly rates vary from around $4 to $40 so you can pick the teacher who suits your budget.
One of our favourite things about Preply is the free trial lesson – if after the first session, you decide the tutor isn't right for you, you can have a full refund or switch to another teacher.
Overall, we rate Preply as one of the best online tutoring services available in 2021, thanks to its straightforward price structure and abundance of tutors.
Preply review: Ease of use
The Preply website is easy to navigate and you can browse through the different tutor profiles and find out how it works without having to sign up and create an account. This is a fairly standard model for online tutoring platforms - both Wyzant and Skooli allow you to browse through tutor profiles before you commit to lessons.
A handy Find Tutor section on the site allows users to filter their search depending on their own needs. Filters include what language they want to learn, how much they want to pay, when they are available for lessons and what country they are based in. It is also possible to select only native speakers or find tutors in your local area if you'd rather have in-person lessons.
If you don't fancy sifting through hundreds of profiles, you can post your own request on the site, explaining exactly what you're looking for. This way, tutors who fit your requirements can approach you directly, although this may mean you are more likely to hear from teachers who are less in demand and have spaces on their timetable to fill.
Once you've narrowed down your choice to one tutor, you can message them through the platform and book your lessons through an online timetable set to your own time zone.
Preply review: Pricing
One of the big advantages of using Preply is you can see exactly how much each tutor charges per hour without having to message them. Prices are set by the tutor themselves and hourly rates vary from very low (around $4) to $40 so you can pick the teacher who suits your budget.
The free trial lesson means you can try before you buy. If you're not completely satisfied after your first lesson, you can either get a full refund or have a free replacement lesson with another teacher.
Lessons must be paid for in advance in packages of 5, 10, 15 or 20 hours so there is a financial commitment after the first lesson, unlike platforms like italki where you pay for each lesson as you go. Tutors are also encouraged to urge students to book larger packages of lessons. If they do, the tutor receives more points on the system and the student gets a discount on the price they pay.
Preply review: Tutors
Preply has a lot of tutors on the platform – more than 49,000 – so the skills and credentials of each one varies and it pays to do a bit of research before choosing who you want to teach you. Anyone can apply to be a Preply tutor but the platform's team does manually verify and approve each profile and not everyone is accepted.
When you search for a tutor, the ones with the highest ratings are shown first and each profile has a video introduction to give you a better idea of what each teacher is like.
Tutors are not allowed to put their personal contact details or even their full name on their profile and contact with students is through the messaging function of the platform. Once the first lesson has been completed, tutors and students are allowed to exchange contact details if they wish but they are encouraged to continue to use Preply to communicate.
Each tutor is given a star rating and you can read reviews from students who have already had lessons with them. You can also see how many lessons they have taught through the platform, how many active students they have and how long it takes them on average to respond to messages.
---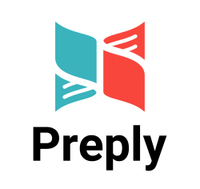 This online tutoring service comes with a generous guarantee: if you don't like your first session, you can get your money back. But with thousands of language tutors to choose from, we think it's likely you'll find your ideal match.
Preply review: Lessons
Lessons are on a one-to-one basis through a digital classroom called Preply Space. Similar to video conferencing platforms like Zoom or Microsoft Teams, students simply go to the My Lessons part of their profile and click to join lessons at the right time.
Learning is structured and during the first lesson with a tutor you will talk about what you hope to achieve and if there is anything particular you want to work on. You are then given a learning plan with specific goals in mind and you can see exactly how far along you are (expressed as a percentage) in the unit.
Students can cancel lessons for free up to four hours before the agreed start time, otherwise they are charged full price. The first lesson is always an hour, although students can choose to have shorter lessons going forward if they prefer.
If you want even shorter lessons – and you're a complete novice in the language – then you may want to get started with some simple self-paced learning courses. We have guides to the best Spanish courses and best French lessons available online, which are worth considering if you're new to the lingo.
Preply review: Is it worth it?
If you're keen to learn a language, Preply is a simple to use platform which can connect you with a wide range of tutors based all over the world. Unlike online tuition platforms like Wyzant, which offer a bit of everything and are mainly aimed at schoolchildren, Preply is designed to appeal more to adult learners.
With more than 49,000 tutors to pick from, the choice can be a bit overwhelming and the quality of teaching will vary widely depending on which teacher you choose. The individual tutor reviews and ratings can help you make a good choice but perhaps the biggest selling point is that your first lesson is free so you don't make any financial commitment until you're happy with the tutor you've chosen.
If you want to learn a more unusual language like Finnish, Czech or Danish, Preply's large variety of tutors means there is still likely to be someone available to help you.
---