Revolution Prep is a versatile online tutoring platform offering 1:1 private sessions for test prep and academic subjects, as well as group tutoring and group test prep options. There is also drop-in Homework Help seven days a week on a monthly subscription basis. The wealth of options in terms of private or group lessons already sets Revolution Prep apart from many competitors, the majority of which only offer 1:1 tutoring.
Revolution Prep also stands out from other online tutoring companies because of the commitment of its tutors, who are full-time employees rather than part-timers and who receive training throughout the year. In addition to personal and group tutoring, Revolution Prep is used in hundreds of schools across the country.
We rate it as one of the best online tutoring services you can get, thanks to all of the above. But it's not without it faults – read on for our full review.
Revolution Prep review: How it works
Revolution Prep is one of the leading online tutoring platforms which provides a range of services for those from Kindergarten through college, as well as extensive test prep for the PSAT, ACT and SAT.
The company has been in the business for decades: it was founded by two UCLA MBAs in 2002, Ramit Varma and Jake Neuberg, and has helped over 1 million students boost their scores and improve their grades.
Essential Info
Grades: K-college
Price: From $39.80+ an hour for real-time live tutoring with up to three students in any subject; from $41.50 an hour for 12 hours of group test prep
Subjects: over 100 academic subjects plus SAT/ACT/PSAT test prep
Programs: 1:1 private live tutoring or test prep, 3:1 tutoring, group test prep (up to eight students) all available
Times available: schedule-ahead tutoring, drop-in Homework Help, seven days a week
Revolution Prep's main strength lies in its test prep help, which is accessible and personalizable depending on the student's requirements. You can expect expert instruction, unlimited practice videos, mock tests and group class sizes of up to eight students. You can also choose from 12, 24 or 36-hour packages.
For those looking for 1:1 tutoring in a specific academic subject (from Pre-Calc to Japanese, Biology to Music Theory) or SAT/ACT test prep, private tutoring packages in 12, 24 or 36-hour blocks are also available. These include individualized instruction, a customizable schedule and tutoring with the same person, so the student develops a rapport over the lessons.
Live online sessions are also available for those who prefer a small group option of 3:1 students, where you can self-schedule lessons in a range of academic subjects (40+). These can be purchased in a block of five hours.
Live online sessions are also available for those who prefer a small group option of 3:1 students, where you can self-schedule lessons in a range of academic subjects (40+). These can be purchased in a block of five hours.
Finally, students in grades 6-12 can also pay a monthly fee for Homework Help, which includes guidance across 60+ academic subjects as well as access to SAT and ACT test prep resources. This works as a drop-in, office-hours type service, seven days a week.
Schools across the country like Deerfield Academy use Revolution Prep to offer their students additional tuition through 1:1 and group sessions, as well as access to an academic advisor to help match students with the tutor that suits them best.
Revolution Prep review: Ease of use
Revolution Prep couldn't be easier to use: you just need to commit to a package, purchase it and then you can start signing up to sessions based on your availability and your tutors', using the Schedule tool on your dashboard.
Other than homework help, each package - whether you're looking for 1:1 or group sessions, test prep or specific help in a particular subject like 10th grade English - comes with a set number of hours, from five hours for 3:1 classes to blocks of 12, 24 or 36 hours for 1:1s or group test prep.
Revolution Prep's classes work through a combination of live, online sessions as well as on-demand videos students can access (for test prep). The platform offers numerous other resources like mock tests which are scored in detail across eight pages. There's also mobile app grading and parents are given video updates on a student's progress each month. Free online webinars on subjects of interest for those thinking about college are available on the site.
Revolution Prep review: Tutors and students
Unlike some other online tutoring platforms, Revolution Prep's tutoring time is typically bought in blocks of hours. Private 1:1 tutoring starts at $1,398 for 12 hours (it's $2,399 for 24-hours and $3,599 for 36-hours, plus four bonus hours).
Group test prep courses with up to eight students start at $499 for 12 hours, $799 for 24 hours and $1,099 for 36-hours.
3:1 tutoring from Revolution Prep is $199 for five hours, while homework help costs $99 a month for the drop-in service seven days a week, which gives assistance across a range of 6-12 subjects.
This is all quite a bit more expensive than other platforms – on demand places like Preply have lessons which start at $4, and even websites that adopt a personalized approach to learning like eTutorWorld only charge $219 for 10 sessions. But this site does offer you the chance to get to know your tutor and learn with other classmates.
The company offers a money-back guarantee if the student is unsatisfied with their private tutoring or small group course during the first 30 days or six hours (whichever comes first).
Should I choose Revolution Prep?
Revolution Prep has a reputation that precedes it, with years of success stories and over 1 million students to date. It offers flexible options for students, whether they're looking for test prep or 1:1 help with a particular academic area or subject. Tutors are full-time employees at the company, and reviewers are consistent in their praise of the service, especially when it comes to scoring higher on standardized tests like the ACT and SAT.
Revolution Prep is also an option for less formal tutoring packages, from ad-hoc homework help to 3:1 tutoring. We like that there are on-demand videos and other resources, like practice tests, for students to use, as well as personalized feedback (marked tests, video message updates about progress and goals). The only downside to this platform is the price, as other services offer tutors at much lower rates.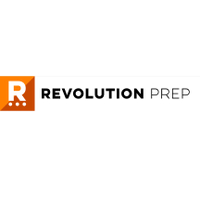 See all tutors on Revolution Prep
Revolution Prep is one of our favorite online tutoring services, thanks to its approach to learning. The platform gives students the chance to get to know tutors and offers plenty of different payment packages, so you can learn in groups or solo.