The best Black Friday robot mop deals are finally here, which means you can easily achieve a spotless floor at a lower cost than normal. You may already have a robot mop model in mind, or perhaps you're completely new to the trend and are looking to upgrade an existing model. You may even want to pair it with the best robot vacuum cleaners to get up all the excess grime and dirt before the mopping begins for a truly hands-free cleaning routine.
Unlike the similar vacuum models, a robot mop is made for giving a wet clean to hard floors like wood, vinyl, or tiles. They carry soapy water in a tank and use spinning mop flanges to give your floors a thorough scrub, taking the brunt of intense cleaning tasks. Some robot vacuums also mop, however, this means you'll be sacrificing the water tank size. This will result in you having to change over the tanks more often, so it's something to consider when making your purchase. So opting for a dedicated robot mop can be a smart move, especially for larger spaces.
Whether it's cleaning up spills to giving a daily spruce up, these robots can be programmed to suit your specific needs. Luckily, you can also set timers which work away while you're asleep or out, so you're surprised by a shiny clean and dry floor.
You may also want to consider one of the best steam mops if you want some tech if you prefer to do things manually. This guide is updated with the current top Black Friday robot mop deals for 2022 so check below to find the best model for you.
Cheap robot mop deals
• Browse the best robot mop deals at Amazon
• Shop Target's robot mop deals
• Find great robot mop deals at Walmart
• Shop Best Buy's best robot mop deals
Robot mop deals
There are plenty of opportunities to score a robot mop for cheap, but the sheer amount of options available can be overwhelming. From budget picks to premium products with high-tech features, the perfect fit for your needs is out there, but if you need a little hand finding it, we've compiled a list of the best ones out there.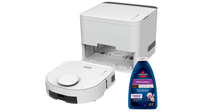 Bissell ReadyClean Wet/Dry Mopping Hard Floor Robot Mop | was $599.99, now $368.47 at Amazon
This robot mop has a no-touch auto pad management function, which means the docking station automatically reloads clean mop pads after each use. You can control it through the companion app, and it is compatible with some home assistants like Amazon Alexa.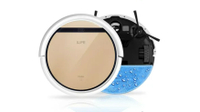 ILIFE V5s Pro-W Robot Vacuum and Mop | was $179.99, now $119 at Walmart
This robot vacuum and mop combo can clean for up to 110 minutes from a full charge, making it ideal for larger households. To switch between vacuuming and mopping function, simply switch the dirt tank for the water tank.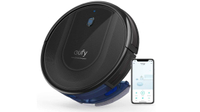 eufy RoboVac G10 2-in-1 robot vacuum and mop | was $299.99, now $119.99 at Walmart
This robot vacuum and mop combo offers a voice control option for a true hands-off cleaning experience. It is also extra quiet, operating at the volume of a microwave, and can clean under low furniture thanks to its compact format.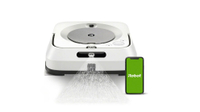 iRobot Braava jet m6 robot mop | was $449.99, now $299.99 at Target
Save $100 on this high-tech robot mop, featuring precision Jet Sprays to handle even the toughest grease and messes. The brand's vSLAM navigation technology allows the mop to learn the layout of your home and build Smart Maps, personalizing your clean.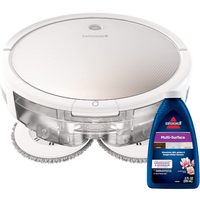 Bissell SpinWave 2-in-1 | was $399.99, now $247.99 at Amazon
The powerful SpinWave robot mop is built to tackle pet based clean-ups and features a swapable two tank cleaning system to vacuum or mop your floors. The battery is good for 130 minutes of runtime before recharging itself. Rotating mop pads work with a dual spinning edge brush vacuum, rotating brush roller and powerful suction. All that should mean a super clean end result across various hardfloor types.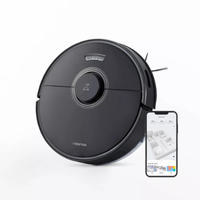 Roborock Q7 Robotic Vacuum and Mop | was $559.99, now $429.99
With efficient pet hair pick-up and multi-surface capabilities, this robot mop is ideal for a home that requires regular thorough vacuuming and mopping. It's app-based and comes with a one-year warranty, making it a great choice if you are looking to purchase your first robot mop. You can also connect it to Apple Siri, Amazon Alexa and Google Home to use voice control.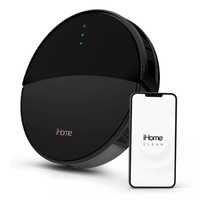 iHome AutoVac Eclipse Robot Vacuum Cleaner & Mop (2 pack) | was $483.99, now $349.99
The Home AutoVac Eclipse Robot Vacuum Cleaner & Mop is a great mid-range robot mop that works on all floor types. This deal is for two robot vacuum cleaners and mops, making it perfect for multilevel homes, as you can have one on each floor. It also has three power settings for different levels of dirt - quiet, normal, and high which will clean heavily soiled areas well.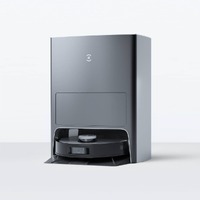 ECOVACS Robotics - DEEBOT X1 OMNI Robot Vacuum & Mop | was $1549.99, now $999.99
This robot can empty itself, refill its own water and can even wash and dry its own mop. It's voice-control enabled and has AI-powered 3D laser scanning so that it can intelligently avoid and clean around obstacles such as chairs and tables. On top of this, it also has a front-facing camera so that you can use it to monitor your home while you're away.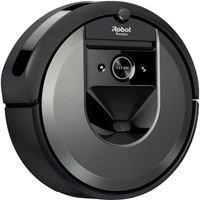 iRobot Roomba i7+ (7550) - Charcoal | was $899.99, now $499.99
If you want a completely self-sufficient robot mop, the iRobot Roomba i7+ is a perfect choice. You simply need to place it on the floor and let the robot do the rest. It even empties itself for up to 60 days. This robot vacuum and mop also learns your home as it cleans so that you can command it to clean specific areas.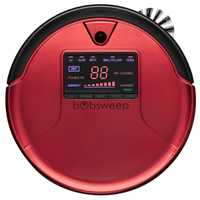 bObsweep - Bob PetHair Robot Vacuum and Mop | was $669.99, now $199.99
An affordable option that gets the job done, the bObsweep Bob PerHair Robot Vacuum and Mop can clean multiple surfaces. It lacks a lot of smart features that the others on the list have, however, for the price it would be a great choice for someone who wants to try out robot vacuums for the first time. It also comes with a one-year warranty and a five-year subsidized repair plan.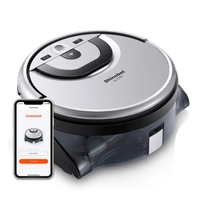 ILIFE Shinebot W455 Mopping Robot Cleaner | was $359.99, now $279.99
If you want a robot mop that is specialized purely for mopping, then this is almost certainly the robot for you. With walking speed regulation and water control, it will mop and clean your floors efficiently and effectively. This robot is completely designated to wash floors, with a plethora of features to help it get its job done. It can be controlled by the ILIFEHOME app and can be connected to Amazon Alexa for voice commands.
Cheap robot mops
It can be tough to find the hidden gems amongst the vast amount of robot mops out there. However, we've scoured the internet to find a selection of robot mops that are generally considered good deals year-round, offering great features for their price.
This smart robot vacuum and mop combo's main innovative feature is the self-cleaning function. The mopping station cleans itself and replaces the mopping pads after every use to ensure the mop is always ready to start working. The yeedi mop station pro features two 3.5 liter water tanks to store clean and dirty water separately, avoiding cross contamination. It also dries the clean mops to avoid damp smells when the cleaning is complete.
As it also doubles up as a vacuum, this single appliance can drastically reduce the time and energy you spend on cleaning every week. It features an ultrasonic carpet sensor to recognize carpeted areas, switching vacuuming modes when it encounters one and steering away in mopping mode to avoid wetting them.
The companion yeedi app allows you to set a cleaning sequence, schedule your cleaning, set up any no-go zones, and pairs with smart home assistants for voice control.
If you're after a truly automatic cleaning experience, look no further than the Braava jet m6 robot mop. As it is voice-controlled and compatible with Amazon Alexa or Google Assistant, you can send the mop to deal with a specific spot of a room by simply ordering it to do so.
Another great feature of this iRobot robot mop is the brand's vSLAM navigation technology, which enables the appliance to learn the layout of your home and build personal Smart Maps. The mop can learn where and when you normally clean and adapt to your preferences, suggesting a personalized schedule and trajectory.
While this mop does not include a vacuuming function, iRobot's Imprint Link Technology allows it to be paired with select Roomba robot vacuums to clean together for the optimal results.
The eufy RoboVac G10 Hybrid robot vacuum and mop was designed with convenience and efficiency in mind. The brand's Smart Dynamic Navigation technology makes this appliance better at mapping its surroundings to deliver a more precise clean. It also gives you the ability to fully customize your cleaning schedule and areas through the eufy companion app. You can select any day and time to run specific cleaning cycles and adjust these settings from your phone.
The ILIFE Shinebot W400s follows 4 steps to clean your floors: spraying them with clean water to soften stains, scrubbing them with a microfiber roller, removing the dirty water from the floor and wiping off residues with a rubber scraper.
On top of those 4 different steps, the robot mop has 4 cleanings modes to handle every part of your rooms: paths, area, spot, and edge. The brand says the maximum area that can be handled by this appliance is 600 sq. ft., which is worth keeping in mind if you've got a larger home.
This ILIFE robot mop has two water tanks, one for clean and one for dirty water. Dirty water is collected to ensure the floor is only mopped with clean water, and also enables it to dry quicker than using a normal mop.
This Roborock robot vacuum and mop is packed full of high-tech features to simplify your cleaning routine. The brand claims its sonic technology scrubs floors up to 3,000 times a minute for a thorough clean, and the auto-lifting feature is built-in to avoid carpets.
The Roborock S7 has an all-rubber brush which is more durable than bristled ones, and is also better to detangle hairs. The vacuum has a 470 ml dustbin store that can deal with days' worth of dust. It is powered by a 5200mAh Li-ion battery which Roborock says can run up to 3 hours on a single charge, which is considerably more than most competitors.
What to look out for in a robot mop
There are a few key factors to think about in your robot mop, primarily it comes down to how much you want to spend for the most automation. Go for the top end models and they have the largest water tank capacity so you don't have to worry about changing it out for clean water more regularly. Some will also change out their cleaning pads to make it even longer between times where you need to intervene.
Battery life can be a factor as you may find a longer lasting model can do all your floors in one whereas something less able may need a recharge stop in between. Since this can take a long time it may mean more time needed. Of course if you're running this all night and that isn't an issue then battery life may not be a big concern.
Some robot mops also offer vacuum functionality. This will cost you more and means more emptying and maintaining, but then you don't have to vacuum or mop so it makes sense. Just be aware these are usually the more expensive models.
It is worth looking out for self-cleaning models as, once again, that means less you have to do in order to maintain your robot mop and to keep getting the best possible cleaning results.