As part of 4inkjets' semi annual sale to mark the month of June, there are some big savings to be had this week on LD-Brand ink and toner. Simply use the code 4INKSEMI and you can save 20% off all ink and toner, with free shipping also included to keep costs down. That's an ink-redible offer, right there. Winning our highly coveted prize for best discount ink cartridges overall, 4inkjets is a consistently great bet thanks to its good variety of ink cartridges, cheap prices, and two-year guarantee on products.
Even when not on sale, 4inkjets claims that it offers up to 75% off the most popular ink and toner cartridges compared to buying OEM cartridges instead, so you're sure of a great bargain here.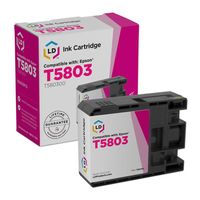 Save 20% on LD ink and toner today!
You save a whopping 20% on all LD brand ink and toner with the code: 4INKSEMI - just add it at checkout for that fantast-ink saving. You'll get free shipping too - perfect if you're stocking up your home office for summer.
The company offers ink cartridges from all the big names including HP, Canon, Epson, Brother, Lexmark, Xerox, Samsung, and Dell. You won't have to worry about struggling to figure out which type is best for you. That's because the 4inkjets website is well designed so all you need to do is select your brand then pick from the list of printer families available then choose your model. It's far easier than having to deal with complex ink cartridge designations and means you're sure to end up with the right ink or toner for your printer.
4inkjets offers a two-year guarantee on all its compatible or remanufactured products so you have peace of mind with whatever you buy, especially if you're planning on stockpiling while prices are so low via the coupon code. There's also a customer service hotline if you ever need assistance too.
The only downside to 4inkjets is that its international orders only go so far as to ship to Canada, Puerto Rico, Guam and APO addresses, but if you're in one of these areas, you're in luck.
Just bear in mind you'll need to be quick with your ink order. The 20% off offer only lasts until 6/18 so you haven't got long to stock up. Still, all you need to do is use the code 4INKSEMI and you'll save 20% off without any more effort from you. We th-ink this is going to be a popular offer!
If you need more hot printing guides we have a look at the best compact printers, and a guide to the best all in one printers too.