At about four inches wide and just over an inch thick, the Canon SELPHY Square QX10 is just about small enough to fit in a spare pocket, earning a spot in our best portable printers guide.
Canon SELPHY Square QX10
Type: Mobile photo printer
Other functions: None
Color: Yes
Max print size: 2.7 x 2.7 inches
Display screen: No
Connection type: Wi-Fi Direct
LCD preview screen: No
Dimensions: 4.02 x 5.65 x 1.23 inches
Weight: 1 lb
Warranty: 1 year
It's pretty lightweight too, weighing in at just 1 lb - although it puts on a little extra weight once you add photo paper and ink. Another advantage of this small printer is that the 'ink' it uses is actually a dye-sublimation cassette, so there's no messy liquid involved.
As its name suggests, the printer produces square photo prints measuring 2.7 x 2.7 inches. The actual paper size is a little larger at 2.83 x 3.35 inches, giving you a handy white strip at the bottom which you can use to add a caption. The print quality is impressive considering the size and price-point of this printer, so if you're after a good photo printer, this might be the right choice for you.
We put the Canon SELPHY Square QX10 to the test, assessing its speed, ease of setting up and use, price point, print quality, warranty and user reviews. Read on to find out if this is the right printer for you.
Black Friday Canon SELPHY Square QX10 deals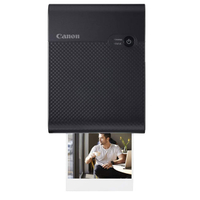 Canon SELPHY Square QX10 | was $149, now $128.98 at Amazon
Whether you've been thinking of buying a portable printer for a while or you're looking to start buying holiday gifts, now is the time as it's 13% off at Amazon. The printing quality is impressive and the 2.7-inch square prints are ideal for adding to photo albums.
Matthew has been testing and reviewing printers for computing and photography magazines and websites for more than 30 years. A qualified electronics engineer, he previously worked as a studio and broadcast engineer for the BBC, bringing a solid technical background to the subject. He has also worked as the head of the technical publications department for a company making world-leading studio recording consoles, which included in-house printing of technical and user manuals.
For this review, Matthew spent an extensive amount of time testing the printer, creating test prints for all the different modes and using his own test chart to reveal its accuracy.
Canon SELPHY Square QX10: Design
As a fully mobile printer that runs off an internal rechargeable battery pack and has Wi-Fi Direct connectivity built-in, the QX10 is ideal for printing anywhere and everywhere from your mobile phone or other smart device, using the companion Canon SELPHY Photo Layout app for Apple or Android.
Catering to a variety of tastes, at least when it comes to color, the printer is available to buy in black, green, pink and white. Build quality feels robust and the finish is stylish, making it a very pleasing addition to any home office or a hip gadget to take on the go.
Canon SELPHY Square QX10: Features
Like the larger Canon SELPHY CP1300 and CP1500, as well as various other portable photo printers, the QX10 is based on dye-sublimation technology . As such, each photo print passes through the printer four times, for the successive addition of cyan, magenta and yellow dyes, as well as a final protective coating.
Designed as a fully portable wireless printer, the QX10 runs from a built-in rechargeable power pack. When fully charged, there's enough juice for creating 20 photos. The printer comes with a USB A to USB Micro B charging cable but no mains charger is included - you've probably got a few of those kicking around already, so it's probably not a problem. However, the printer's USB port is purely for recharging the battery, so you can't connect it to a computer for cable-connected printing.
Whereas inkjet printing is a moveable feast when it comes to how long cartridges will last, you get a fixed number of prints from each dye-sub cassette. This is sold in packs of 20, containing both the dye cartridge and 20 sheets of photo paper. Canon's 'Color Ink & Label XS-20L' packs cost around $15 / $16 a throw, working out to about 75c / 80p per print.
Each sheet of photo paper has a peelable backing. Peel it off and you'll reveal a self-adhesive surface, making the print ideal for scrapbooking or sticking the print to pretty much any surface.
Canon SELPHY Square QX10: Setup and usability
Setting up a Wi-Fi Direct connection to your mobile phone or another iOS or Android device is quick and easy, after which the Canon SELPHY Photo Layout app is all you need to create prints. This makes it easy to select photo images on your phone for printing, as well as for adding stamps and text if you feel the need. A range of filters is also on hand, for changing the look of your print.
When it comes to usability, the interface is slick and simple. There's just a single operating button and two LEDs to indicate charging and status. The dye cassette slots into the side of the printer and a stack of up to 20 sheets of photo paper sits in an internal paper tray. This is accessed from underneath the printer to avoid any protrusions.
Canon SELPHY Square QX10: Print quality
Image quality is very pleasing. The vibrancy of glossy prints isn't up to the standard set by high-end photo inkjet printers, but color and contrast are still more than passable. Color rendition is very lifelike with good overall accuracy, and there's plenty of depth in shadows and blacks, along with good retention of detail in highlights.
Retention of fine detail in digital images is very good in the final print. The print resolution of 287x287dpi (dots per inch) might not sound a lot compared with inkjet printers, but there's a fundamental difference in dye-sub printing. Droplets of different colored inks from an inkjet printer need to be laid next to each other on the page, rather than on top of each other. In dye-sub printing, the different colored dyes can be laid on top of each other to make up the final colors and tones, so much less resolution is required for creating highly detailed prints.
Each print takes well under a minute to produce, at around 43 seconds in our tests. And that's for all four passes, including the protective top layer which is added last. This last layer not only makes the print robust and smudge-resistant, but increases the longevity and archival life. Canon says that print life is 100 years, although we didn't have time to put that claim to the test.
Canon SELPHY Square QX10: Care and maintenance
This printer is essentially maintenance-free. Unlike inkjet printers, there's no risk of blocked ink nozzles, so you don't need to run nozzle checks and cleaning cycles. The only care and maintenance tasks involved are to recharge the built-in battery every 20 prints or so, or earlier if you want to top it up, and to replace the dye cartridge and packs of paper, both of which last for 20 prints.
The printer is backed by either a 1-year warranty in the USA, or a 2-year warranty under the regular retail price on Canon's UK web store. If you buy the printer from an independent retailer, many offer an extended warranty and accidental damage protection for an additional fee.
Canon SELPHY Square QX10: Price and availability
The printer is available direct from Canon's regional websites and from general and photographic retailers. However, you certainly pay a premium for portability. At 2.7 x 2.7 inches, the print size is very small, but a full-sized 11-inch/A4 inkjet printer costs little more.
For example, the Canon PIXMA TS6320 (TS6350 in the UK) sells for around $100 / £135, comes complete with a built-in scanner and runs on five ink cartridges, turning out excellent quality for both documents and photos. And while the QX10's 2.7-inch square prints cost 75c / 80p each, the TS6320 produces larger 6x4-inch prints for about 37c / 43p a throw, including ink from XXL ink cartridges and Canon Photo Paper Plus Glossy II. As well as that, the desktop printer can create borderless photo prints at various sizes up to 8.5 x 11-inch or A4 size.
Canon SELPHY Square QX10: User reviews
At the time of writing, the Canon SELPHY Square QX10 was rated 4.6 stars out of 5 on Amazon, from a total of 210 ratings.
Most users seem delighted with the convenience and quality of the QX10, from its construction, ease of use and portability to the quality of its photo prints. The ability to peel the back off prints and stick them into scrapbooks seems to go down particularly well. On the negative side, some users have complained about incompatibility issues with the Canon SELPHY Photo Layout app and some of Apple's recent iPhones.
Canon SELPHY Square QX10: What the expert says
If you're into printing small square photos on the fly, the QX10 makes an ideal travel companion. It's really simple to use and there's a lot to be said for being able to print images anywhere and everywhere, from your phone or other smart device over Wi-Fi Direct. Even so, connectivity options are a little limited. There's no Bluetooth and you can't print from a computer via a USB cable. The quality of the dye-sub photo prints can't compete with those from a good inkjet photo printer but they still look smart and the 100-year longevity ensures that you'll have photos that last
Should you buy the Canon SELPHY Square QX10?
There are times in life when it's great to share real photo prints with families, friends and people you meet at events or on holiday. The QX10 enables you to create handy, high-quality 2.7-inch prints in less than a minute, direct from your mobile phone or other smart device, with no wires attached. It's completely portable and runs from an internal battery, while connecting to your gadgets via Wi-Fi Direct. It's ideal for creating photo prints at home or anywhere you go on your travels.
How does the Canon SELPHY Square QX10 compare to competitors?
The QX10 delivers better photo print quality than mini-printers that use a chemical process to 'develop' the print, like the IVY 2 Mini Photo Printer and the Fujifilm instax mini LiPlay.
It competes well against other dye-sub mobile photo printers like the Polaroid Hi·Print 2x3 Pocket Photo Printer, although the Polaroid is cheaper to buy and has similar running costs per print, despite outputting larger 2x3-inch prints that have a more natural aspect ratio for photos.
Other options include the Canon SELPHY CP1300 and newer CP1500, which output postcard sized 6x4-inch prints, again based on dye-sub technology. However, these SELPHY printers are more bulky as they are compact printers, they're mains-powered and the optional rechargeable clip-on battery pack is pricey to buy.
How we tested the Canon SELPHY Square QX10
Here at Top Ten Reviews, we feel strongly about giving consumers the best buying advice. As such, we test every product thoroughly in order to give an accurate opinion of its quality.
Our testing process begins with unpacking and setting up the printer. We create test prints from a wide range of mono and color documents, digital photos, including landscapes, portraits, and black & white images.
Prints are made using standard color modes as well as optional enhancement features, offered with the printer. We also use our own specially created test chart to reveal each printer's accuracy in terms of color reproduction, tonal range, and the ability to deliver smooth graduations between subtle color variations.
We also consider factors such as price, warranties and durability before we recommend a product.