Macy's has slashed a whopping 42% off the KitchenAid mixer to help you out through self-isolation. On sale for $229.99, and down from $399.99, the mixer is available for home delivery and comes with a one year warranty when you order from macys.com. With a large number of us stuck inside self-isolating due to the coronavirus, there's been a huge rise in home baking - creating tasty treats, providing an activity for the whole family and, for some, baking can be therapeutic too!
Coming out on top in our round up of the best stand mixers, the KitchenAid mixer is bound to be a hit with budding bakers and those looking for handy hacks on how to be more inventive with food and cooking at home.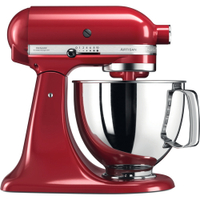 KitchenAid Artisan Series 5-Quart Tilt-Head Stand Mixer: was $399.99 | now $229.99 at Macy's
Save $170 on the KitchenAid Artisan mixer, which is ideal for some home baking during self-isolation. Available with free delivery, a beater bundle set and a one year warranty, this mixer is bound to fly off the shelves quickly.
On sale for the rest of this week, the KitchenAid Artisan Mixer has ten speed settings and a five-quart stainless steel bowl, which can be used to create four loaves of bread in just one batch - especially handy if you can't get any bread from local stores.
Designed to be used for pretty much any baking task, this versatile mixer comes with a coated dough hook, a flat beater, wire whip and an edge beater. The edge beater is especially handy for speeding up the mixing process and making sure all the ingredients are scraped from the edges of the bowl. As well as that, the tilt head design allows you to add in ingredients with ease.
Even better, you can buy separate attachments to turn the KitchenAid mixer into your very own pasta maker, spiralizer, shredder and vegetable slicer. With so many of us not able to get all the groceries we normally have, this mixer offers great flexibility to create everything from your own bread to cookies, pasta and other dishes.
What's more, all accessories and the body are dishwasher safe and shoppers can benefit from free delivery too.