The Samsung Smart Front Load Washer with AddWash is one of our favorite washing machines, not just because of its ample capacity, but because it enables you to temporarily pause the wash mid-cycle so that you can add in an extra item or two that you have forgotten. Clever, right? And thanks to this Samsung Black Friday deal, you'll save a huge $450 off the Smart Front Load Washer at Samsung.
It's one of the best Black Friday washer and dryer deals we've seen yet, and is definitely worth considering if you're on the hunt for some sparkling large appliance deals. When it comes to the best front load washers, Samsung is always one of the leaders of the pack, and we've been in love with the Smart Front Load Washer with AddWash for quite some time.
The machine's super-speed means its capable of washing a full load in as little as 36 minutes, making it a great family-friendly machine. While it may not be the cheapest, it's certainly one of the smartest, and given it's on sale as part of this year's Samsung Black Friday deals on appliances, now could be the perfect time to give it a spin (dry).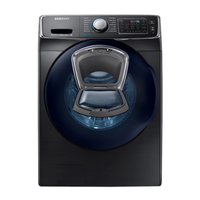 Samsung Smart Front Load Washer with AddWash | Was $1,199.00 | Now $749 at Samsung
Wash a full load in as little as 36 minutes and use the AddWash door to conveniently add in forgotten dirty clothes after the cycle has begun. With 38% off, there's never been a better time to get smart about doing your laundry.
Whether it's the best top load washing machines or another type, Samsung always leads the pack with its laundry machines, and the Smart Front Load Washer with AddWash is yet another win for the brand. The larger tub size significantly decreases the amount of individual laundry loads you'll need to do, and fewer loads mean more time to spend doing the things you love (unless you love doing the laundry, of course).
A steam wash feature means you can remove stains without pre-treating them first, with the steam released from below, rather than above, saturating every item in the load. Wi-Fi connectivity enables you to take care of the laundry from your phone or other device, or you can use Alexa or Google Assistant voice control.
Even better, VRT Plus technology means the Samsung Smart Front Load Washer with AddWash vibrates 40% quieter than other machines, so you can watch TV without all that background noise, or even schedule it to do the laundry while you're asleep.
For more great bargains, check out our best Black Friday USA deals. There's a wide range of amazing kitchen and laundry appliances to choose from, including our favorite Black Friday Refrigerator Deals.