Not everyone has the room to spare for this year's Black Friday washer and dryer deals, but that doesn't mean you need to haul your washing to the laundromat to have clean clothes and bed sheets. The LG Compact All-in-One Washer Dryer is one of the best washer dryer combos you can buy, and it's now $500 off at Home Depot.
With a 2.3 cubic foot capacity, this is a compact laundry machine that will take up next-to-no room in any cupboard or bathroom. These machines are also designed to fit under kitchen counters, so for those living in apartments without a spare room for washing and drying, it's one of the best investments you can make this Black Friday. Laundry day just got a lot easier.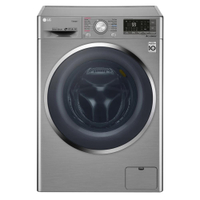 LG Compact All-in-One Washer Dryer: $1,699 now $1,198 at Home Depot
Steam technology eliminates dirt, odors and wrinkles and Wi-Fi compatibility allows you to monitor this washer dryer combo remotely. A fantastic deal that'll make a life a whole lot easier.
The LG Compact All-in-One is 30% off right now, priced at under $1,200 in the Home Depot sale. It has smart functions such as steam settings to kill allergens and dander, and it's also compatible with both Android or iOS smartphones. This smart washer will give you an alert the minute your clothes are finished washing, so you can switch on a dryer setting and have clean and dry clothes and sheets within a matter of hours.
Another major advantage of buying a combo machine is that you don't need to switch your washing from one machine to another. Simply program this washer with one of its 14 wash cycles, and then when that's done you can switch to one of the nine drying cycles on offer.
If you're contending with a tight space, it's handy to know the measurements of a front load washing machine. The LG Compact All-in-One has a depth of 25.25 inches, a width of 24 inches, and a height of 33.5 inches. It also has a left-swing door, so be sure that you can open it fully if it's placed against a wall or refrigerator.
More great all-in-one washer deals
Need more money-saving deals and discounts? We've rounded up the best Black Friday USA deals for 2020 - which includes early price-cuts from around the web. For more appliance savings, check out the best Black Friday refrigerator deals.