The Shark Matrix 2-in-1 Robot Vacuum & Mop is not a cheap robot vacuum. This mid-range model costs a bit more, but it does so for a very good reason – it can mop (and do precision home mapping but more on that later). So, for that extra functionality, you have to pay a bit more.
However, it's getting that deep discount treatment for the Walmart Shark Day deals which has landed just says before the official start of Amazon Prime Day deals, October 10 -11. After all, if anyone is unwilling to stand back and let Amazon have all the fun, it's Walmart. And, we get to reap the benefits.
What that means specifically is this robot vacuum and mop that typically retails for $449.99 is getting a huge $160 discount for a much more affordable $289.99. That's about the price you would see non-mopping budget robot vacuums go for. So, if you don't want to wait until all the Christmas-related sales, this might be one of the best deals you'll find on robot vacuums until then.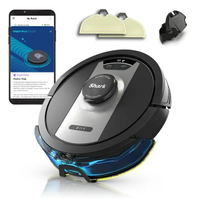 Shark Matrix 2-in-1 robot vacuum was $449.99, now $289.99 at Walmart
A 4.7 out of 5 rating on Walmart is stellar. So, it's no surprise that this Shark robot vacuum is well loved for both its vacuuming and mopping, not to mention its LiDAR-supported mapping. It's now getting a very sizable $160 price drop.
Alternative pick: Shark Matrix Robot Vacuum (RV2300)
Shark Matrix 2-in-1 Robot Vacuum & Mop: Key features
While the Shark Matrix 2-in-1 Robot Vacuum & Mop is noteworthy due to its sale to compete with all the Amazon Prime Day robot vacuum deals popping up, it's also a capable product. Like the best robot vacuums, it does everything it's supposed to and does it well.
In this case, it does a fabulous job vacuuming and mopping, even taking care of pet hair, so you can keep your floors clean without too much fuss. Plus, its app support and voice assistant support makes life that much easier as well as more hands-free. On top of that, its 360-degree LiDAR mapping is precise, making it easy to direct it to wherever you need to for spot-cleaning, a favorite feature of some owners who've purchased through Walmart. Speaking of, its 4.7 out of 5 rating on Walmart is just further proof that this is a fantastic robot vacuum.
Robot Vacuum Deals
As this deal proves, you don't have to wait for the best Black Friday deals to save big on a robot vacuum. While we highly recommend this deal in particular, there are others to be had. If you don't want or need that mopping functionality – maybe your home is mostly carpeted, for instance – the Shark Matrix Robot Vacuum (AV2310) is also seeing a good $50 discount at Walmart. Alternatively, if you want something a bit more robust, the Shark AI Ultra Self-Empty Robot Vacuum, which comes with its own self-emptying base station, should be dropping in price from its regular price of $425 down to $299.