If you do any amount of yard or garden work, you know how tiring pruning can be so getting your hands on one of the best pruners is the difference in whether or not you finish the job, especially if it's a cordless battery-powered model such as the one from DeWalt that's currently on sale at Acme Tools.
This sale may not seem like it matches the best DeWalt Black Friday deals as it's going from $300.00 to $268.00, which is a $32 drop. But, it's even more savings on what is already a great bundle. If you get the pruner on its own, you would typically spend $139.00. And, if you got the two batteries on their own, that's $269.00. So, this Acme Tools-only bundle is already about $100 cheaper than if you got the pruner tool and batteries separate. And for today only, you can save an additional 15% on all DeWalt order $99+ which can either be text or emailed to you. Sign up at Acme tools to receive the DeWalt VIP discount, and bask in Black Friday joy.
If you want savings on a pruner tool and batteries that can be used for any other DeWalt 20V tool, you're looking right at it.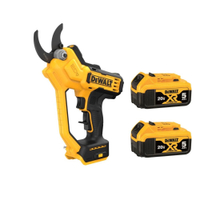 DeWalt 20V MAX 1 1/2in Cordless Pruner and Two Battery Bundle was $300.00, now $226 at Acme Tools (with coupon)
Not only does this DeWalt cordless pruner make pruning incredibly easy thanks to its solid battery life and quick cutting, but it's now part of a bundle that has no right being this reasonable. This $300 bundle would cost $400+ if you bought everything individually. And, now it's getting the Black Friday treatment to discount the list price down to $226 at family-owned Acme Tools. You will need to sign up with Acme tools to receive your one-time passcode sent via text or email to receive your coupon.
Price Check: Acme Only bundle
Alternate Pick: DeWalt 20V MAX 1 1/2in Cordless Pruner Kit
DeWalt 20V MAX 1 1/2in Cordless Pruner and Two Battery Bundle: Key Features
There are a couple things that make this bundle special. The first is the fact that it comes with two rechargeable batteries that can be used with any DeWalt 20V power tool. The second is that the pruner itself is quite powerful, making what used to be a quick way to carpal tunnel syndrome an easy task.
For instance, this pruner can cut 1100 times on a single charge. It also has a cut capacity of one and half inches. Add in coated, non-stick blades and getting your garden in tip-top shape couldn't get any easier. Plus, it has onboard LED lights to help illuminate when you're working in less than ideal conditions.
Users on Acme Tools have given the pruner a 4.2 out of 5 thanks to its surprising amount of power and ease-of-use with several pointing out that it's relieving to not have to worry about aggravating joints for those with issues such as arthritis.
Pruner Deals
If this deal is still a little rich for you – $268.00 is still a decent chunk of change – Acme Tools has a couple other options. A similar bundle but with just one battery is available for $169.00. And, if you've already bought into the DeWalt 20V system and don't need a battery, you can get just the pruner for $119.00.
Or, if you're not quite sure if DeWalt is the way to go, there are some other options including this Black and Decker 20V MAX Cordless Pruner Kit currently discounted from $193.55 to $119.00 on this family-owned retailer's online store.