Today you can get this Samsung washer and dryer set on sale and have the most stylish laundry room around. Now with $540 off, this Samsung washer set includes a 4.5 cubic feet washer, and a 7.5 cubic feet dryer.
A real highlight in this year's Cyber Monday washer and dryer deals, this Samsung washer and dryer set features one of the best front load washers and the best dryers around, and because these machines are front-loading, you'll be able to stack them on top of each other if you need to save floor space.
Finished in a beautiful champagne color, this Samsung washer and dryer set is one of the best looking we've seen, and with $540, they're now even more attractive. Smart-enabled, you'll be able to set this washer and dryer set to work from the convenience of your sofa.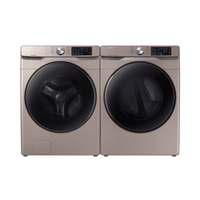 Samsung Front Load Washer and Dryer Set: $1998 now $1457.98 at Samsung
Save an impressive $540 on this stylish laundry pair at Samsung right now. Finished in a champagne-colored coating, this washer and dryer set is spacious but can also be stacked on top of each other if you need the extra room.
What we love about this LG Front-Load Washer, is that it even has a self-cleaning setting which kills 99% of bacteria in the washing machine. You don't even need to make a note of when you last cleaned the washer either, as this machine will let you know it's due to self-clean after every 40 washes. Another thing we love is how quiet this washing machine is while it works. Anti-vibration technology means this washer shouldn't be a nuisance.
To save on energy costs, this Samsung washer and dryer set is Energy Star certified and its features are so well thought-out, that there are audio assistance and braille on each machine to help the visually and audibly impaired.
As for this Samsung electric dryer, this clever bit of kit has a steam sanitize setting and it uses Sensor Dry so it knows exactly how much longer your clothes need to be fully dry. The powerful steam settings are also great for reducing creases in your clothes. Another handy feature is the dryer drum light, so that no stray socks get left behind.
Upgrade your laundry room with this stylish Samsung washer and dryer set now and save big.
More great Samsung deals
Save on other items today too, with our round up of the best Cyber Monday deals, or cash in on the top Cyber Monday refrigerator deals for more appliance savings.