Clean floors are lovely, but cleaning them isn't so much fun unless you have a robot that mops and vacuums for you - and that's what you'll get with the Roborock E35 Robot Mop and Vacuum. Even better, this clever machine is now $100 off at Amazon, making it $239.99 instead of $339.99. The Roborock E35 will quickly wash and clean your floors, removing dirt and debris from hard and carpeted surfaces.
Just like the best robot vacuums, the Roborock E35 will move efficiently around your home without bashing into your furniture. That's because this robot mop and vacuum boasts 13 sensors to ensure it doesn't hit anything, get stuck in any tight corners, or tumble down the stairs. It also offers a generous 200 minutes of non-stop cleaning, so it can blitz your home while you sit back and watch your favorite movie.
What's better than a robot that mops and vacuums? One you can control with your voice, of course! The Roborock E35 works with Amazon Alexa Voice Control, and can be controlled via the Mi Home smartphone app - you can create cleaning schedules for different days or rooms.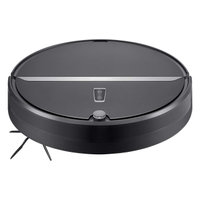 Roborock E35 Robot Mop and Vacuum | Was 339.00 | Now $239 at Amazon
Save $100 on this robot mop and vacuum that can tackle everything from light dirt to embedded pet hair. 200 minutes of battery life means it clean your whole house on one charge, and it even has a silent mode to clean while you're asleep. How thoughtful.
With a powerful 2000pa suction system, the Roborock E35 Robot Mop and Vacuum will tackle anything from lightweight debris to deeply embedded pet hair, and it can even mop hard surfaces while vacuuming them, speeding up the entire cleaning process. Best of all, there's even a silent mode, so you can set it to clean while you're asleep, then wake up to freshly vacuumed and mopped floors.
This clever robot offers some advantages over the best vacuum cleaners for home, not least that it does all the hard work for you. Instead of having to manually push a cleaner around your house, you can schedule the Roborock to take care of these house chores for you.
While the best handheld vacuums offer more flexibility and freedom of movement than a cordless upright vacuum cleaner, you still have to do the manual work, whereas the Roborock E35 Robot Mop and Vacuum gives you the freedom and flexibility to have your house cleaned whether you're there or not.
Use the Mi Home app (iOS, Android) or Alexa Voice Control to start, pause, or stop the cleaning, set schedules or configure the suction power. As mentioned, there are 13 different built-in sensors to ensure the Roborock avoids colliding with your furniture or falling off surfaces.
More great Roborock deals
Need more money-saving deals and discounts? Check out our favorite Black Friday washer and dryer deals. Looking for other home appliances? Save big with the latest Black Friday refrigerator deals, as well as the biggest Black Friday washer and dryer deals.