These washer and dryer deals will help you pick your next purchase, whether your machine is on its way out or you're looking to upgrade your laundry routine. These large appliances can make a significant dent in your bank balance, which is why we've searched for the best deals that will save you money and most importantly, help you make a well-informed decision.
The best washer and dryers combine the right capacity for your needs with features that ease everyday living. Smart technology has entered the washer and dryer scene, with many app-controlled settings that allow you to personalize cycles and start them from inside or outside the home.
A capacity of 4.5 cubic feet should be plenty even for large families, while couples could save sought-after square footage with a more compact model. As well as the size, picking the best features that will benefit your life, and the planet, is key. Many of these have an energy star rating, offering peace of mind that your home is benefiting the environment. Eco-settings also mean your device will distribute the right amount of water with a specific cycle length for the weight of the load, cutting down the time spent on laundry and household bills.
Depending on your space, you might also need to consider whether you want a top load or a front load. Front loads are great for stacking appliances, however, a top load can be a relieving choice for those who struggle with back pain as it allows you to fill the drum without bending down.
So whether you're on the hunt for the best dryers or the best washer and dryer combos, these washer and dryer deals offer various models and features to choose from that will make laundry day a dream.
Washer and dryer deals
Washer and dryer deals
We're searched the web to bring you the best washer and dryer deals that will streamline your weekly chores. You may be set on a portable dryer, or perhaps you're looking to upgrade your washer - whatever your choice, it's always worth waiting for the best price you can find. Black Friday is also round the corner, so make sure you check back for updated offers.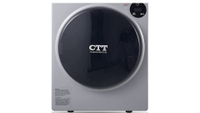 CTT Clothes Dryer | was $359.99, now $249.99
This portable clothes dryer is a savvy solution for your home, featuring a wall mounted bracket that can be hung on a wall, in a closet, mounted on a rack or on the ground. It's also got an intelligent humidity sensor, which prevents your clothes from smelling and feeling damp.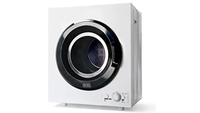 BLACK+DECKER BCED37 Portable Dryer | was $419.99, now $393.36
Ideal for apartments, dorm rooms or campers, this portable dryer has an impressive load volume despite the compact design. The simple white design has been enhanced by a sleek black drum, offering style for your laundry space.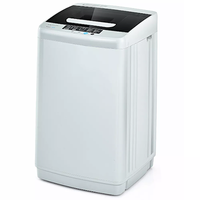 Costway Portable Full-Automatic Laundry Washing Machine | was $519.99, now $278.99
This Costway portable washer combines a convenient design with a large capacity - great for big families and busy homes. With ten washing modes, five water levels, and a timer, you can easily customize the cycle to your needs.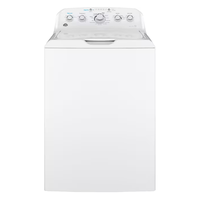 GE - 4.5 Cu. Ft. Top Load Washer | was $719.99, now $599.99
This GE washer takes the guesswork out of laundry with PreciseFill, which measures the right water level for each load. It also has a deep clean cycle with 67% more cleaning power than usual cycles and an auto-soak setting, all helping to dislodge stains and achieve a fresher result.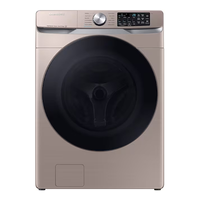 Samsung WF45B6300AC | was $1,034.99, now $799.99
It's not often that champagne and laundry mix, however Samsung has launched this super sleek model that will add glamor to a washing space. As well as the stylish design, it can be controlled via the SmartThings App, making it easy to control cycles from your smartphone. It also has an energy star rating, providing peace of mind that the machine is kind to the planet.
Best value washer and dryers
There are plenty of washers and dryers on the market which makes finding the right option for your home difficult. Luckily, we've rounded up the best value washer and dryers to help you find a machine that has all the features you're looking for, at a good price.
These five choices all come with 4 star ratings or above, so you can rest assured that they come highly recommended. We've also been careful to select washer and dryers with Energy Star certifications as we recognise that the impact on the environment and your household bills is a big consideration when making your new washer or dryer purchase.
Top load washer and dryers are a popular choice for making your home and chores that little bit more streamlined. Loading washing from the top of the machine eases any pressure on your legs and back - something that will make a big difference for those with large households and even bigger laundry piles.
They also tend to have a larger capacity, like this Samsung option that has a 5.0 cubic feet drum so you can reduce the frequency of loads, saving time, money, and the planet. It's also Energy Star certified, providing peace of mind that it meets strict energy-efficient specifications.
Incorporating tech into your home appliances is one of the quickest ways to upgrade your home and your daily routine. This LG washer-dryer has many smart features that will enable you to run an efficient home - in terms of both your time and the environment. Built-in sensors use AI technology to detect fabric types and load size, which is then used to determine how much water is used and the cycle length. You can also use the ThinQ app to start laundry while you're out and about - ideal for those with busy routines or forgetful brains. And if you have a fully-integrated tech home with Alexa or Google assistant, you can connect it with certain features so you'll never run out of detergent again.
This model is also a practical choice for smaller homes, or apartments with no access to external venting. The all-in-one washer and dryer uses ventless condensing to dry your clothes thoroughly without the need for outdoor piping. What's more, it's got a super sleek modern look that will be right at home whether placed in a cupboard or kitchen.
Investing in a washer and dryer set is a convenient option. It takes the stress out of researching separate models and means you have access to more space than is supplied by a combo option. GE's high-efficiency washer and dryer set comes in a sleek white and black look that will easily fit into most interiors, especially those in favor of modern design.
As well as offering a cohesive appearance, this set has built-in Wi-Fi, so you can start, stop, or pause a cycle from anywhere in or outside the home. This will also be a great choice for those with lots of smelly sports gear to wash as it has an UltraFresh vent system with OdorBlock that eliminates excess moisture to help keep your washer, and home, fresh and clean.
Whether you're kitting out a small apartment or want to tuck your laundry appliances behind a cupboard, a compact model is a practical choice. This Samsung choice has a small, sleek design that will take up limited room - great for keeping laundry in-unit without compromising on cupboard or living space.
Despite its small stature, it still packs some of the clever functions of larger washers. Steam wash stain removal means it will easily attack even the harshest of marks, while the self-cleaning feature will keep your machine fresh by notifying you every 40 washes. It also has vibration and noise reduction technology which is great for avoiding any quarrels with neighbors when last-minute, late-night loads strike.
Dryers can break in a flash, leaving you in the hard place of financing a replacement. This Maytag dryer is an affordable option that will get the job done, without breaking the bank. It has a simple, no-frills design that isn't particularly modern, but will suit most interiors.
Despite the basic white look, it does include a sensor to monitor moisture and air temperature, as well as Wrinkle Control that will leave your linen less creased than usual. This is a great feature for those with busy lifestyles, as you can rest assured that leaving laundry in the dryer for longer than usual won't resort in hard-to-remove creases.
How to choose a washer or dryer
Gas or electric?
The first thing you'll need to think about when buying a new washer or dryer is whether your house is wired for gas or electric. Most machines use an electrical power source, however this isn't just a normal socket. Instead, it will require a two-phase 220-volt socket that provides more power than a normal wall socket. If you're unsure which type you need, it's always worth speaking to a professional.
Venting
Dryers will need access to a vent in order to exhaust the hot air from the machine. Often this can be an outside vent, however, for apartments and rooms without external-wall access, you will need to opt for a ventless model.
Size
As with any home addition, it's always a good idea to measure the available space before you click buy. Whether you have a dedicated spot saved for a washer or you're trying to find room to stack the machines, make sure it will fit in with a few inches to spare. If you're opting for a front load, it's also a good idea to check you'll be able to open the doors properly and consider creating a system where the washer and dryers open on opposing sides.
Price
Washers and dryers can vary in price, starting from as low as $300 to brand-new, smart models that come in at just under $2000. Have a budget in mind before you start shopping, and if possible wait out for sales event such as Black Friday to bag a bargain.
Smart features
Smart technology is becoming more commonplace within the home, and luckily these features are more standard in many washers and dryers. If you're looking for a simple machine that gets the job done, this might not be something to consider when purchasing, however Wi-Fi controlled models can transform your laundry routine. So if you've got a busy lifestyle with work and children, or you're looking to streamline your household chores, think about how you might make the most out of smart features before you commit to buying with or without.