Best Buy has slashed the price of the Apple Homepod by $100, with a saving of 33%. The Homepod is one of the best smart speakers, compatible with your iPhone or MacBook, and features the intelligence of Siri, making it a great addition to your Apple collection.
Now only $199.99, this is the lowest price we've seen for the Apple HomePod. We saw this same price circulating around Black Friday, but it's been a while since the Homepod has been given such a hefty discount.
In our Apple Homepod review, we thought the smart speaker had excellent high-quality sound and a stylish appearance, which would be at home in any room of the house. What's more, with four months of Apple Music included for new subscribers, this Homepod deal has you covered with playlists for every occasion.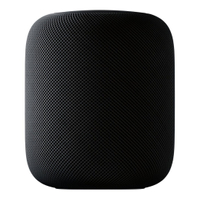 Apple HomePod: was $299.99 now $199.99 at Best Buy
Featuring a high-quality speaker, Siri home assistant and four months of Apple Music free for new subscribers, this is the lowest price we've seen for the Apple HomePod. Grab this deal while it lasts.
With 360-degree sound, the HomePod senses its location and tunes music to sound amazing wherever you are in the room. Working in tandem with Apple Music, it gives you access to millions of songs. It's also a great home assistant for tasks such as controlling smart home accessories or asking questions.
You'll need Apple Music (and an Apple device with iOS 11.2.5 or later) to use the HomePod to listen to music, but there's no need to worry if you don't have it. Best Buy is offering a four month free membership for new subscribers with this purchase. With the iPhone 11 Pro taking a top spot in our best smartphone 2020 rankings, this could be the perfect excuse to make the switch to Apple. However, if you're an Android or Spotify lover, this might not be the deal for you. At its lowest price ever, grab the Apple HomePod while you can as this deal won't last long!