If you want to make light work of the vacuuming then check out this Yeedi Cube deal for Amazon's Big Deal Days.
It's one of the best robot vacuums, that's for sure, and with $140 off, the Yeedi Cube is much more affordable than many similarly flexible rivals. During the Amazon Prime Day deals we are seeing some awesome robot vacuum cleaners discounted, which is good news for our homes - and our wallets. A fully-automated robot vacuum cleaner under $600 is a bit of a steal but you'll need to be quick because it's already proving to be a 'best-seller', and the deal hasn't been live for 24 hours yet.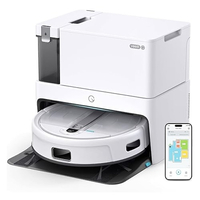 Yeedi Cube robot vacuum: was $699.99, now $559.99: save $140 at Amazon
The Yeedi Cube is a robot vacuum and mop offering high end features for a more mid-range price, and it's even more affordable in this great deal. In our review we praised its impressive battery life, self-cleaning and auto-emptying and of course, its cleaning ability.
Price check: Best Buy $ n/a | Target $ n/a
Alternative: Dreametech L10S Ultra
Yeedi Cube: Key features
In addition to vacuuming, the Yeedi Cube also mops your floors and comes with a base station that automatically empties its bin and cleans the mop heads so they're ready for the next clean.
In our tests we found its cleaning performance was very impressive in vacuuming up dust and debris, but its mapping and mopping wasn't as good as the class leaders – but then, the class leaders cost considerably more.
There's lots of power here: 4,300Pa suction power. And despite that powerful motor battery life is very impressive too. You can expect about 150 minutes of run time unless the kids have made the mother of all messes.
One of the big benefits of this particular cleaner is that you have to do very little. It pilots itself, it cleans itself, it automatically detects whether it should vacuum or mop, it's controllable by voice (Alexa, Google Assistant and Siri) and when it's done or time for a recharge or refill it takes itself back to the docking station.
While the mopping isn't up there with the very best, automated mopping of any kind is much better than having to do it yourself. And when it is time for you to give it a clean, it's easy to get into the waste bucket to clean it properly without having to mess around.
As robot vacuums go this one isn't bad looking: its base station isn't as tall as its Roborock or Eufy X9 rivals, and to our eyes it looks better than the rather bitty-looking Roborock in particular.
Robot vacuum cleaner deals
If you're looking for an affordable robo-vac with high-end features and the option to mop up small spills or make small spaces shiny, this is definitely worth a look. And if this one isn't for you, check out the Roborock S8 Pro Ultra or the Ecovacs Deebot T9+.
We're seeing plenty of Amazon Prime Day robot vacuum deals that we're certainly tempted by so if this Yeedi Cube deal isn't for you, then it would be worth bookmarking our hub - and our best Black Friday deals page - if you're prepared to take a gamble on further discounts.