The best robot vacuums have come a long way in the last few years, and the Yeedi vac 2 pro is a perfect example of this. This robot vacuum cleaner can map your home's rooms, vacuum up dirt and debris, and even mop your floors at the same time, all from a Smartphone app.
We were excited to test out the Yeedi vac 2 pro having bought a more basic robot vacuum cleaner during the Covid lockdown period. Having quickly become bored with watching that particular vacuum cleaner bump around our furniture and get trapped under rugs, we hoped the Yeedi would be more like an intelligent pet that cleaned up after itself and dodged every obstacle.
Yeedi vac 2 pro: Key specs
Type: Robot
Dustbin capacity: 0.12 gallons
Voice control: Yes
Battery life: 240 minutes
Battery charging time: 6.5 hours
Suitable for: All floor types
Dimensions: 13.8" diameter, 3" depth
Weight: 6.8 lbs
Storage: Freestanding at charging port when not in use
Warranty: 2 years
Yeedi says its upgraded robot vacuum cleaner and mop uses an oscillating mopping system to imitate a manual mopping pattern, but five times faster, for a more thorough clean. It also uses 3D imaging to sense objects in its way, visually maps your home's room via its app, and detect carpets, so it doesn't soak your rugs.
The Yeedi vac 2 pro runs for around 240 minutes without powering down, which is pretty impressive, and much more than you can get from a cordless stick vacuum cleaner. Plus, it guides itself back to its charging point when it's done.
What did we make of the Yeedi vac 2 pro when we put it through a home assessment? Read on to find out.
If the Yeedi vac 2 pro feels a little too futuristic for you, check out our buyer's guide to the best vacuum cleaners for home. With cylinder, upright, handheld, and stick models, you're sure to find a vacuum cleaner to suit you.
Yeedi vac 2 pro: Design
The Yeedi vac 2 pro is a very cute appliance, there's no doubt about it. Most robot vacuum cleaners are black or gray, so it's a refreshing change to see a robot that looks like an iPhone buzzing around the home. The white matte casing, coupled with a few glossy trimmings and black sensors, looks expensive and luxurious, if such a thing can be said about a vacuum cleaner.
Measuring almost 14 inches in diameter and just over three inches tall, the Yeedi vac 2 pro features a top flap which opens to reveal the dust bin and a little tool for cleaning the filters and cutting away tangled hairs. It's great that this is stored neatly within the machine, as it would soon get lost in a drawer.
Under the flap you can also find the on/off switch, Wi-Fi indicator and reset button. The robot itself weighs around 13 pounds.
Turning the Yeedi on to its back, you can see the wheels that drive the robot forward, back, and around, the main brush, various sensors, and the edge brush.
At the back is a piece of plastic casing that is essentially there for show. When you're ready to mop using the Yeedi vac 2 pro, you pull this out, and replace it with the water reservoir and mop pad.
The docking station follows the same space-age design in white and black, and is pleasingly simple and unintrusive.
Yeedi vac 2 pro: Features and accessories
The Yeedi vac 2 pro comes with a suction power of 3000 Pa. That's around half of the suction power of the Levoit VortexIQ 40. However, don't forget that a robot vacuum cleaner will typically move back and forth over the same area multiple times in order to clean it, so it should be enough power for a good clean. You can set the vacuum power to one of four levels, quiet, standard, max, and max+, but it's not clear what the suction power is on each of these levels.
The vacuum cleaner comes with an app, which you need to set up before first use if you want to use the mapping function or set cleaning schedules. The app allows you to map your space by using the Yeedi's first clean. Once you've mapped your area, you can set virtual boundaries, label areas, and set an order in which you'd like your spaces to be cleaned.
The standout feature on the Yeedi vac 2 pro, is of course, the mopping functionality. The water reservoir comes with a mop pad Velcroed onto it. After use, it can be easily peeled away to throw in the laundry. Water flow for the mopping can be set to low, medium, or high via the app.
In addition, you can set cleaning schedules to determine when and how often you want the Yeedi to kick into action.
The Yeedi vac 2 pro can also work with your home's voice control services, such as Alexa and Google Assistant.
This all sounds great in theory, but in reality the app feels a little fiddly and unintuitive to use, despite being promoted as 'grandma friendly'. It's a little hard to set multiple 'no mop' zones, and we inadvertently deleted our map and had to start over, which was frustrating.
Unfortunately, if one of your floors is on two levels, then you won't be able to map all of it. That is the case with our home, where the kitchen is one step down from the hallway and the living room. Upstairs, the bathroom is one step down from the landing and bedrooms.
Yeedi vac 2 pro: Setup and assembly
Unboxing the Yeedi vac 2 pro was very straightforward, with just the vacuum cleaner, the charging station and socket, the edging brush, and the mop cartridge. Everything was delivered in recyclable packaging.
All we had to do was plug in the charging port, install the edge brush (which was a simple click-in) and switch the robot vacuum to 'on' using the power switch under the flap. The robot needs a charge of around 6.5 hours before the first use.
We liked the fact that the charging port cable could be wound round the base of the port, to reduce cable clutter and keep everything tidy.
Then we had to download the Yeedi app and add our robot in the app. This requires having your Wi-Fi password handy. You can simply turn the robot on and let it do its thing, if you don't want to download the app, but you won't have access to all the extras the app provides.
Once you're ready to go, the app will guide you through the first clean and mapping of your space.
Although there's more prepping and waiting to start using the Yeedi vac 2 pro than there is with a standard vacuum cleaner, it's pretty simple, takes just one person, and seems understandable - given that you're setting up a robot.
Yeedi vac 2 pro: Performance
To be honest, we didn't expect much from the first clean around our 210-square-foot living room with a thick carpet and rugs, and a 73-square-foot kitchen with a hardwood floor. The living room had been vacuumed only the day before. So to open the little dust bin and find it almost full of pet hair and dust was a little shocking.
The maiden voyage around the living room wasn't smooth though. The Yeedi vac 2 pro came unstuck at multiple points while it mapped the room, getting trapped under carpets and whizzing around aimlessly after becoming stuck under an armchair.
However, the following clean was much more graceful, with the robot swerving most obstacles that it had already mapped, although it still couldn't help but get caught up in those chair legs. By and large it was a pretty efficient clean from start to finish.
Next, we ran the Yeedi vac 2 pro using the mopping functionality, and tested it in the kitchen and hallway on hard flooring. We weren't super impressed by the results to be honest. We could still wipe dirt off the floor after the Yeedi had done its business, and the fact that you can't use detergent in the water seems a bit pointless. We would never mop our floors manually with just water, so it didn't feel as if we were giving the floors a thorough enough clean.
However, for mopping up spills and perhaps keeping floors clean-ish between mops with detergent, the Yeedi vac 2 pro could prove to be quite useful around the home.
We really put the Yeedi vac 2 pro through its paces. We scattered some flour, cookie crumbs, and oats on a carpet and a hard floor and checked out how well the robot vacuum sucked these up.
Waiting for a robot cleaner to get to the exact spot you want it to is probably the 21st century equivalent of watching paint dry. However, the Yeedi did eventually get there, and the results were pretty good. It got most of the crumbs and oats, although it took a few passes to get the carpet spotless. We also noticed the wheels tended to track the flour into the carpet too, although the robot did eventually remove all traces.
Performing the same tests on a hard floor yielded much better results. And with the mopping function on, all crumbs and particles were sucked up, and the floor was wiped clean.
In terms of volume, the Yeedi has been the quietest vacuum cleaner we've tested so far. Coming in at around 61 decibels, it's similar to a dishwasher in operation, and not unpleasant at all.
On the downside, if you have a large space with carpets and hard floors, you may find you have to babysit the Yeedi vac 2 pro more than you'd like.
For example, the carpet detection system means that when it's vacuuming and mopping, it won't travel onto your carpets. Great news for your carpets, since you don't want to get them soaked. However, it does mean that you'll have to download the app to set 'no mop zones', or as Yeedi suggests on its website, use magnetic strips to simulate virtual walls that the robot won't pass over.
If it could identify carpets and switch straight to vacuuming mode instead, all by itself, this would be the perfect household robot.
Yeedi vac 2 pro: Care and maintenance
The Yeedi vac 2 pro is pretty easy to maintain. You can throw the mop in the laundry after every use, and it's easy to pop back onto the cartridge. The dust bin and filters need to be emptied and cleaned regularly.
The manual advises rinsing the filter and letting it dry for 24 hours before refitting it, around once a week. In the meantime, you can use the handy cleaning tool to brush off dirt and dust. You can also use this tool to cut any tangled hairs from the main brush, which is easy to remove from the main unit for cleaning.
Yeedi recommends replacing the mop pad every 50 washes. These are available to buy in packs of 3 from the Yeedi website for $19.99.
They also recommend replacing the edge brush and the sponge filter every 3-6 months, and the main brush every 6-12 months. Both of these can also be purchased from the Yeedi website.
According to cleaning expert for Housetastic and cleaning business owner Karen Barrigan, it's important not to forget the sensors in a robot vacuum cleaner. "The sensors in your vacuum may need to be cleaned if you notice them colliding with objects more often than usual. Quick touch-ups can be made with a microfiber cloth."
Avoid using a detergent, though. "Abrasive cleaners can harm the sensor's covering. Instead, dampen the microfiber cloth with water and wipe any tougher stains."
In terms of storage, you'll need to select a space on your floor with around 20 inches clear space either side of it. This helps the Yeedi vac 2 pro find its way back to the charge port. We found putting the charge port under the sofa was ideal, and prevented it from taking up unnecessary space.
The Yeedi vac 2 pro also comes with a 2-year warranty for extra peace of mind.
Yeedi vac 2 pro: Price and availability
The Yeedi vac 2 pro is certainly at the higher end of the market in terms of vacuum cleaners, but it's pretty good value for a robot vacuum cleaner, many of which retail for well over a thousand dollars. The fact that it also mops makes it quite a bargain.
You can also purchase a self-cleaning station on the Yeedi website, that for a couple of extra hundred dollars empties the robot for you. It won't refill the mopping cartridge or replace the mop pad, though. Other robot vacuums are available that can do all this for you - however, they are around three or four times the price.
If you were still on the fence, it's currently on sale for Amazon Prime members, retailing for just $299.99 this Black Friday.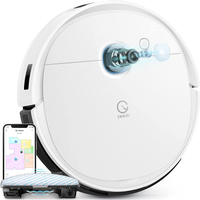 Yeedi vac 2 pro | was $449.99, now $299.99 for Amazon Prime members
This Black Friday, this 2-in-1 robot vacuum and mop combo is just under $300. It's usually cheaper than most of the competition, but with this added discount, it's a no-brainer. We were very impressed with its performance in our testing, particularly convinced by the long running time and how good it was at picking up dirt and debris.
Yeedi vac 2 pro: User reviews
The Yeedi vac 2 pro garners an impressive 4.3 stars out of 5 on Amazon, with almost three quarters of purchasers giving it the full 5 stars. Users praise its ability to get rid of pet hair, the convenience of scheduling cleaning when out of the house, and the Yeedi's minimalist design. One user goes so far as to say, "This robot vacuum Yeedi Vac 2 Pro and mop totally saved my life."
Users do also point out things that could be improved, though, such as the ability to clean 'dead' corners, repetitious cleaning over areas that are already clean, and the time it takes to create a mopping map for your home. Other more critical reviews mention wet rugs, problems with charging, and poor customer support.
Yeedi vac 2 pro: What the experts say
Barrigan recommends the Yeedi vac 2 pro if convenience and ease of use is important to you. "Not only does this particular model pick up all the pesky bits of debris hanging around your home, it also works as a mop for your hard floors, removing stains and cleaning as it goes. There is nothing more convenient than a robot vacuum. Take all the work out of vacuuming and mopping and just let the machine do its thing."
Should you buy the Yeedi vac 2 pro?
If you're tempted by the convenience of a robot vacuum cleaner, then the Yeedi vac 2 pro is an ideal model to start with. An easy-to-use appliance with a beautiful design and impressive suction, we think it ticks all the boxes.
How does the Yeedi vac 2 pro compare to competitors?
If the Yeedi vac 2 pro isn't the right model for you, we've reviewed plenty of other robot vacuums so you can find the perfect fit for your needs.
The Shark IQ Robot Vacuum has premium features like a self-emptying function, smart mapping, powerful suction and a self-cleaning roller. It's also relatively affordable for such a powerful and sophisticated model, so we think it's a great pick. However, it is quite a loud vacuum and it takes a little while to learn the layout of your rooms.
The Roomba i7+ is the flagship robot vacuum by iRobot. It's a smart appliance with voice control digital assistant integration, smart mapping, and a self-emptying function. It's a high-performing vacuum, but it's got a high price tag as a result.
How we tested the Yeedi vac 2 pro
Here at Top Ten Reviews, we feel strongly about giving consumers the best buying advice. As such, we test every product thoroughly in order to give an accurate opinion of its quality.
When we test vacuums, we make sure to take note of the packaging and unboxing, the assembly process and how difficult it is, as well as the product's design and features and how it compares to the competition.
Our reviewers really put vacuums through their paces, testing them in controled conditions using crumbs, flour, and oats to measure how quickly and accurately the vacuum performs. They also make sure to test every accessory to assess its value and usefulness.
Last but not least, we care about making your purchases last. We've spoken to experts across the cleaning and small appliances industry to get the best care and maintenance advice for your vacuums.