We're all familiar with the retail giant that is Amazon, but did you know that you can also purchase fresh-cut flowers from there too? Through third-party sellers, Amazon offers a lot of choices if you're after a pretty floral arrangement.
Amazon is the perfect place for a number of flower vendors to sell their wares. You'll be able to view bouquets from several third-party sellers all in one place, which makes price comparison easier. If you're after a fairly straightforward and classic bouquet, Amazon caters to that well – they may not have the most extravagant or unique arrangements, but you'll still get something reasonably good looking, even if it's without all the extra bells and whistles.
However, we found it a bit more difficult to really browse different kinds of floral bouquets – you have to know what you're looking for on Amazon, but at the same time not be too specific about what you want. If you're not too fussy and already familiar with Amazon, it's a convenient way to shop.
Another issue is that not all vendors are created equal. Be sure to vet the supplier before placing your order – customer reviews here are valuable to see if a seller is decent or not. After some searching, we found that the Roses & Alstros Bouquet, created by From You Flowers, had some pretty favorable reviews. We then went on to compare it to the other arrangements we'd already reviewed and added to our best flower delivery online services list.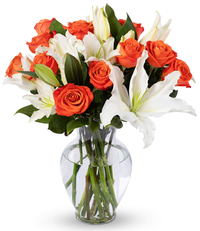 Best Amazon flowers deals right now
Visit Amazon for all the latest - and best - offers, deals, and information on what's available in time for Valentine's Day and Mother's Day. You'll also find a range of additional gifts at the site.
Amazon flowers review: Website and selection
Searching can be tricky
Lots and lots of vendors and options
More classic-style designs than modern
Ordering from Amazon is easy: in less than five minutes you can search for, select, and purchase exactly what you're after. But when it came to finding fresh-cut flowers, we found this a little bit more difficult to navigate. Instead of being stuck with unrelated results when searching for 'fresh-cut flowers', here's the right way to find what you're looking for:
Go to the search bar at the top of the website and start typing in 'fresh flowers'
As you're typing, a drop-down menu will appear with suggestions. Click on the 'in Grocery & Gourmet Food' option
On the left-hand side of the screen, under the 'Department' heading, click on 'Fresh Flowers & Live Indoor Plants'. Now, when you use the search bar at the top, you'll search within this specific department
You'll be able to browse by flower color, occasion, seller/brand, and price
We recommend going to the right-hand side of the screen and clicking on the 'Sort by:' drop-down menu to sort by average customer reviews to find a reputable vendor
Due to the unlimited number of vendors and bouquets available for purchase on Amazon, we spent quite a bit of time browsing hundreds of arrangement options. We found that the bouquets weren't as varied as we would have hoped, with arrangements tending to be more classic designs rather than modern. If your recipient favors soft, subtle colors and unique arrangements, you'll be better off checking out somewhere like UrbanStems or The Bouqs instead. In short, although they are by no means 'ugly', none of the arrangements we saw on Amazon blew us away.
Amazon flowers review: Prices and value
Because of the wide range of Amazon flower offerings, we also found a wide range of prices. We were pleased to see some very affordable arrangements, from $30 to $50. There were also arrangements for well into the hundreds of dollars, if you're looking to spend a hefty amount. Whether or not each bouquet is worth their price heavily depends on the reliability of the vendor.
However, we warn that delivery fees can be quite exorbitant if you don't have Amazon Prime. Delivery fees depend on the vendor and the price of the arrangement.
Amazon flowers: Ordering and delivery
Easy ordering - it's Amazon
No same-day or next-day delivery
For exact delivery dates, not the best service
When you choose your arrangement from Amazon's selection of fresh-cut flowers, you'll find that placing your order is as easy as placing any order through Amazon. With just a few clicks, you can checkout.
We noted three more flaws in Amazon's flower delivery: the first is that there is no same-day or next-day delivery, although this may vary by vendor and may be dependent on the time you order. We've found that, more often than not, these delivery options do not exist for flowers. The second is that customers often can't choose the exact day they have their flowers delivered. For our bouquet, we had the choice of having it delivered anytime within a week, anytime within two days, or on one pre-determined specific day. This isn't ideal for many. And the third is that adding a complimentary message to your order can be tricky. Many vendors provide instructions on how to do so, but some may not even offer that option.
Amazon flowers review: Arrangement quality
Surprisingly eye-pleasing bouquet
Arrived with buds still closed
Caution: not all vendors are created equal
What we tested
Seller: From You Flowers
Arrangement: Roses & Alstros Bouquet
Included: Clear glass vase
Size: Regular
Price: $34.99 + $14.99 shipping
Flowers: 7 Mixed Colored Roses + Alstroemerias
Added extras: None
We were wary about ordering fresh-cut flowers from Amazon, considering that Amazon is not a known purveyor of flowers, and is rather a service known for delivering non-perishable goods. Our extensive experience ordering from Amazon dictated that we should expect some amount of uncertainty as to both the quality of the bouquet and the day on which it should arrive. We're pleased to say that we were pleasantly surprised by what we received, and it rivaled even the lovely flowers we got from the likes of ProFlowers.
As expected, our flowers arrived in a box and were secured in place by a zip tie. The buds were also protected by padding, which we thought was a nice extra precaution to make sure that our flowers arrived in good condition.
When we removed the flowers from the box, we noticed that none of the flowers had reached full bloom. This made for a very green bouquet, which isn't necessarily what one would want to see. However, we appreciated the caution on the part of the florist who decided that it was better to send flowers that would be beautiful with proper care instead of flowers that wouldn't last very long after arriving at their destination. We noted that the seven roses were bunched up in the middle of the arrangement and that the bouquet's look would have benefited from spreading them out a little more.
The complimentary message we included for ourselves was one of the nicer-looking ones we received. It was printed on the florist's branded paper, which was a little sturdier than the average note. The flower care instructions were also included on laminated paper, along with a coupon for another arrangement (with no expiration date). There were coupons for other services included as well - one for $80 off HelloFresh and another for an online jewelry store. We thought that these were nice touches.
A word of caution: not all florists and flower delivery providers operating through Amazon are created equal. We recommend reading customer reviews of each individual bouquet very closely. If you want to order flowers through Amazon, we also recommend that you opt for a bouquet that has many reviews, to be safe.
Amazon flowers review: Customer service
Customer service can be hard to find and refunds are not guaranteed
If you are unsatisfied with your bouquet, you can reach out to Amazon customer service. Per the Amazon help page, "fresh flowers, live indoor plants, or insects are not returnable to Amazon, but may be refundable." Unfortunately, Amazon does not make it easy for customers to request a refund. We had to search for a while before finding the page that could help us potentially request a refund for a defective product that couldn't be returned.
To request a refund, visit the Contact Us page. From there, you can choose to chat with a bot or schedule a call with a representative. However, because there is no "happiness guarantee," Amazon can choose not to issue a refund due to a number of factors, including the fact that the flowers you order come from independent vendors.
Amazon flowers review: Customer reviews
Customer reviews depend on the bouquet and vendor
In evaluating Amazon flowers, we found it difficult to review as a whole: because the quality and freshness of the bouquet varies by vendor, customer reviews are quite scattered. You could argue that's no different from a site like 1-800 Flowers, who contracts to local vendors. In some, customer satisfaction depends on the bouquet you choose. We saw some bouquets with nearly 5 stars, while other barely had 2. If you choose to order from Amazon, we recommend that you look closely at what other customers had to say before purchasing. We also recommend that you choose a bouquet with a lot of reviews so you know the product is consistent.
Should you use Amazon flowers?
Perhaps not your first choice, but Amazon does offer fresh-cut flowers for a reasonable price. Amazon may not be able to offer the most artisan flower arrangements, but it is one of the cheaper options around. If you want a convenient, no-fuss method to order a pretty bouquet, then Amazon is the way to go as it's familiar and will get the job done, as long as you know exactly what you're after.
Amazon works with third-party sellers, so the upside is you'll be offered a lot of choices from a lot of different businesses all in one place. However, the downside is that some vendors are more reputable than others, so you should definitely check out customer reviews first to see if they're worth your time.
If you're after a more personalized experience that includes add-ons, such as a stuffed animal or sweet treats, you're better off with a service that specializes in flowers and gift-giving, like FTD Flowers, although this could cost more.