Most security cameras are aimed at protecting your home, inside or out. Arguably, the time when you need a camera the most is when you're out, protecting your car, boat, campervan or tent. That's where the Arlo Go comes in, a completely wireless security camera that uploads recorded footage to the cloud via a 4G connection.
Free cloud storage helps ease the pain of the initial high price, but the continuing data costs and limited activity zone control mean that this product is of more limited interest than its Wi-Fi stablemates.
Features
Free cloud storage although a 4G data plan is required
Activity Zones only available when the camera is powered on
Can record to microSD card
Key specifications
Resolution: 720p
Camera lens: 130-degree
Night vision: Yes
Recording options: Free cloud recording (upgrades available), microSD card
Two-way talk: Yes
WiFi: 4G LTE
As with the other Arlo cameras, such as the Arlo Pro 2 and Arlo Ultra, the Arlo Go is controlled and managed through the Arlo app. That's handy if you've got an existing Arlo system, as you can manage all of your cameras from one place.
The Arlo Go ships with seven days of free cloud storage, although there's also a micro SD card slot on the camera for local recording; a handy backup in case there's no 4G connection. While the free cloud storage sounds neat, you have to factor in the cost of a mobile service plan.
Arlo has several options available, including its own Arlo Mobile Service Plan, which is charged by the recording time: $4.99 a month for 15 minutes of recording time; $22.99 a month for 120 minutes; and $32.99 a month for 225 minutes. There are discounts if you pay annually.
Alternatively, you can pay for a Verizon or AT&T SIM instead and buy your own data contract, with the Arlo Go said to use around 1GB of data per month. The latter options will probably work out better for most people.
It's a shame that there's no back-up Wi-Fi option for when you're somewhere that has a standard wireless network. Adding this option would have made the camera more flexible. As it stands, if you're out of mobile range, the Arlo Go is effectively useless.
With the basic service, you get standard motion detection, which includes the ability to set motion detection zones while the camera is plugged in only. If it's running on battery mode, the Arlo Go will monitor the entire image for motion and record everything that triggers it. If you're going to use the camera outside, providing power via the waterproof USB cable and setting activity zones will help reduce the number of alerts you get; otherwise, you'll need to place the camera carefully to filter out movement that you're not interested in.
If you upgrade to Arlo Smart, you get more flexibility and cloud activity zones. Via these zones, you can set the part of the picture that you want to monitor, and the rest is ignored and not uploaded. You can only draw cubic activity zones and you don't get the irregular shapes that the Arlo Ultra gives you. We also found that the cloud activity zones worked as expected on this product, although we initially had problems with them working on the Arlo Ultra, which would record footage outside of the zones that we had set.
It's worth bearing in mind that if you place your Arlo Smart on something that moves around, you'll need to regularly check and reset your activity zones to give you the best coverage and to cut down on the number of alerts you get.
You also get Smart Alerts, so you can configure the system to only tell you about your choice of people, vehicles, animals or all motion. As this processing is handled in the cloud, the accuracy is very high and the camera got its identification right most of the time. Certainly, Smart Alerts helps cut down on notifications, although it would be nice if you could configure them per zone as you can with the Nest Cam Outdoor, for example.
All that said, if you can power the Arlo Go permanently, the free cloud storage means that it's probably not worth upgrading to Arlo Smart.
There are a couple of utilities that can help you configure your camera. First, there's the camera positioning too, which just gives you a live feed to help you get the right view. The motion detection tool is more useful, with the camera lighting its front LED yellow to show you when it picked up movement. Using this tool, you and make sure that your camera will see motion where you need it too.
Audio is recorded by default, and you can configure the camera to respond to loud sounds and record a video clip, setting the sensitivity in the app. It's a feature that works better indoors than out. Turning the option on outside, tended to give us more notifications than we needed. It's a shame that sound alerts can't be filtered, as you can with Nest, for people talking and dogs barking.
More usefully, you can use the Arlo Go's speaker and microphone to have a two-way chat. There's a bit of delay on the line (and the quality of your 4G connection will have a part to play), but the Arlo's speaker is surprisingly loud for this option.
You can also use the speaker to play an alarm sound, although it's merely annoying and you'd need someone close to your camera to hear it go off and react.
Video quality is set based on the battery life in the Power Management settings. The camera is set for Optimized by default, but you can set the Best Video quality if you want to boost image quality and have the full video 720p video resolution that the camera can shoot or go for Best Battery Life if you'd rather sacrifice image quality for longevity.
Go for the best option that gives you the highest-quality video reliably, with the knowledge that you may need to change your settings as you move the Arlo Go around.
Recording video goes into your Library, which is shared with all Arlo cameras that you own, although you can filter the view just to see footage from one device. If you have Arlo Smart, you can also filter by the type of smart detection. As you can also browse by date, it's easy to find the clip you're after, and you can save all clips to your phone to preserve evidence.
If you've inserted a microSD card (up to 32GB), the footage is also saved here. There's no way to access footage on the SD card bar removing it and inserting it into a computer, which is a little annoying. At night, there's a traditional IR mode for capturing video.
Your camera is controlled via the mode it's in. The default Armed and Disarmed modes toggle the camera on and off, and you can control them manually. If you want to automate control, there are a couple of Modes. Scheduling lets you configure when you want the Arlo Go to turn on and off based on the time.
You can also use Geofencing to turn the camera on when you go out and off when you return, using your phone to track your location. If you do use Geofencing and you travel around with your Arlo Go, say for camping, remember to change your camera's location. If you don't, you'll find that your Geofencing is unreliable and the Arlo Go may end up in the wrong mode.
Cleverly, with Geofencing, you can choose to have your camera resort to a schedule when you're located at home. For example, you can use this to turn on your camera at night but to otherwise only have the camera record when you go out.
You can also configure your own custom modes outside of the default Armed and Disarmed options, and use these in a schedule. For example, you could have a mode to turn on audio detection at night only, but during the day you only use motion detection.
There's an IFTTT channel that lets you trigger devices when the Arlo Ultra spots movement, and you can turn Arm or Disarm your system automatically. Amazon Alexa and Google Assistant support let you stream footage from your camera to a smart display, such as an Echo Show or Google Home Hub.
Design and build
A tough and robust camera body
Flexible stand
In-camera charging with weatherproof charging cable
Although the Arlo Go looks similar to the other cameras in the range, with a nice heft to the body and smooth plastic finish, this model doesn't need a base station to work. Instead, it runs entirely on a 4G network via the SIM card. Depending on where you buy the camera from, you may have the SIM card pre-installed. If you have to install your own, you'll need a Micro SIM rather than the more popular Nano SIM that the vast majority of smartphones use.
Installation is pretty quick, although you need to have the Arlo Go turned on, charged up and connected to a mobile network. If it's not, there's no way to add it to the Arlo app. Once connected, you can place the camera where you want.
As the Arlo Go is battery powered, you've got the freedom to place it where you like. You can set it on a table, with the camera's flat bottom holding it in place, or you can use the provided stand which fits into the camera's screw mount. This stand will balance on a table, although it also has three screws for more permanent placing, say on a motorhome or boat.
If you do want to have the Arlo Go permanently powered, it ships with a sturdy, waterproofed micro USB cable. You'd need to drill a hole to feed the cable through, plugging the other end into a power supply.
Other wireless home security camera reviews
The stand's pretty robust and shouldn't move even under high winds. If you do mount it to the outside of a motorhome, it would be worth removing the camera before you drive, though.
Battery life should come in at around two to three months, although how many times the camera is triggered will affect that. After a week of use, we saw the battery life lose 12% of its charge, suggesting that we would make just over two months on a single charge.
Performance
Excellent motion detection
Decent daylight video, but softer by night
Activity Zones help reduce notifications
Although the Arlo Go has a 720p resolution, the recorded video's resolution depends on the setting in the app. Best Video comes in at the full 1,280x720, Optimized is 640x352 and Best Battery Life is a very low 416x240.
At full resolution, the daytime sample shots are good enough. You lose some detail in the sky, but the image is generally well exposed. The image is very soft, particularly in the background, but closer up, you can spot individuals well enough. Switching to Optimized, the image is very small, although you can tell the difference between individuals. Where you can, go for Best Video.
Higher-resolution cameras, such as the Nest Cam Outdoor, produce better-quality video but are tied to your home Wi-Fi.
At night, the Arlo Go uses its IR LEDs to illuminate the surrounding area. There's a great degree of softening in the image, with the background particularly blurred out. That said, the IR lights lit up our test garden properly, and it was possible to grab a frame where we were clearly identifiable.
Without activity zones, the Arlo Go can trigger quite often, particularly if it's outside. Careful placement, so that the camera only covers what's important helps a lot, as does powering the camera and configuring activity zones.
If you go one step further and add Arlo Smart, you can have Activity Zones on battery power, giving even more flexibility. Plus, you can cut down on the notifications you get with the smart alerts.
Pleasingly, the Arlo Go doesn't go off because of a bit of foliage movement, nor will clouds moving in front of the sun trigger the camera to record. In that way, the Arlo Go is as good as its Wi-Fi siblings.
Verdict
There are places where traditional security cameras can't go, so the Arlo Go is immediately interesting to anyone that camps regularly, or has a motorhome or boat that needs protecting, or even an outbuilding away from decent internet coverage.
At its best, the Arlo Go gives you the same levels of customization and control as with the bigger products. The seven days of free cloud storage are great, but you really need to be careful with your mobile data choice to make sure that you maximize this opportunity.
With free cloud storage, you have to either carefully place the camera to reduce the number of alerts you get, or power it permanently. The only alternative is to upgrade to an Arlo Smart package so that you get cloud activity zones.
The 720p resolution is looking a bit out-of-date now, although it's important to remember that security cameras are about seeing what's going on and being able to identify those up to no good, not about generating broadcast-quality images. In that respect, the Arlo Go lives up to its billing as a security camera.
For all that it gets right, the Arlo Go's problems are evident, too. The biggest issue is that without a mobile connection, the Arlo Go is effectively useless and you can't configure it via the app, even if you're within Bluetooth or Wi-Fi range. While the camera will record to SD card, there's no way of retrieving the footage via the app.
Then, there's the price. This is one hugely expensive camera, particularly as the cost doesn't include any data. The Arlo Pro 2 system is cheaper and, while it requires a Hub to work, it could be a better choice for motorhome or boat owners that park up and get mains power, providing there's an internet feed via a 4G router. As it stands, the Arlo Go is a neat product but one that's achingly niche. If you need it, it does the job, but many people could find a cheaper workaround.
Need a better alternative?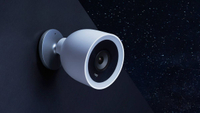 Best Outdoor Security Cameras 2019
Top Ten Reviews has reviewed the Best Outdoor Security Cameras 2019 so that we're able to offer you the authoritative buying advice you expect.