And here we were complaining about the lack of printer deals, when Best Buy responds with one of the best Black Friday printer deals so far - a whopping 64% off on this HP Deskjet 2725 all-in-one printer. This is easily one of the best deals we've seen so far, and it's a steal if you're looking for one of the best all-in-one printers on the market.
Right now, the HP Deskjet 2725 is on offer at Best Buy, down to just $25 from its usual price of $70 - that's a $45 discount total. This is a great budget all-in-one from HP. We would have recommended the HP Envy deal that was running earlier this week over this just based on the value proposition, but that's sadly already sold out. If you really want to make the pennies go further this Black Friday though, then we don't think you'll do better than a $25 printer.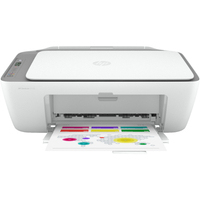 HP Deskjet 2725 wireless all-in-one printer at Best Buy: $69.99 now $24.99
Save $45 on this simple and easy to use HP printer. It has an LCD display to help you navigate through its printing, scanning, and copying functions. It's no frills, but at $25 who cares?
The HP Deskjet 2725 is the ideal choice for someone who just needs a printer for odds and ends around the house. You don't want to invest several hundred dollars into a machine that you're only going to use every now and then. This cheap and cheerful printer does everything you need it to, and with a color printing resolution of up to 4800 x 1200, you're not sacrificing on quality either.
We're keeping our eyes peeled for all kinds of printer deals and savings this Black Friday, so if these don't suit your needs, be sure to head over to our best Black Friday Printer deals hub for a full roundup of the savings out there. We've got deals on home and office printers, as well as the best compact printers for small apartments and the best photo printers for the snap happy among you.
Once you've grabbed your printer of choice, be sure to check out the best discount ink cartridge sellers to keep your device topped up without breaking the bank. Ink and toner can be expensive, so it makes sense to shop around for the best deals.
More great printer deals
Need more money-saving deals and discounts? We've rounded up the best Black Friday USA deals for 2020 - which includes early price-cuts from around the web. We also have a guide to the best Amazon Holiday Dash deals, for anyone looking to get their shopping done early this year.