It has been ten years to the day since Apple unveiled its revolutionary iPad to the world and, as luck would have it, outlets have deals on, selling the latest iPads for their lowest ever prices. Amazon is stocking the latest Apple iPad with a 10.2-Inch and 32GB memory for $249.99 - that's the lowest price we've ever seen for this high-tech tablet, offering $80 off the MSRP. You can also find the same deal over at Best Buy too. You can get the iPad in three different colors - space gray, gold, and silver. So far, all three color options are in stock at both retailers.
If you're worried that 32GB isn't enough storage space for you, then you can also find the 128GB version of the Apple iPad for $329.99 at Amazon - that's a whopping $100 off from the retail price of $429.99. This is basically as cheap as we've seen the 128GB model (if we're being technical, we have seen it 99¢ cheaper than this).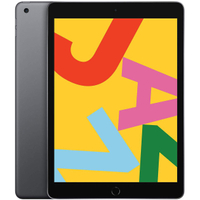 Apple iPad 32GB: was $329 | $249 (save $80 at Amazon)
Save $80 on the latest Apple iPad with 10.2-inch screen and 32GB of memory. Celebrate the 10 year anniversary of the world's most popular tablet with these fantastic savings.
If you're looking for something more powerful then you should check out the Apple iPad Pro which has an 11-inch screen and 64GB memory. The iPad Pro is a more powerful piece of kit and comes with a price to match, but you can currently get $70 off this model at Amazon, where it's selling for $729.99, down from $799.99. We have seen this model cheaper several times recently, as it was down to $649.99 over the holidays and during black friday. Still, it's a good deal if you were considering diving into the world of iPads.
The iPad was ground-breaking when it launched back in 2010, almost single-handedly kickstarting the tablet craze that swept the world over the last decade. iPads became some synonymous with tablet computers that many people called any tablet device an iPad. So we offer our congratulations to Apple on the iPad's anniversary and hopefully we've helped you find a bargain along the way.