It's tough to keep in touch with our friends and family at the moment, what with the travel restrictions and lockdowns that are still commonplace. One of the best ways to stay connected is through video calls and it just so happens that Facebook Portal, the smart video calling system, is currently on sale. Right now you can pick up the Facebook Portal (Gen 1) with a 10.1" screen for just $99. The usual MSRP is $199, so that's a whopping 50% off. This sale is live now and runs through to the end of August 16.
Facebook Portal is a dedicated video calling device, similar to the best tablets but designed to be left on a surface like a coffee table, with a built-in stand to keep it propped up. You can use it to video call your friends and family using either the WhatsApp or Messenger apps, so you can easily get in touch with anyone on your friends list, or those you have a contact number for.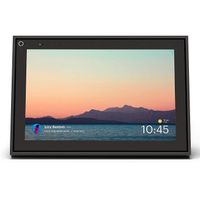 Facebook Portal - $199 $99
Save $100 on Facebook Portal and pick up the ultimate dedicated video call device. Facebook Portal supports calling through WhatsApp and Messenger, and has the Alexa voice assistant built-in. The sale lasts until August 16.
Facebook Portal isn't just a video calling machine though, it has plenty of other features to help it become the center of your living room. It has Alexa built-in, which means you can use Facebook Portal just like you would use an Amazon Echo - it can play music, tell you the weather, read you the news or just crack a joke for you.
Parents will be thrilled to know that there is also a Story Time mode, which uses augmented reality and the built-in camera to turn you and your child into their favorite characters as you read along to classic children's books. And for those of you concerned about privacy, the camera and mic can be turned off with a simple button press.
We've technically seen the Facebook Portal cheaper than this back in March, when it was down to $89 when bought with a discount code, but this is still a fantastic deal if you were on the fence about picking one up. If you'd prefer something a bit more multi-functional that can still handle family video calls, check out our reviews of the best tablets or the best laptops.