With single-stage and two-stage gas furnaces, American Standard Heating and Air Conditioning offers a nice selection, making it so you can find the model that is most efficient for your home. However, American Standard only has one modulating gas furnace in its product line.
American Standard has several gas furnaces that operate above 80 percent energy efficiency. The single-stage gas furnaces range from 80 to 95 percent AFUE, with only one of the models qualifying for an Energy Star rating. The two-stage gas furnaces range from 80 to 97 percent AFUE. The two-stage furnace operates at 97 percent AFUE and has an Energy Star rating.
The only modulating gas furnace that the company offers operates at 95 percent efficiency and has an Energy Star rating. While American Standard only has three gas furnace models with an Energy Star rating, most of its units can provide you with significant savings on your energy bill.
American Standard's warranties differ by model. While each furnace's warranty is comprehensive and lasts a significant amount of time, it is important to check the warranty before purchasing a furnace. The heat exchange warranty ranges from 20 years to a lifetime, depending on what model you purchase. The parts warranty for all of the furnaces is 10 years.
If you do not register your furnace, you receive American Standard's base limited warranty, which covers the parts for five years and the heat exchanger for 20 years. If you register the furnace, the parts warranty extends to 10 years and, depending on the furnace, the heat exchanger stays at 20 years or extends to a lifetime.
American Standard's Platinum 95 furnace offers customized heating and humidity control to make your home as comfortable as it can be. This modulating gas furnace operates between 40 and 100 percent firing rates to help you heat your home in the most efficient manner. The model operates at 97.3 percent AFUE, making it the most energy-efficient gas furnace that American Standard has available. Using a variable-speed fan motor, the furnace runs quietly and evenly distributes air throughout your home. It also reduces the indoor humidity during the summer.
The Gold 80V is a two-stage gas furnace. At 80 AFUE, this is not the most energy-efficient model; however, it offers quiet operation and heats your home evenly. The furnace uses variable speeds to reduce swings in temperature, which may lower your energy bills. It also distributes warm air evenly and reduces the humidity in your home during the summer.
The American Standard 92 is an affordable option that can still reliably heat your home. The furnace operates at 92.1 percent AFUE, making it an energy-efficient model. This gas furnace is not only affordable upfront, but it helps you save on energy usage, lowering your bill and reducing greenhouse gas emissions. The multi-speed blower helps it efficiently heat your home. It also operates quietly, thanks to the heavy steel cabinet that insulates it.
American Standard Heating and Air Conditioning offers a variety of forced air heating furnaces that differ in energy efficiency and price. While other top-rated gas furnace companies tend to have more Energy Star models than American Standard, half of its models operate at 92 percent AFUE or higher.
Need a better alternative?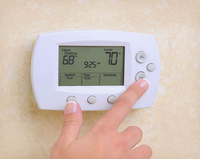 Top Ten Reviews has reviewed the Best Gas Furnaces of 2019 so that we're able to offer you the authoritative buying advice you expect.