Lennox offers three product lines of gas furnaces: the Dave Lennox Signature Collection, Elite Series and Merit Series. With its assortment of modulating, single-stage and two-stage furnaces, you can find an efficient gas furnace for your home. In fact, a third of Lennox furnaces qualify for Energy Star, and one of the furnaces operates at 98.7 percent AFUE, which is the highest energy efficiency you can find.
With almost half of its models qualifying for Energy Star certification, Lennox offers a nice selection of energy-efficient gas furnaces. The single-stage models operate between 80 percent and 95 percent AFUE. The single-stage model that operates at 95 percent qualifies for Energy Star ratings.
The two-stage models operate between 80 percent and 96 percent AFUE, and one modulating furnace has an exceptionally high 98.7 percent AFUE rating. Two of the two-stage gas furnaces and the one modulating furnace also qualify for Energy Star.
Lennox offers varying warranties for its gas furnaces, but they tend to be relatively short. Most of the single-stage models have a 20-year warranty on the heat exchanger, with the exception of one that has a lifetime warranty. All of the single-stage gas furnaces have five-year warranties on parts.
The two-stage models range from 20-year to lifetime warranties on the heat exchanger and between five and 10 years on parts. The modulating furnace has Lennox's best warranty. It has a lifetime warranty for its heat exchanger and a 10-year warranty on parts. You need to register your gas furnace in order to get an extended warranty.
The SLP98V gas furnace operates at an efficiency of up to 98.7 percent AFUE. This is the highest efficiency rating of all the top-rated gas furnaces. This modulating gas furnace qualifies for Energy Star and has a dual-fuel capability. You can combine it with an electric heat pump and enhance the fuel efficiency by alternating between gas and electric heat. Its variable-speed blower motor provides quiet operation and distributes heat evenly.
The EL296V is a two-stage gas furnace. It has an AFUE rating of 96 percent and qualifies for Energy Star. The variable-speed blower motor evenly distributes air throughout your home with minimal noise. At the same time, the motor offers high efficiency and humidity control. With the low-speed fan, the furnace provides a continuous flow of warm air that also saves energy.
While the single-stage ML195 gas furnace is not certified by Energy Star, it is still an energy-efficient choice. This Lennox gas furnace has an efficiency rating of 95 percent AFUE. Similar to many of Lennox's units, you can combine the gas furnace with an electric heat pump and alternate between electric and gas heat. By doing so, you optimize energy use and minimize costs.
Lennox offers energy-efficient forced air heating for your home. With a variety of modulating, single-stage and two-stage models that operate above 80 percent AFUE, you can save money on your energy bills by installing a Lennox gas furnace. While Lennox offers shorter warranties than other gas furnace services, if you register, it covers your furnace for an extended time.
Need a better alternative?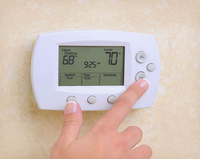 Top Ten Reviews has reviewed the Best Gas Furnaces of 2019 so that we're able to offer you the authoritative buying advice you expect.