York has three product lines of forced air heating systems with varying degrees of energy efficiency: the Affinity, LX and Latitude series. The Affinity line consists of two modulating furnaces, while the LX series has a variety of modulating, single-stage and two-stage gas furnaces. The Latitude series is made up of only two single-stage furnaces.
Of York's gas furnaces, only three qualify for Energy Star, with two of those furnaces being modulating models and one a single-stage burner. York has four single-stage models. The furnaces' AFUE ratings range from 80 percent to 95.5 percent. The company also has two-stage gas furnaces, all of which are in the LX series. Half of the furnaces have an AFUE rating of 80 percent, and the other half operate at 96 percent efficiency.
The three modulating furnaces are the most energy-efficient, with AFUE ratings of 80, 97 and 98 percent. These top-rated gas furnaces efficiently heat up your home, saving you money on your energy bill each month.
The gas furnaces have varying warranties depending on their series. You must register your gas furnace within 90 days of installation to receive the extended coverage. The Affinity and Latitude series have a 10-year warranty on the heat exchanger and parts. The LX series warranty is not as good. These gas furnaces have a five-year warranty on the heat exchanger and a 10-year warranty on parts.
York's YP9C furnace is one of the most energy-efficient models on the market. Operating at 98 percent AFUE, this furnace saves you money each month on your energy bill and qualifies for Energy Star, indicating it is 15 to 25 percent more energy-efficient than standard models. This modulating furnace constantly adjusts the heating level in small increments to precisely meet your comfort level, and with a variable-speed blower, it offers quiet operation.
The TM9V is part of York's LX series. It has a 96 percent AFUE rating, making it one of York's most energy-efficient models. It uses a two-stage burner and a variable-speed blower that offer even heat distribution and quiet operation. This model also has an Energy Star rating.
The TG9S is part of the Latitude series. It has a single-stage burner and operates at 95.5 percent AFUE. While it is not certified by Energy Star, this York gas furnace is energy-efficient and saves you substantially on your energy bill. This model has one of the most compact cabinets in the industry. It is only 33 inches high and requires less space than most gas furnaces. It also has a constant-speed blower that distributes the air evenly.
York offers a variety of gas furnaces that vary in size and energy efficiency. With its 13 modulating, single-stage and two-stage models, you can find a furnace that heats your home efficiently. While York only has three models that qualify for Energy Star certification, several of its models are energy-efficient and save you money on your energy bills.
Need a better alternative?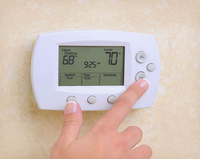 Top Ten Reviews has reviewed the Best Gas Furnaces of 2019 so that we're able to offer you the authoritative buying advice you expect.