Ink deals don't come around often enough so this current offering from 4inkjets is worth grabbing while it lasts. 4inkjets is offering a combination of both 15% off ink and toner but is also throwing in free shipping to sweeten the deal.
Is there a catch? This applies to LD-Brand ink and toner only but since that works with lots and lots of printer models it should serve you well.
How do I get these ink deals? It's the classic code to claim scenario here where, as you've probably spotted from the lead picture above, it's given front and centre on the company's website.
Ink deals code
The code for 15% off and free shipping on ink deals is 4INKFS.
If you haven't heard of the company rest assured it's won our best discount ink cartridges guides overall, sitting atop all the competition. So good are the prices even before the deals, this site claims it undercuts much of the competition on price by up to 75%.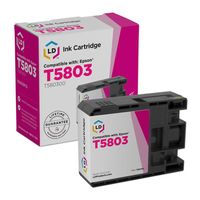 Save 15% on LD ink and toner today!
You save a nice 15% on all LD-brand ink and toner with the code: 4INKFS - just add it at checkout to have it ink-cluded in your saving. You'll get free shipping too - perfect if you're stocking up your home office for summer.
If the LD-Brand ink isn't for you for whatever reason you can still shop outside the sale for brands like HP, Canon, Epson, Brother, Lexmark, Xerox, Samsung, and Del- and making a saving while doing it. The site makes this easy as you can simply select your printer from dropdown menus to be shown what ink works for you.
4inkjets offers a two-year guarantee on all its compatible or remanufactured products plus there's a customer service hotline, so you have that peace of mind when you buy.
It's worth noting that 4inkjets does offer international orders but they only ship to Canada, Puerto Rico, Guam and APO addresses.
The deal isn't going to run for a long time though so if you want to make a saving you'll need to make your purchase by 5 October 2021, when that 15% off ink deal will no longer apply. Of course it may sell out before that time though. Head over to the site and enter 4INKFS to claim your ink deal savings now.
If you need more hot printing guides we have a look at the best compact printers, and a guide to the best all in one printers too.