Image 1 of 12
Image 2 of 12
Image 3 of 12
Image 4 of 12
Image 5 of 12
Image 6 of 12
Image 7 of 12
Image 8 of 12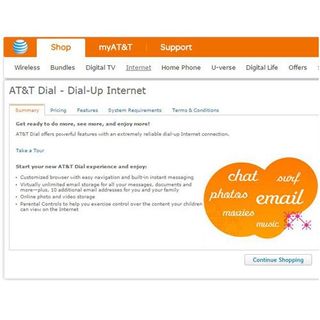 Image 9 of 12
Image 10 of 12
Image 11 of 12
Image 12 of 12
Editor's Note: AT&T no longer offers its U-verse plan. We will evaluate, rank and review other plans offered by AT&T when we next update our Internet Service Providers reviews.
AT&T owns endless miles of phone lines that provide DSL and dial-up services to millions of customers. More recently, the telecommunications giant started providing fiber optic internet service with the U-verse plan. U-verse provides speedy connections with integrated wireless features and a professional-grade firewall.
AT&T provides a range of services, including mobile phone, internet, digital TV and telephone services in many areas of the U.S. Though AT&T provides mobile phone service in most areas of the Unites States, other services are concentrated in 21 states around the country such as California, Texas, Georgia, Wisconsin and Kentucky. The company does not provide many dial-up access numbers, but its wired internet services are available, especially in rural areas.
Variables like local cable infrastructure and weather affect connection speeds, so upload and download speeds can vary even within the same state. With this in mind, we took into account the volume of customers served and consulted multiple third-party speed tests.
AT&T offers DSL speeds ranging from 768 Kbps to 6 Mbps for a monthly price. U-verse uses fiber optic technology to deliver speeds up to 45 Mbps. When we looked at the speed performance results from third-party testers, they reported AT&T speed rates of roughly 1.7 to 2.1 Mbps, which is about the reported rate for the DSL plans. We do not have test speeds for the fiber optic plans, so we cannot verify if the actual speeds match those reported by the company. If you need high-speed internet for streaming movies, downloading large amounts of data or anything that requires significant bandwidth, we recommend you select AT&T's fiber optic service. If only DSL connections are available, choose one of the fastest plans if you want a step up from dial-up.
AT&T services come with a variety of useful extras such as secure email accounts, Yahoo integration, internet security, hardware for deployment of wireless internet and a strong firewall. Subscriptions come with 11 free email accounts with 2GB of storage. All customers can also take advantage of the entire AT&T national Wi-Fi network, plus the convenience of in-home wireless with included Ethernet and USB ports. AT&T's security software includes antispam, antivirus, antispyware, parental controls and pop-up protection.
For support, you can contact AT&T by telephone and chat. You can find volumes of support information online, including startup guides and product news. U-verse, DSL and dial-up all come with 24-hour technical support. You can also visit your local store.
If you can get one of AT&T's speedier broadband or DSL internet plans, or if you have access to its fiber optic service, this internet service provider is a worthwhile option. Using its services, you should be able to access the connection speeds you need for gaming, streaming movies and watching videos online.