The Rosetta Stone sale continues, with a wide range of deal options to suit all language-learners. In the latest round of discounts, the company has knocked 10% off its lifetime subscription, bringing the price down to $179. You could make a big saving if you're someone who likes to regularly learn new languages, as this package grants you access to the lessons for an unlimited amount of time.
We also think that this particular language-learning platform is well worth the investment. When we tested out the best online Spanish and French courses, Rosetta Stone came out top. This is largely due to the platform's immersive approach to language learning, combined with its easy-to-navigate interface and comprehensive set of progress tracking tools.
With this particular subscription, you can pick up any of the 24 languages that are taught on the platform. This ranges from popular options like Spanish and French, to more unusual languages such as Russian, Chinese and Japanese. And unlike the 12-month subscription option, there's no date limit on when you can stop learning through the service.
---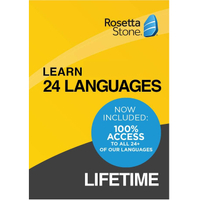 Rosetta Stone lifetime subscription: Was $199 Now $179
Save 10% on the Rosetta Stone lifetime subscription, which allows you to access any of the 24 languages taught on the platform for as long as you like.
You can access the language-learning service either via desktop, or you can use the handy smartphone app. When we tested it out, we found that the app version is more regularly updated than the desktop, but there's still plenty of bitesize lessons and quizzes to tackle on the desktop platform, too. Lesson plans can be tailored to your needs if you have a particular goal you want to achieve and tracking tools give you a clear overview of where you need to improve.
The app now also comes with a clever piece of tech called 'TruAccent.' This speech-recognition software gives you feedback on your pronunciation, so that you can really nail your accent. While it's not quite as good as a tutor correcting your speech, it's pretty much the next best thing.
Rosetta Stone does actually offer live tutoring but it costs an additional fee. It could be well worth picking up these classes if you need to work on your accent, or you could even pick up a handful of sessions with one of the best online tutoring services to bolster your language learning.