As we slowly transition into fall you'll need to be vigilant if you don't want to see scraggly branches and unshapely shrubberies take centerstage every time you walk out the front door. This means that you'll need the best tool for the job, a hedge trimmer, to help prepare the backyard for the changing seasons.
Having one of the best hedge trimmers as part of your toolkit for fighting back odd growth is as important now as it was during the summer. And, though we've seen holiday sales come and go, you can still find some savings to fill in this critical and possibly overlooked spot in your gardening roster.
The Greenworks 40V 24" Cordless Hedge Trimmer, in particular, is seeing a 33% discount currently on Amazon, dropping the price from $189.99 to $127.29. That's a cool $62.70 back in your pocket. And, like some of the deals we've recently highlighted, it's not just the price drop that makes this deal worth it but the inclusion of a battery that can work for any of Greenworks' 40V series of tools. Comparing it to the price of the hedge trimmer alone, which goes for $120, you're essentially getting the battery for $7.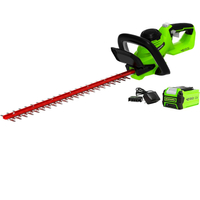 Greenworks 40V 24" Cordless Hedge Trimmer was $189.99, now $127.29 at Amazon (save $62.70)
This hedge trimmer and 40V battery combo is getting a cool 33% discount. Not bad for this lightweight, cordless, and gasless model. The included battery can be included with a number of other yard tools from Greenworks, while it can also power the hedge trimmer for a good 60 minutes. Its 24-inch steel blades offer a cutting capacity of 1-inch, making this perfect for clearing dead branches or turning that giant bush in your front yard into a Zebra.
Price Check: Greenworks $159.99
Alternative Pick / Cheaper Option: Greenworks 40V 24" Cordless Hedge Trimmer with 3/4-inch cutting capacity (tool only)
Greenworks 40V 24" Cordless Hedge Trimmer: Key features
The deal on this Greenworks 40V 24" Cordless Hedge Trimmer is not just a deal because of the price. After all, just because you get a cheaper price doesn't mean it's worth it if what you're getting is subpar.
Luckily, this hedge trimmer is worth the price, even when not on sale. Of course, the Amazon reviews are overwhelmingly favorable (a 4.5 out of 5 if you're curious). And, that's for a few reasons.
To start, its 24-inch steel blades offer a good 1-inch cutting capacity, perfect for paring back dead branches and thick brush. Its rotating rear handle makes it easier for maneuvering in tight and awkward spaces, not to mention its light just-under-10-lbs weight is a boon for when you need to spend the entire 60 minutes the included battery gives you for clearing your yard.
If you care about sustainability, there's no gas involved here. Plus, you can use this same 40V removable battery with over 60 other tools in Greenworks' product line.
Hedge Trimmer Deals
While the going price of the Greenworks 40V 24" Cordless Hedge Trimmer is a reasonable price, even when not on sale, you can certainly go cheaper if need be. For one, going without investing in that battery brings the price down a good $60. And, if you don't need quite the cutting capacity, the version with a smaller ¾ cutting capacity goes for a very affordable $79.23 at Amazon. However, if you think you'll want to get other tools from Greenworks, investing to get that battery, not to mention better cutting capacity is worth it.
With Amazon Prime Day deals and, dare we say it, the best Black Friday deals, not too far away, it would be worth bookmarking these two main hubs so you'll be amongst the first to know of more deals worth having.