After a slow start, the printer deals are coming in thick and fast in the run up to Black Friday, and we've found another blinder of a deal over at Amazon. Right now, you can save nearly 50% on the HP ENVY Photo 6255 all-in-one printer. This is an excellent deal on a printer that does it all. Well, in printing terms anyway.
You can buy the HP ENVY Photo 6255 all-in-one printer for just $79.99 at Amazon, down $70 from its usual price of $149.99. HP touts this as its most versatile printer. As you'd expect from one of the best all-in-one printers, it prints, scans, and copies, but it also comes with some premium features that you wouldn't expect on a standard printer like photo printing, automatic double-sided printing, and fast print speeds.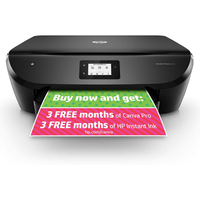 HP ENVY Photo 6255 all-in-one printer at Amazon: $149.99 now $79.99
Save $70 on this excellent all-round printer from HP. It prints, scans, copies, and all that good stuff, but it's loaded with extra features you wouldn't expect on a $150 printer, never mind a $70 one. Double-sided printing, photo printing, and ink efficient printing to boot.
This is one of the best Black Friday printer deals that we've seen so far (the only other one that compares is sold out already), so we really do recommend jumping on this offer ASAP if you're after a printer this Black Friday. The HP ENVY Photo 6255 combines the multifunctionality of an all-in-one printer with the photo printing ability of… well of the best photo printers.
It's easy to use too, with a 2.2-inch mono touchscreen on the front and smart functionality through the HP Smart app, which lets you connect to it via your smartphone or tablet. It even works with Alexa, a fact that Amazon is keen to tout as it offers you the ability to buy the HP ENVY Photo 6255 along with the new Echo Dot, which is also on offer at the moment.
And if all that wasn't enough, it's good for the environment too. Partially because it's efficient in its ink usage, but also because the HP ENVY Photo 6255 is built using recycled printers and other electronics. Save some money and save the environment too. You're welcome, planet Earth.
More great printer deals
Need more money-saving deals and discounts? We've rounded up the best Black Friday USA deals for 2020 - which includes early price-cuts from around the web. We also have a guide to the best Black Friday computer deals, if you need a new machine to hook your printer up to.